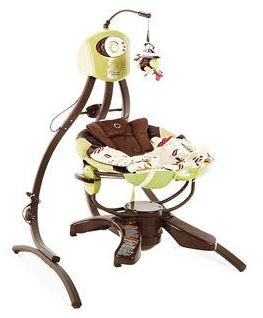 If you have been looking for a swing this is a wonderful purchase.  Right now at Walmart you can purchase the Fisher Price Zen Collection Cradle Swing for just $129.00. that's $31 off the regular price of $170, and it ships free, too!
If you'd rather shop at Amazon (and use a free gift card from Swagbucks, perhaps?) the Fisher-Price Zen swing can also be found there for the same price.
The beautiful 
Fisher-Price Zen Collection Cradle Swing
 has these features:
Innovative Zen-like design
Fisher-Price cradle swing seat rotates 90 degrees
Features a range of speeds
Side-to-side cradle motion or front-to-back swing motion
Deep seat with recline and 3-point restraint
Uniquely designed mobile with three fun patterned characters
Two sound effect sound tracks
14 songs including 6 lullabies and 8 entertaining musical tracks
Volume control
Cradle swing seat is removable
Zen musical swing not only features beautifully rich fabric and accents, but is also loaded with audio and visual stimulation for your little one.