This french toast casserole with cream cheese and apples is an easy brunch recipe for a crowd! Make it overnight or just a few hours before you need to serve it, and you'll have a delicious breakfast meal that everyone loves!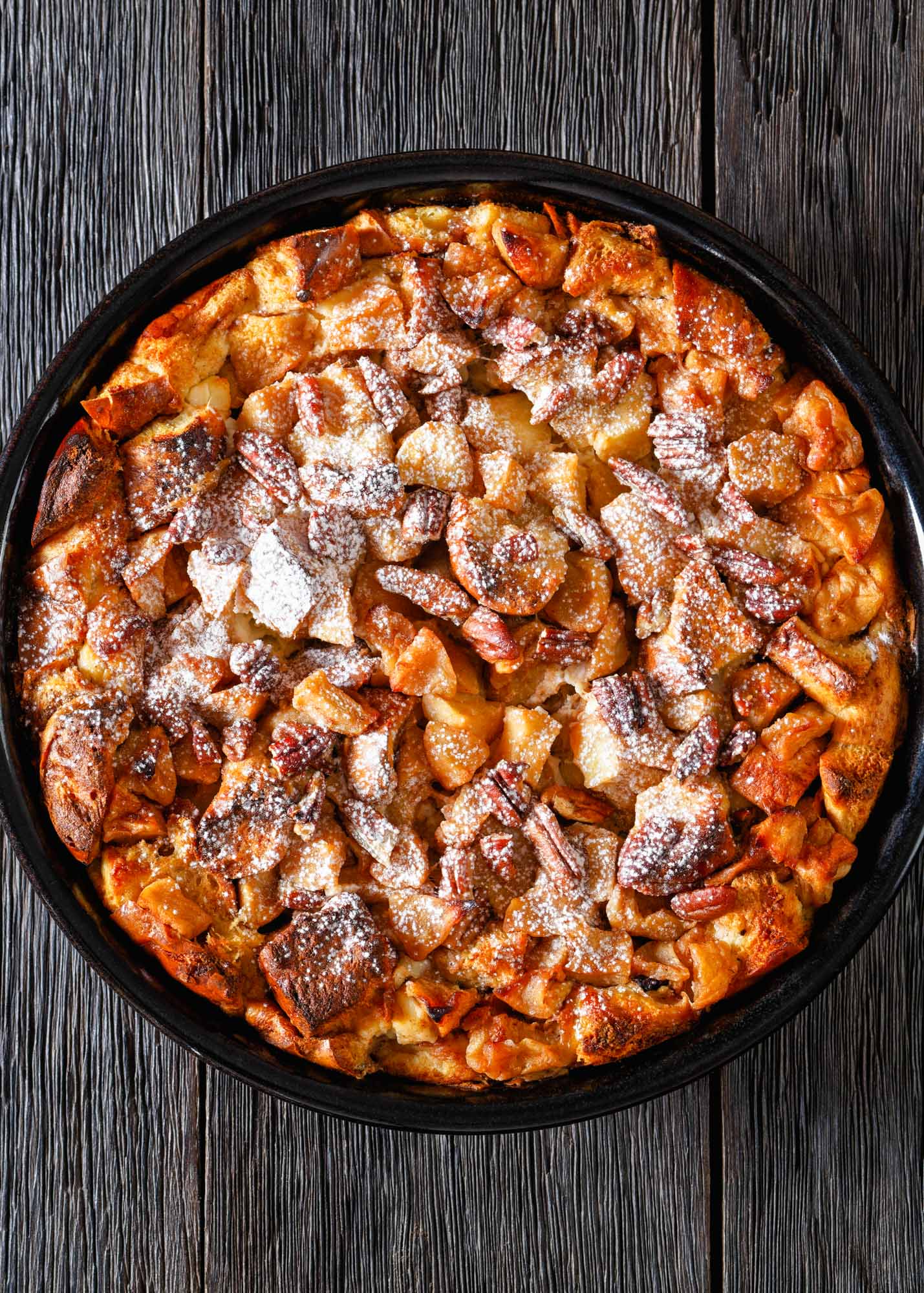 My husband and I have found that our children have improved and enriched our lives so much. We've learned so much from them, and I think we've tried our best to become all-around better people because we have our children.
Having children has also made both of us realize that family is incredibly important to both of us. We want our kids surrounded by family, just like we both were as we were growing up.
I have a dear Grandma JoJo, my parents, a brother and his wife and a sister, her husband and their four amazing children. Plus, I have an aunt and uncle that I'm really close to!
My husband has his parents, plus a sister, brother, brother-in-law and their children, too.
Unfortunately, only a small handful of those close family members leave near us (and by "near" I mean 30 or 40 miles away).
While our actual families are tremendously important, it makes me realize that it's up to me to show Haiden and Piper that "family" can mean so much more than those who are related to us by blood.
I've recently come to realize that my friends and I have made our own families among each other.
From the joys of getting married, graduating and having babies to the challenges and heartbreak of medical issues, fertility problems and job loss, my close friends and I have been there for each other through it all!
Like any other family, ours has grown and expanded to include husbands and babies, along with other wonderful ladies who mesh right in with the rest of us.
Those expansions mean that we don't always have spare time to spend together, but sometimes occasions are created just so we can be sure to see each other and make sure we stay current on each others' lives.
We're used to meeting for dinner at fancy restaurants, but, as my friends continue to start families (and watch my family grow), they've come to sympathize with me over the challenges of finding a child-friendly and crowd-pleasing restaurant that will accommodate at least four couples and three high chairs.
One thing I'll be doing in the near future is planning brunches at my home so my friends can bring their families so we can all take it easy and have a good time together.
This way, no one has to get their kids dressed up to go out, and all of the little ones can relax in our baby-proofed home! I can make delicious brunch like my eggs benedict casserole, cream cheese scrambled eggs or these kid-friendly baked breakfast egg cups.
This type of get together with my friends and their families doesn't replace the times I get to spend with my own relatives, but the closeness and companionship I feel with those ladies is a wonderful substitute for the family I can't see all the time.
Of course, I can't mention brunch without a recipe, so here's a lovely one for an apple french toast casserole with cream cheese.
I originally called it an apple cinnamon french toast strata, but no one really knew what it was. So I changed the name and everyone was happier!
Anyway, this breakfast dish. It's perfect for a brunch gathering, and it's low stress since the entire thing can be prepped the night before. I've made it several times and it's wonderful!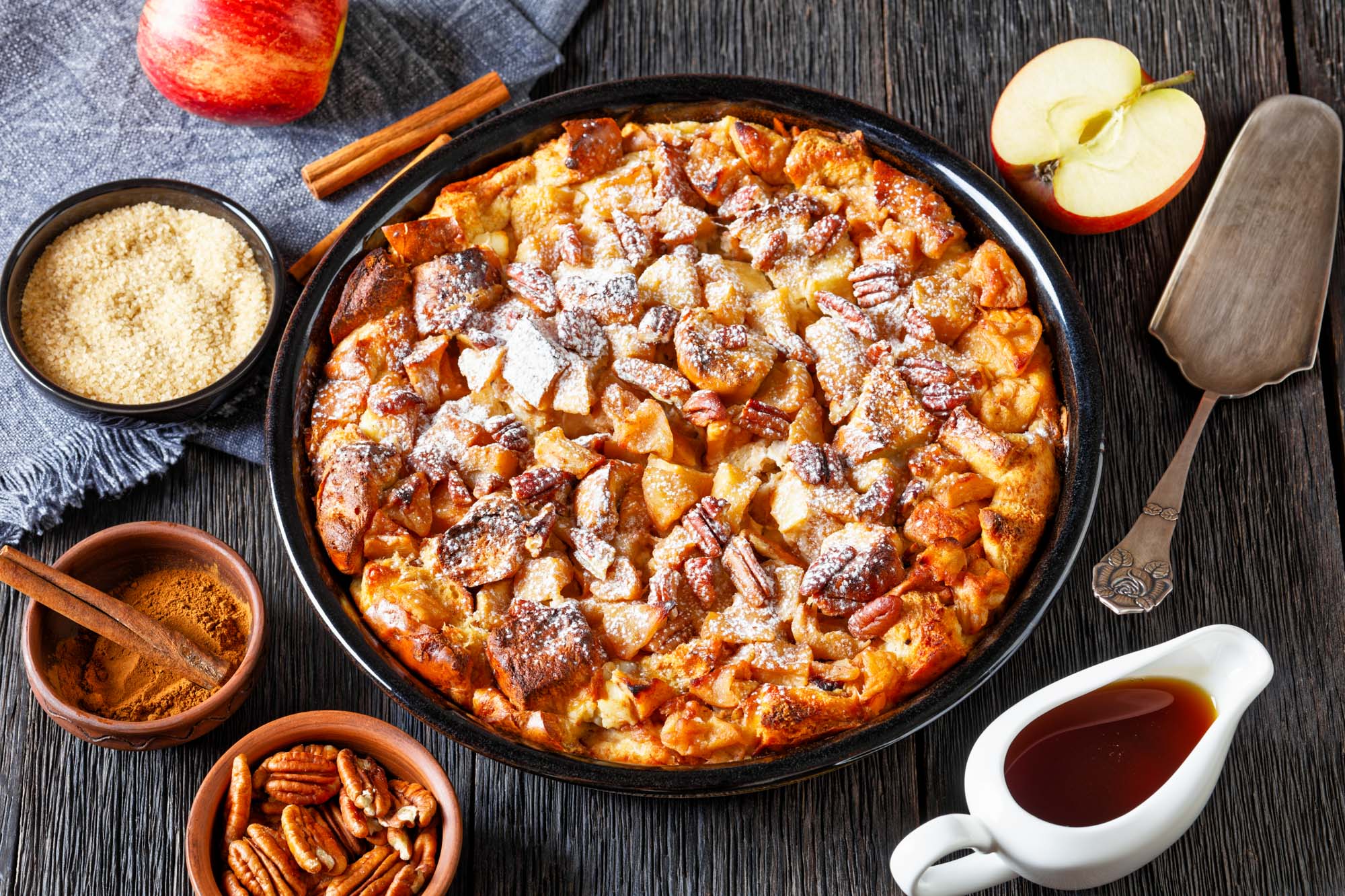 About this Apple French toast casserole with cream cheese
Before you start baking there are a few things you should know about this breakfast dish.
First, you'll see my pictures feature the casserole in a round dish. I have this really big, round casserole that I love, but the size is really uncommon.
Instead of making you hunt for a dish you probably can't find, you can just make your own french toast casserole in a 9×13 baking dish.
Second, this can be a make-ahead french toast bake or overnight casserole if you have time. The longer the bread cubes have to soak up the maple syrup / egg mixture, the better!
Prepare the dish and refrigerate it up to 24 hours before baking. If you don't have a day to spare, just make sure it's refrigerated for at least 2 hours before baking.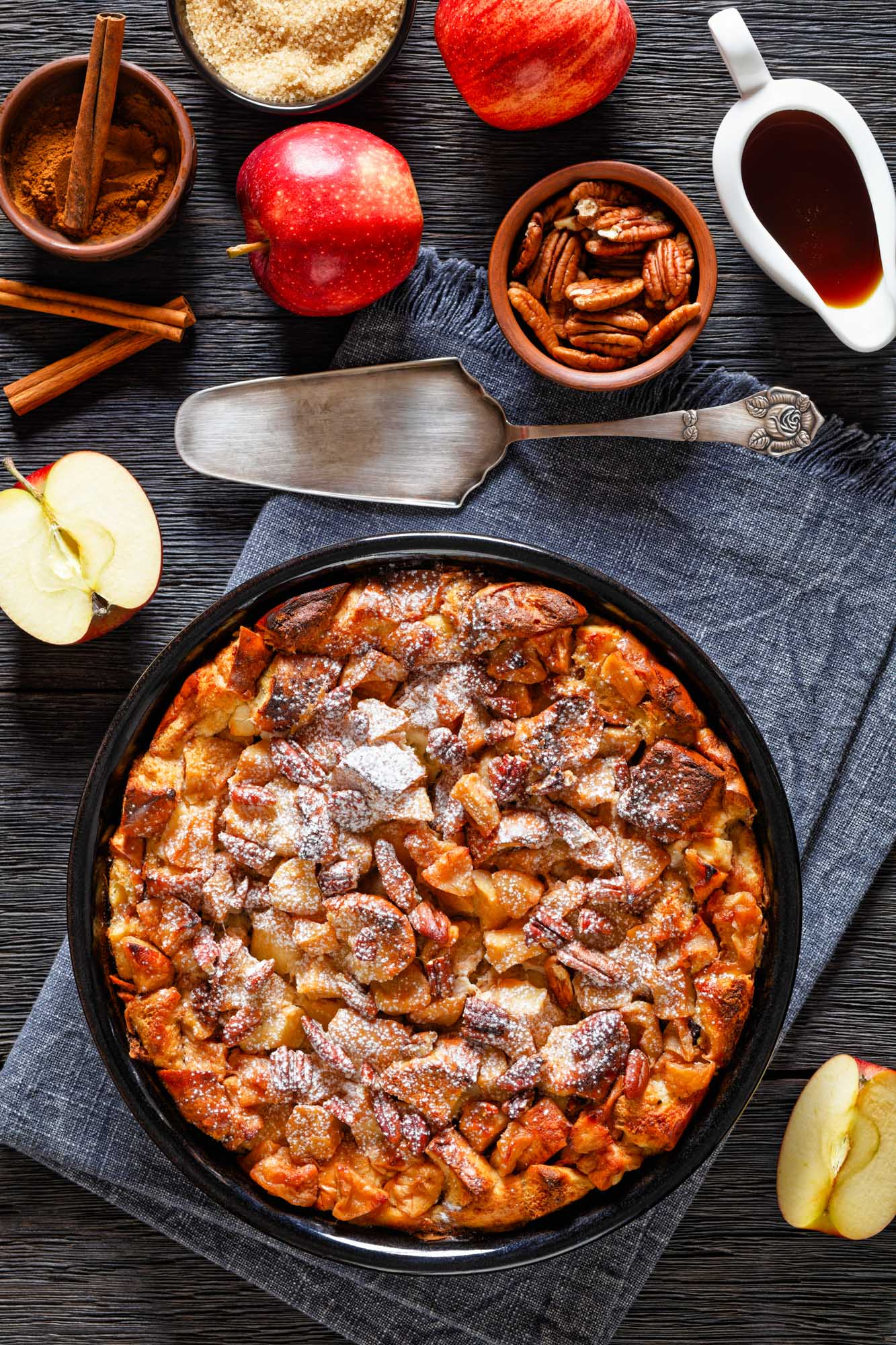 French toast casserole with cream cheese and apples
Note – I'm providing a list of the ingredients and the general instructions now. You'll find specific measurements and extra details in a printable recipe card at the end of this article.
French toast casserole ingredients
bread, cubed (cinnamon bread works great)
cream cheese
peeled apples
eggs
milk
butter
granulated sugar
cinnamon
maple syrup
pecans (optional)
powdered sugar (optional)
Spray a 9×13 inch baking dish with cooking spray.
Soften the cream cheese in the microwave until practically melted. Toss cubed bread with cream cheese until it's all lightly coated.
Arrange half of the cream cheese bread in the bottom of the dish. Top with the apples and cover them with the remaining bread.
In a large bowl, beat the eggs with the milk, butter, and maple syrup. Pour this over the bread and apples in the baking dish. Cover with plastic wrap, and gently press down so that all bread pieces start absorbing the eggs. Refrigerate at least 2 hours.
Preheat oven to 325 degrees F (165 degrees C).
Bake 45 minutes in the preheated oven, then let the dish stand for 10 minutes before serving.
Thank you to Log Cabin via Clever Girls Collective for sponsoring my post featuring my favorite french toast casserole with cream cheese and apples.
Yield: 16 servings
French Toast Casserole with Cream Cheese and Apples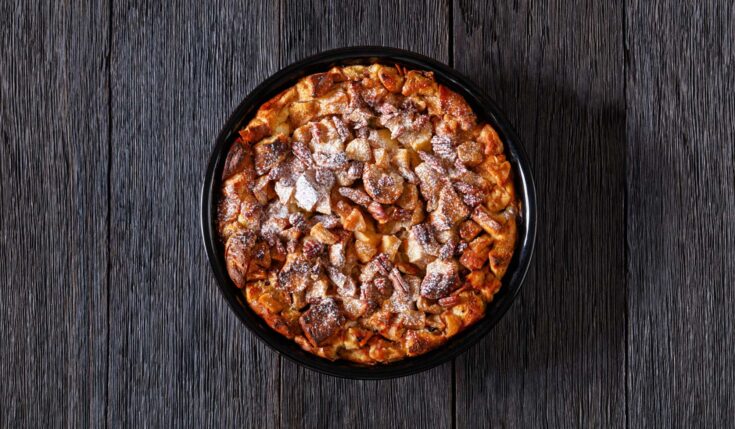 This French toast casserole with cream cheese recipe is a delightful brunch for a crowd. This mouthwatering dish features a perfect blend of bread, cream cheese, fresh apples, eggs, milk, a hint of cinnamon, and a touch of butter. Sweetened with sugar and offering a hint of maple syrup, it's a morning masterpiece that's sure to please. Perfect for a special breakfast or brunch, try our French Toast Casserole with Cream Cheese to elevate your next brunch with friends.
Total Time
2 hours
55 minutes
Ingredients
1 1-pound loaf of French bread, cubed
1 8 ounce package cream cheese, softened
1 cup diced, peeled apples
6 eggs
2 1/2 cups whole milk
6 tablespoons unsalted butter, melted
2 tablespoons maple syrup
2 tablespoons sugar
1/2 teaspoon cinnamon
1/8 teaspoon salt
1/2 cup pecans, chopped (optional)
Instructions
Spray a 9x13 baking dish with cooking spray.
Toss the cubed bread with the softened cream cheese until the pieces are evenly coated. Arranged half the bread in the dish and cover with the apples and optional pecans. Top with the remaining bread.
In a large bowl, beat the eggs until frothy, then add the milk, butter, syrup, sugar, cinnamon and salt. Pour this egg mixture over the bread and apples you arranged in the dish.
Cover with plastic wrap and refrigerate at least two hours. (See notes if you're going to bake it within 6 hours.) Remove from refrigerator just before you preheat your oven.
When it's time to bake, preheat your oven to 325°F.
Bake in the preheated oven for 45 minutes. Let the casserole stand for 10 minutes before serving.
Notes
If you're able to let it the bread and egg mixture soak for six hours or more, just put it in the refrigerator until it's ready to bake.
If you're going to bake it within six hours, press gently down on the top of the casserole to help the bread absorb the egg custard before refrigeration.
Nutrition Information:
Yield:
16
Serving Size:
1
Amount Per Serving:
Calories:

254
Total Fat:

15g
Saturated Fat:

7g
Trans Fat:

0g
Unsaturated Fat:

7g
Cholesterol:

99mg
Sodium:

275mg
Carbohydrates:

22g
Fiber:

1g
Sugar:

8g
Protein:

8g
Nutritional information is an estimate. Please verify on your own as needed.