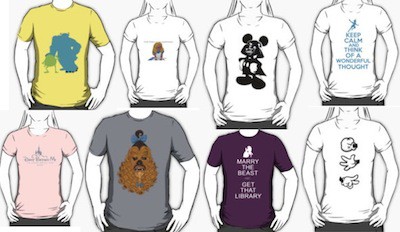 I'm so excited to head out to California in less than 2 weeks. It will be new experience after new experience for me, but I'm thrilled that I'll be taking my first trip to Disneyland!
The last time I visited Disney World in Florida, I had repeated t-shirt envy over all the unique Disney shirts I saw a lot of people wearing. I asked a few people where they purchased them. After getting answered "Online…not from shop Disney" more than once, I gave up asking and also gave up on finding the perfect Disney shirt on that vacation.
See more fun and unique shirts! Check out 20 unique and funny Disneyland tees!
I didn't explore the variety of shirts available online when I returned home because I really wanted one to wear to the parks. Now that I have a trip planned, I'm determined to have a fun shirt!
I explored ShopDisney.com and I'm happy to say that I found a few shirts that I really liked. I do, however, have to agree that the real variety lives outside the walls of that store. It makes sense that sites where users can create and sell their own designs are the place to find the best shirts.
So…I found a good number of shirts that I love and I listed them below. I'll buy the one that all of you decide you like the most, and I promise I'll wear it to Disneyland and take a photo for all of you!
Note: I must say I adored the variety of different Disney shirts I found on Red Bubble, and many of the tees below are from that site. I do need to warn you that the selection isn't entirely family-friendly. I'm sure you can handle it, but some search results may not be exactly what you're looking for!
Love fun shirts? Learn how to bleach dye with any t-shirt and a Cricut sticker for your own unique look!
Tell me: which one is your favorite? Leave a comment and let me know!