This is the most comprehensive and real Cricut Joy review you'll find anywhere! I'm sharing my 100% honest and straightforward opinion on this little cutting machine and answering the question: Is it REALLY your new DIY best friend?
Today I'll be covering the following topics:
What is it and how does the Cricut Joy work?
How the Cricut Joy is different from a Maker or Explore Air 2
Cricut Joy specifications
Cricut Joy appearance and physical characteristics
What does the Cricut Joy come with?
Where to buy it?
Materials you can cut with the Cricut Joy
Craft and Project ideas
If you're all new to the world of Cricut, I've been there and I completely understand how overwhelming it can be! Be sure to check out these articles for a full introduction to everything Cricut:
What is a Cricut Machine and What Does it Do
Cricut Explore Air 2 Review: Everything You Need to Know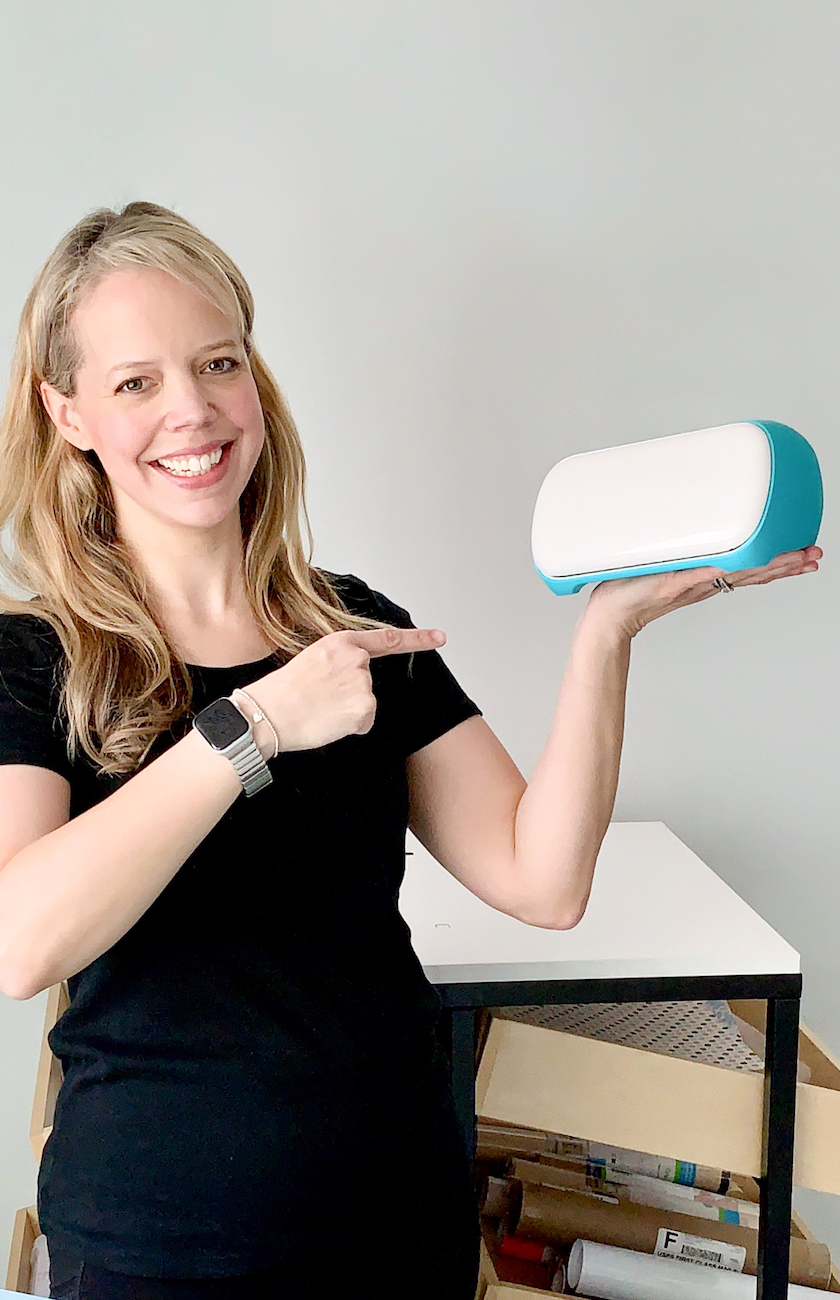 A note on honest product reviews:
I've been writing here and reviewing products for nearly 12 years. In that time, I've had plenty of thoughts over the best and worst ways to review.
I honestly think it's impossible to review any item and not find at least a few features or areas that could be improved. All of my reviews provide details on product downsides and features I wish to see changed.
You're going to see cons in addition to the pros, and you'll also see reasons why a product might not be right for you.
If you read reviews that are all glowing praise and zero criticism, be wary. Think critically to decide if the reviewer is trying to sell the product instead of helping to inform you before you decide to buy or not.
What is a Cricut Joy?
The Cricut Joy is a die-cutting and writing machine that's known for its small size and easy-to-use style.
The Joy is being made and promoted as the easiest Cricut machine ever. Because of that, it's very easy to assume that it can only perform basic functions and simple tasks. But that's just not true!
You'll be impressed with how simple it is to make the most intricate cuts and crafty creations. You'll blow your friends' minds when you say "I made that in 10 minutes" while showing them the delicately layered card you custom made for them.
Take a look at the official video introducing the new machine:
How does it work?
Every Cricut uses a combination of hardware and software to bring your ideas to life. The hardware is the Cricut cutting machine. The software is the Design Space program or app.
The Cricut Joy uses Bluetooth technology to connect to your computer, phone, iPad or tablet. You create your designs and projects in the easy-to-use Design Space software, then send them to the machine.
The Joy has a small blade that cuts paper, vinyl and other materials according to the design you sent to it. The blade can also be switched out for a pen or marker to write or draw on various materials.
How the Cricut Joy is Different from the Maker and Explore Air 2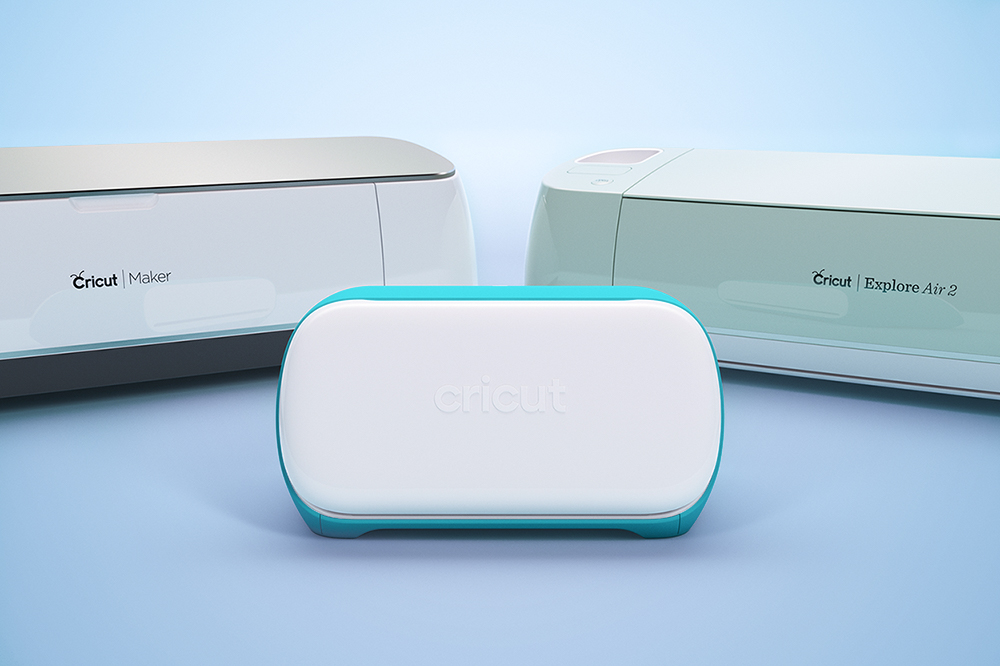 There are quite a few differences among the Joy, Maker and Explore Air 2, but there are some important similarities, too!
All three machines are easy enough for anyone to master, and they all use the same software to make your creations. They all also can write and cut over 50 materials.
That's where the similarities end, but that's not a bad thing!
Why are they all so different? Because each machine serves a different purpose. Crafting with a Cricut is not a one size fits all endeavor!
The Cricut Joy is perfect for quick, everyday projects. You'll see that most of the available designs require very little customization.
You can change these projects up if you want to, but you're also free to hit the ground running with the Joy. Just select your project and start making!
The Cricut Explore Air 2 is made for a wide range of DIY and homemade hobbies. It goes beyond little projects. This machine offers a wider maximum width and is compatible with over 100 materials. It also can use a scoring tool and three different types of blades.
The Cricut Maker is for professional level projects with exceptional performance and versatility. It offers 10x the power of other machines to cut over 300 materials with commercial grade technology.
The Maker is a professional machine because it's capable of 10 more functions (like embossing and engraving) in addition to cutting and writing. There are also more functions being developed all the time.
Appearance and Physical Characteristics
My sister's first words after showing her the Joy was, That's a Cricut? I could totally understand her surprise.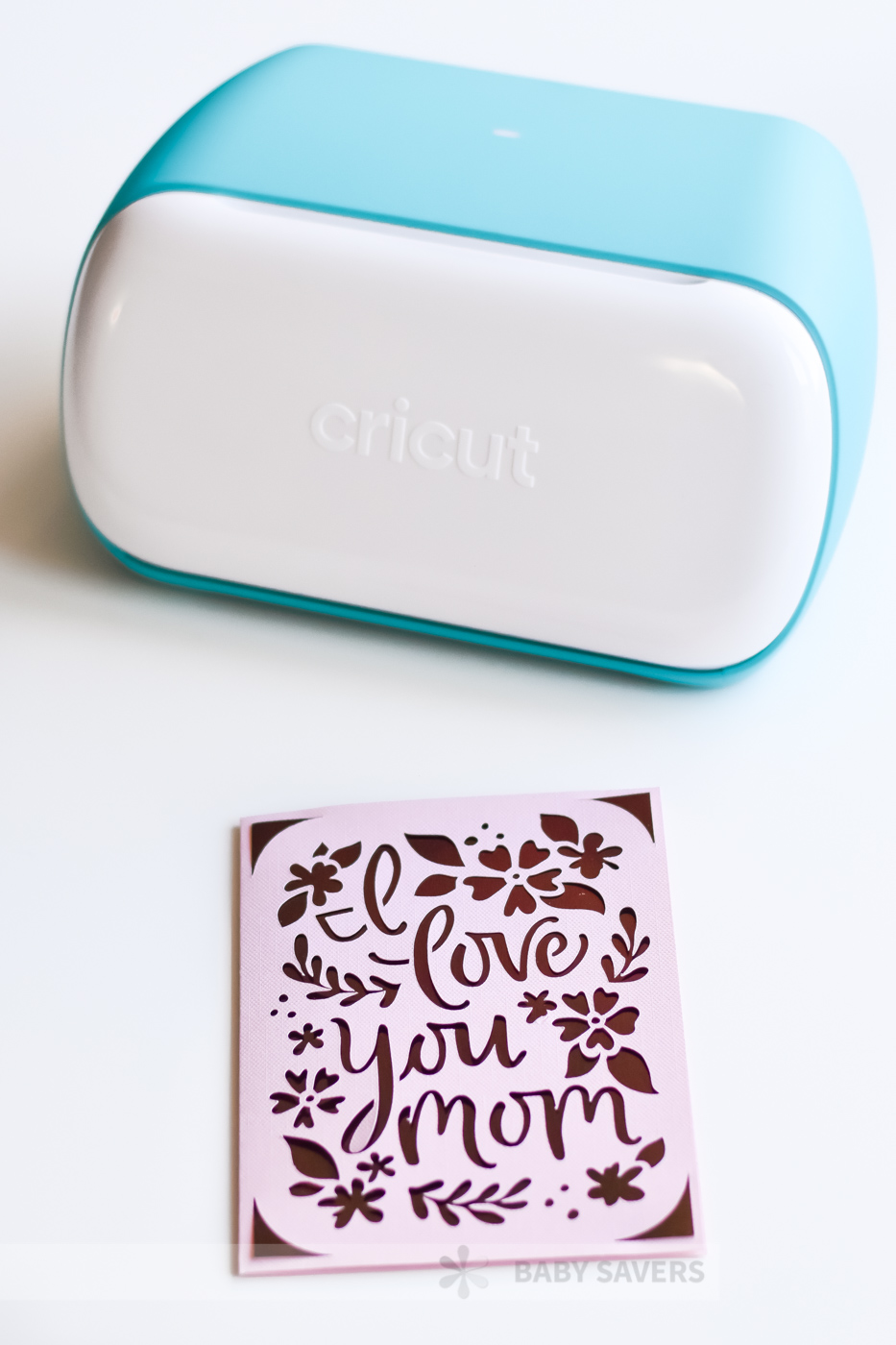 First, this little guy is very nondescript. The Cricut logo is embossed on the outside cover, but it's subtle. There's a very small LED light on the top center of the machine. There are no buttons, switches or dials anywhere on it.
Past Cricut machines have resembled the size of an inkjet printer while weighing even more. Even the Explore Air 2 isn't easy to move around.
The Cricut Joy is tiny in comparison. It takes up a small amount of space and can easily be moved from one spot to another.
But the small size and relatively light weight is a bit deceptive. While it can be lifted and held with one hand, this little machine is absolutely sturdy.
I'm not about to do any drop tests or "will it blend?" challenges, but the Joy doesn't feel fragile at all. I'd absolutely let my kids use it.
Colors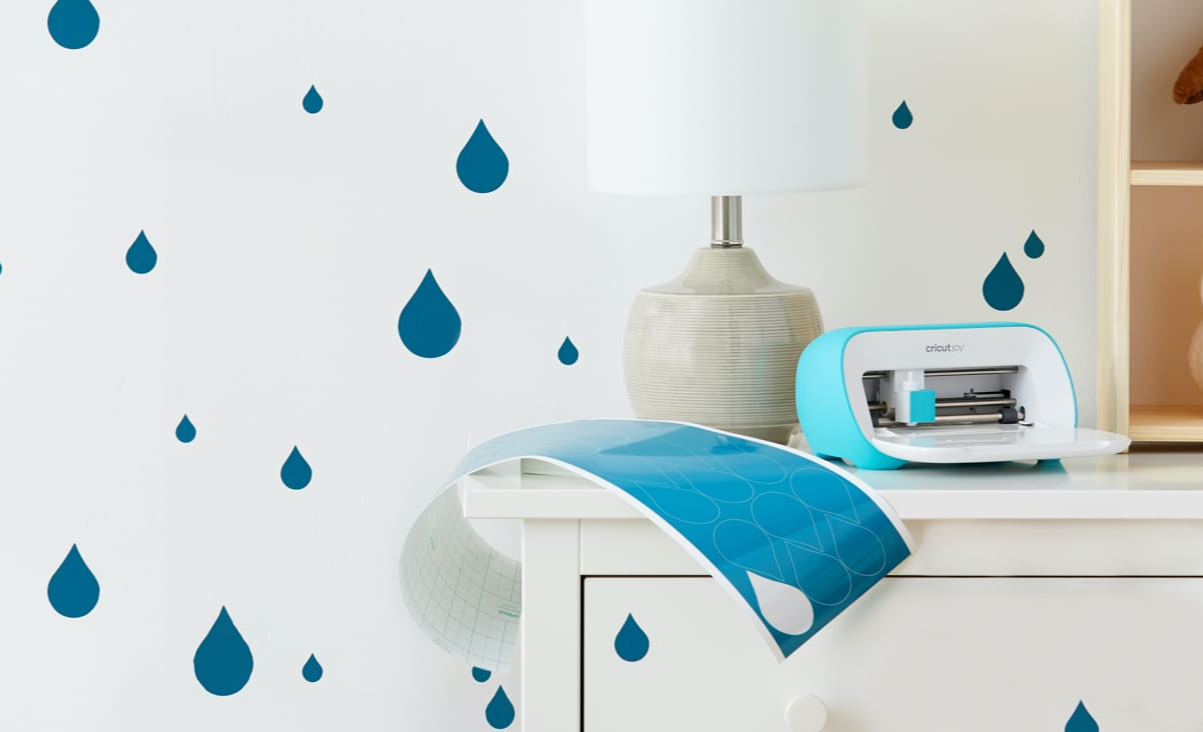 As for the color, it's only available in the teal color shown.
I'm a fan of the turquoise unit with the white face cover, because turquoise is pretty. It fits in nicely with the rest of my crafty supplies in the office area of my home.
I would love to see the Cricut Joy in solid matte white, champagne, ecru, black or even grey. This machine is so great for people who live in small spaces, but the bright color means it likely doesn't blend with most existing home decor.
Offering the Joy in matte neutral colors would give it the potential to blend in similar to other smart devices. Speakers and Smart home hubs live on shelves – changing the finish on this little cutting machine could encourage users to keep it out and use it more often!
The Inside
When you first open it, you'll notice how sleek it is. If you're a design fan like me, I think you'll appreciate the clean lines.
You can also see how simple it is. There is one slot in the housing. It's holding the fine point blade in this image. The same slot can also hold a pen.
But that doesn't mean you have to choose between writing and cutting when you make and design projects. You just have to swap out the blade and the pen when it's time for the machine to switch functions.
Product Specifications
This table shows the most important specifications of the Cricut Joy. It's not just a bunch of words and numbers though. I'll definitely reference and explain more as I work through the review.
Is the Cricut Joy TOO small?
As we get through more specifications and details about the machine, you'll see that the materials and accessories all make the Joy a simple, quick, easy and portable little crafter.
You might look at the width of the Cricut Joy vinyl and mats and think that's it far too small to make anything worthwhile. I get it.
I had a hard time wrapping my head around how such a small machine would be useful when it could only make projects up to 5 inches wide.
But then I realized I was looking at it all wrong! I had completely missed that all these projects can be rotated and made sideways.
Once I realized things like letters and words could be cut at up to five inches tall and just about any length I started to really understand the value of the Joy.
After all, five inches is really tall when you're making a graphic tee or putting a permanent sticker on a mug. Even most bigger objects won't require single cuts taller than the machine allows.
I also think this machine has all the capabilities needed for the most popular Cricut projects.
Cutting out stickers and heat-transfer vinyl to decorate household items and fabrics can be done in a flash. Labels and paper flowers are also a simple job for the Joy.
The Joy is also able to cut the most common materials: vinyl, iron-on, paper, cardboard, cardstock, and more are no problem for the Joy.
Is the Cricut Joy Worth It?
First, I want to acknowledge that worthiness is in the eye of the beholder. Or something. Asking Is the Cricut Joy worth it? is asking for my opinion.
The Cricut Joy might be small, but it's not super cheap. Neither are the materials you'll be told you need to make your projects.
But there's a big advantage to the small size. It absolutely makes it worth it if it fits your wants and needs.
In all honesty, I haven't come across a hobby that doesn't require both initial and ongoing investments. And the investment isn't always just money! Those that don't require money often require time to gather the "free" supplies needed to make it happen.
So if you have a need or a desire for a simple, quick cutting machine, the Cricut Joy is almost positively going to be worth it for you.
Who is it for?
The Joy can do a lot, but its primary purpose is to quickly make simple, everyday projects. It's also intended to be compact and portable.
With that knowledge, I can see three different kinds of people who need a Cricut Joy in their lives:
If you've always wanted a Cricut or other cutting machine, but you've been scared of the learning curve or intimidated by its power, the Cricut Joy will be PERFECT for you!
In short:
The Cricut Joy is perfect for beginners!
If you're a happy user of a Cricut Explore Air, Air 2 or Maker (all notably sturdy, heavy and big devices ) but you wish you could:
Bring your cutting machine to meetings
Make crafts while on vacation
Take your machine to friends' houses
Use your machine at the office or in a cubicle
Then the Joy will be the perfect companion to the machine you already have and love.
I can't stress this enough: there's a huge amount of value in the tiny size and strategically limited capabilities of the Joy.
Trust me, I have big dreams for all the things I could make with my Explore Air 2. Like oversize paper flowers or abstract mounted reindeer.
But what do I really use it for? Making fun shirts, cards, mugs and stickers. Small things. Things that can easily be made on a smaller, simpler, far less cumbersome machine. Like the Cricut Joy!
Here is who the Joy isn't for:
If you've been using an older Cricut or Silhouette, if you've mastered that machine and you're looking for an upgrade, the Joy is not worth it for you.
You're going to want to spend more and get a Cricut Maker. The power and capabilities are a better fit for you.
Where to Buy your Cricut Joy
The Cricut Joy is available at several retailers, but I recommend buying it directly from the manufacturer at Cricut.com.
Most crafters prefer to get their cutting machines directly from Cricut. If you're interested in the bundles where you save money buy buying the machine plus accessories, tools and materials, you should click to jump to the Cricut Joy Bundles section.
If you want your machine today, if you just can't wait, you can buy it with same day pickup or delivery from Michael's.
The downside to the instant gratification? You can't use coupons on any Cricut brand products and prices are often higher.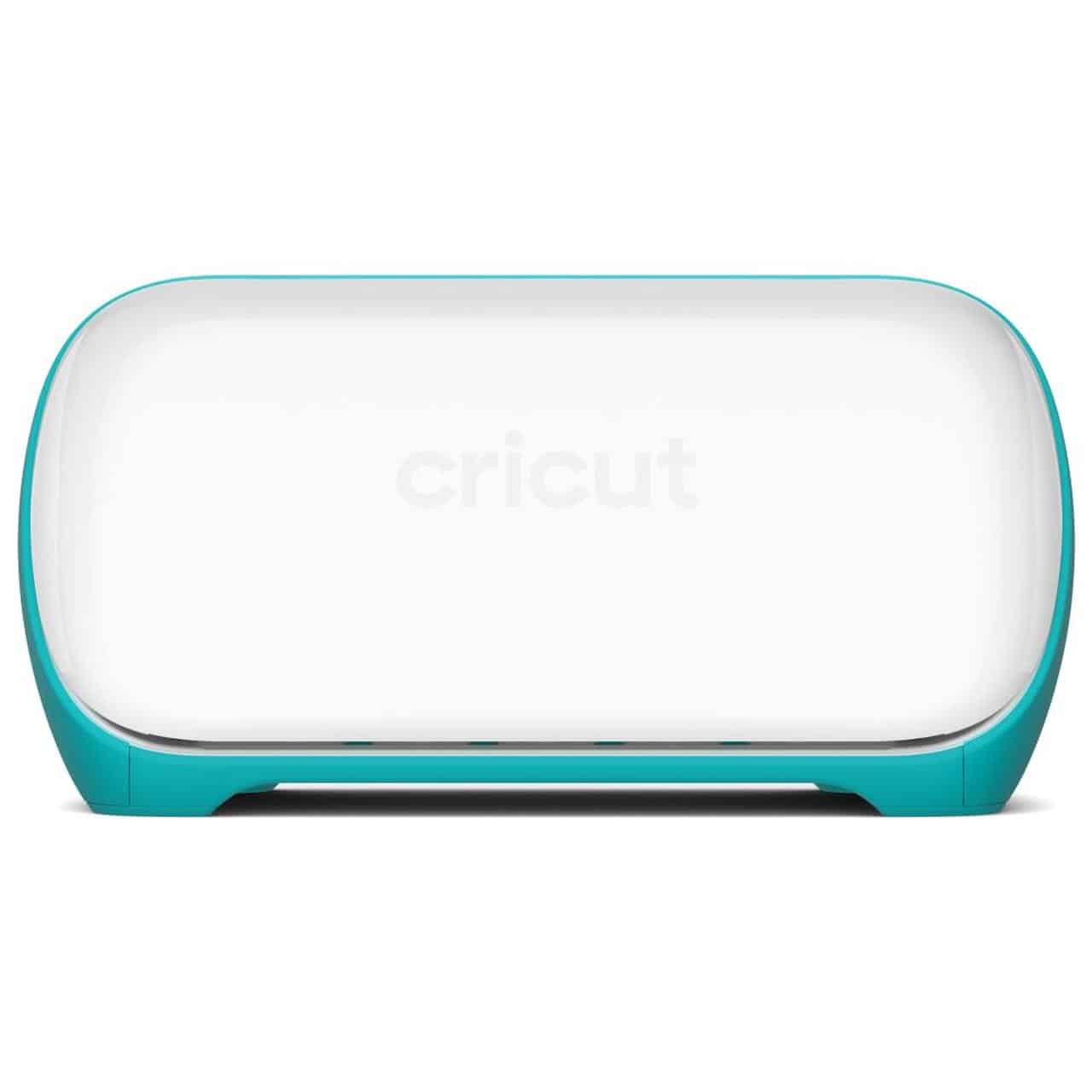 CHECK THE PRICE AT MICHAELS
What I'm really getting at, though, is that you should think twice before buying one from Amazon.
The truth is, it's become risky to make bigger purchases on Amazon. You're protected with Amazon's return policies and their A-to-Z guarantee, but that doesn't save you from the hassle of dealing with orders gone wrong.
So, while Amazon's prices on Cricut machines are occasionally lower than what you'll find on Cricut.com, be very, very cautious before you place your order.
Here's what you need to check for:
Make sure you're buying a brand new machine.
Make sure the model described matches the one you want, not just what's in the picture.
Double check the brands of all accessories.
If you're buying a bundle on Amazon, be sure to check the brands of everything that comes with it. The deal might not be so great if those "free" extras aren't the quality you expect.
What does a Cricut Joy Come With?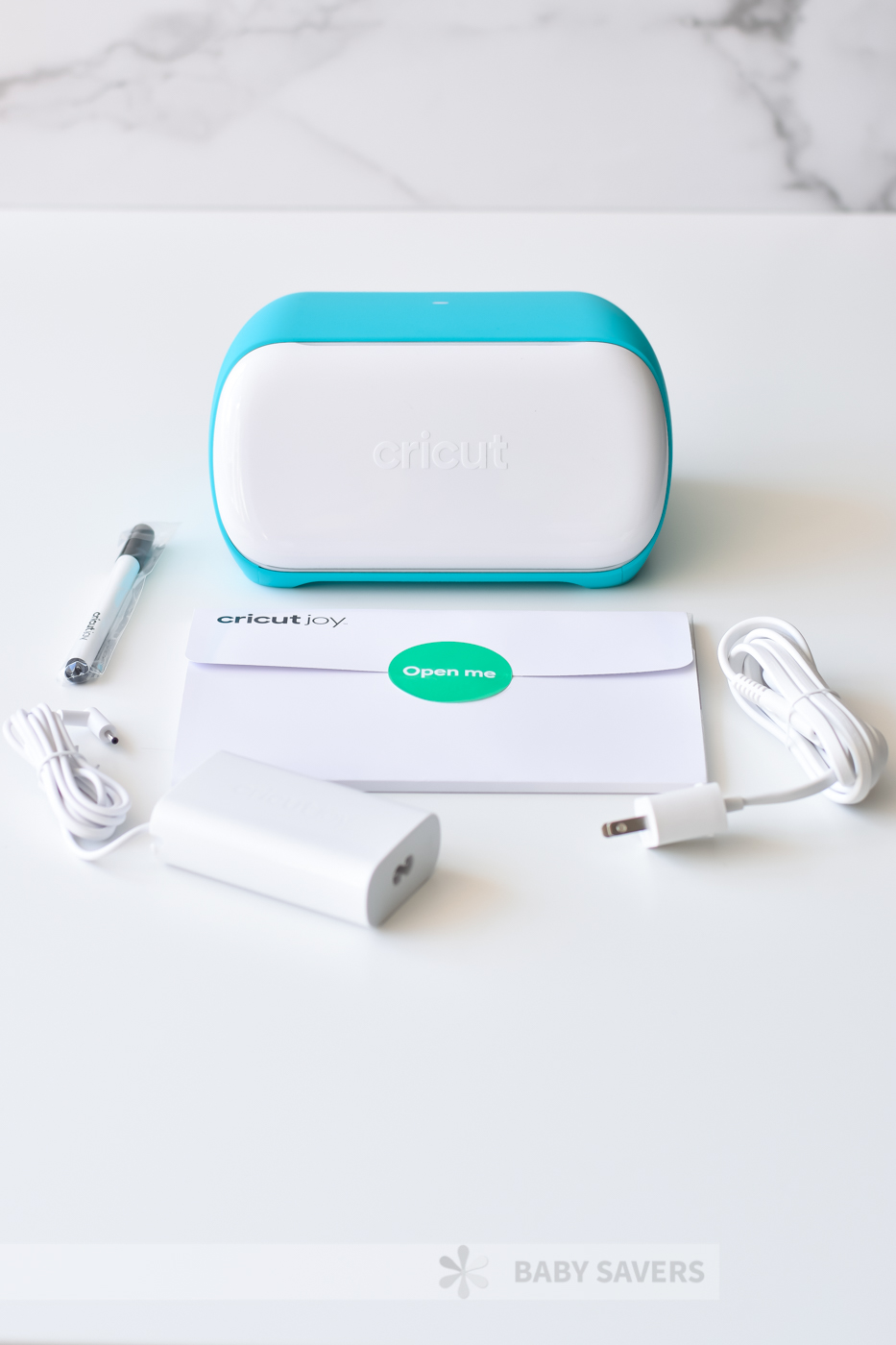 A really important question that needs to be answered is: what comes with a Cricut Joy? A regular, non-bundled Cricut Joy box contains:
Cricut Joy machine
Blade + housing
1 fine point pen with black ink
1 4.5″ x 8.5″ StandardGrip Mat
Welcome card
Power adapter
Free trial membership to Cricut Access
50 ready-to-make free Cricut projects
Materials for practice cuts
The blade and housing are listed as "included" with the machine, but they're already installed and they don't look like separate parts.
There's literally no assembly required with the Cricut Joy. You just need to plug it in and it's ready to use!
Mats and Tools: What You Really Need to Start Using it
The machine comes with the very basic supplies you need to start your crafting projects, but there are definitely some things you can get to make the process easier.
I actually have a whole post planned around useful Cricut Joy materials and accessories, so I'll keep this very brief. I'm just focusing on the 5 items that will help you start creating ASAP.
Starter tool set. You'll be so much happier if you have a weeder, spatula and scraper to help you get your materials off the mat. You can get all three in one pack with this Starter Tool Set.


Smart Vinyl. You can use any type of vinyl with your Cricut Joy, but Smart Vinyl is better because you can cut without the mat.

Smart vinyl is available in short and long rolls in a huge variety of colors, finishes and patterns.

You'll also see that Smart vinyl comes in permanent, removable, writeable and iron-on types. They're all made for the exact width of the Cricut Joy and you can do matless cutting with all of them!


Card Mat: The card mat is one of my favorite innovations of the Cricut Joy. Using the Card Mat with the insert cards means you'll be able to make gorgeous, custom cards unbelievably fast – and it's only $5.99!

My only frustration with my Explore Air 2 is positioning the materials on the mat for accurate cutting. The Card Mat eliminates that issue by providing a sleeve to use with the Insert Cards. They're then perfectly in position for accurate cutting and writing.


Insert Cards. They go with the card mat for lightning fast custom cards.


LightGrip Mat. This mat allows you secure more delicate materials, like vellum, copy paper and foil in order to have your Joy cut them. The light grip makes it easier to remove them without tearing.
Cricut Joy bundles
I love the bundles offered by Cricut.com because they provide the things you need to get started crafting as soon as your machine is set up.
They also offer significant savings over buying the products individually. Finally, (unlike a lot of the product bundles you'll find on Amazon), there's no fluff included. You'll definitely find uses for all the products that come in the bundles!
At the time of writing this there are five different Cricut Joy bundles being offered on the brand's website. They're all great for different reasons.
I love that one is like a sample pack of materials that will help you explore what the machine can do. I also really like that the other four are specifically put together to zero in on popular ways the machine is used.
Cricut Joy Essentials Bundle
The Cricut Joy Essentials Bundle is what I like to call the sampler pack.
Here's what you'll get in this package deal:
The Cricut Joy machine + the nine items that come with it (jump to this section to see everything)
Gold Smart Vinyl – Permanent, 5.5″ x 120″
Silver Smart Vinyl – Permanent, 5.5″ x 120″
Silver Smart Iron-On, 5.5″ x 24″
Gold, Smart Iron-On – 5.5″ x 24″
Cricut Joy Insert Cards, Macarons Sampler
Joy Card Mat, 4.5″ x 6.25″
The full price of all the items in this bundle add up to $238.93, but you can currently get it for $169.99. That's 28% off the retail price for everything! Check it out here!
Joy + Smart Vinyl Bundle
The Joy + Smart Vinyl Bundle includes a fun selection of special vinyl so you can start making a little happiness right away.
Smart Vinyl is made especially for the Joy. There are two really fantastic qualities about this new vinyl:
It's exactly the right width to fit into the machine.
You don't need to line it up and stick it to a cutting mat. It can go into the machine by itself!
The Smart Vinyl bundle includes:
The Cricut Joy machine + the nine included items (jump to this section to see everything)
Beachside theme Smart Vinyl Sampler, Permanent
Holographic Pattern Smart Vinyl Sampler, Permanent
White Smart Vinyl – Permanent, 5.5″ x 48″
Red Smart Vinyl – Permanent, 5.5″ x 48″
Silver Smart Vinyl – Permanent, 5.5″ x 48″
Gold Smart Vinyl – Permanent, 5.5″ x 48″
Black Smart Vinyl – Permanent 5.5″ x 48″
Joy Transfer Tape, 5.5″ x 48″ (2 count)
The full price of all the items in this bundle add up to $236.90, but you can currently get it for $169.99. That's 28% off the retail price for everything! Check it out here!
Cricut Joy + Insert Card Bundle
The Cricut Joy + Insert Card Bundle is the perfect way to start making impressive cards as soon as you get your machine out of the box!
There are tons of free card designs included with the purchase of your Joy, and each one looks like it takes hours to make!
Here's what this bundle includes:
The Joy machine plus everything that comes in the box (jump to this section to see what you get)
Card Mat, 4.5″ x 6.25″ (5 count)
Insert Cards, Rainbow Scales design
Insert Cards, New Romantic Sampler
Extra Fine Point Pens, 0.3 mm (3 count)
Fine Point Pens, 0.4 mm (3 count)
Insert Cards, Gray and Silver Holographic design
Insert Cards, Cream and Gold Glitter design
The full price of all the items in this bundle add up to $255.88, but you can currently get it for $169.99. That's 34% off the retail price for everything! Check it out here!
If you have other Cricut pens, they won't fit in the Joy, so you'll need these to go with your new machine.
Joy + Smart Iron-On Bundle
The Joy + Smart Iron-On bundle is perfect for crafters who are ready to start making custom shirts, clothing, accessories or other fun items!
Smart Iron-On is made especially for the Joy. Like the Smart Vinyl, it's exactly the right width to fit in the machine, and you don't need to attach it or align it to a cutting mat to use it!
This package deal includes:
The Joy machine + the nine items in the box (jump to this section to see everything)
Black Smart Iron-On, 5.5″ x 24″
White Smart Iron-On, 5.5″ x 24″
Gold Smart Iron-On, 5.5″ x 24″
Red Smart Iron-On, 5.5″ x 24″
Silver Smart Iron-On, 5.5″ x 24″
Glitter Smart Iron-On, Black, 5.5″ x 19″
Glitter Smart Iron-On, Multi, 5.5″ x 19″
The full price of all the items in this package deal add up to $235.92, but you can currently get it for $169.99. That's 28% off the retail price for everything! See it out here!
Here are quick links to all the bundles: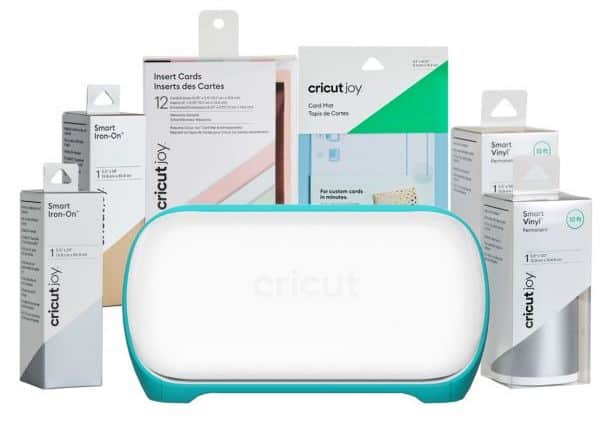 ESSENTIALS BUNDLE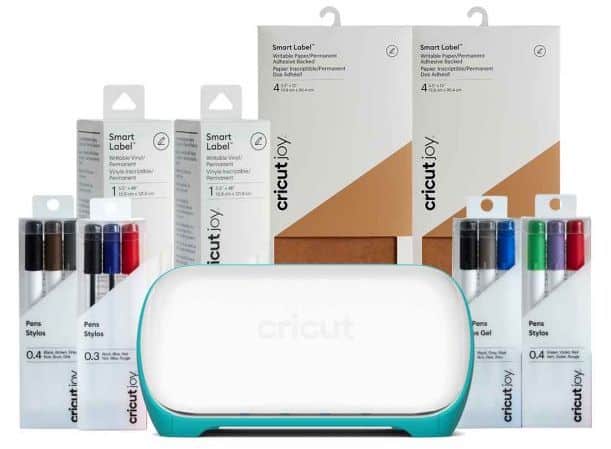 LABEL MAKING BUNDLE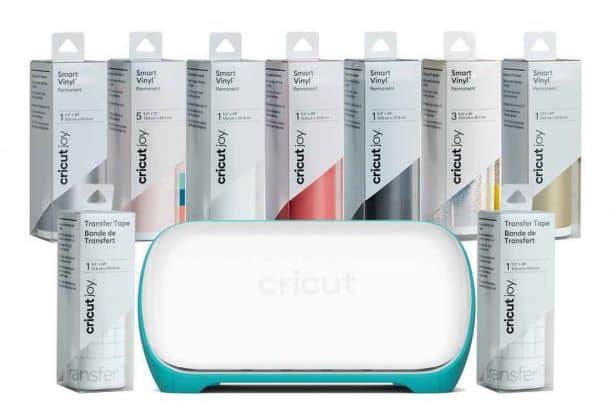 SMART VINYL BUNDLE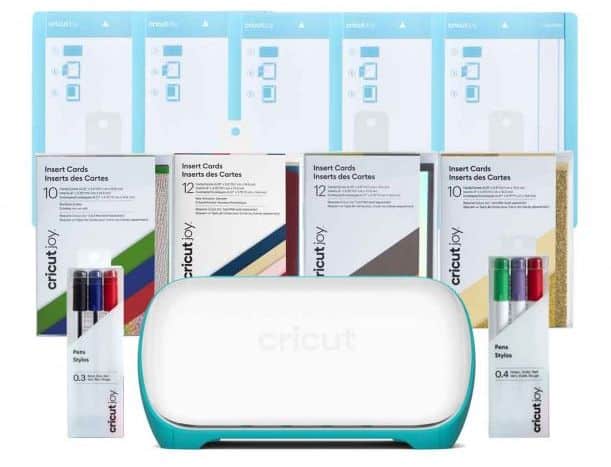 INSERT CARD BUNDLE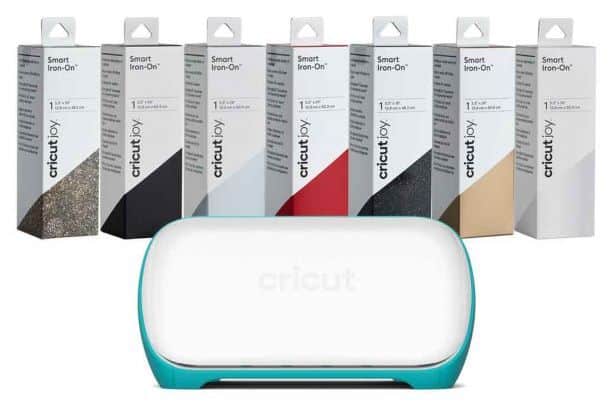 SMART IRON-ON BUNDLE

Materials You Can Write and Cut with a Cricut Joy
Cricut.com provides a full list of the 50+ materials a Cricut Joy can cut and write on.
Below is a list with the most popular materials and what kind of mat or accessory to use with them.
Pros and Cons of the Cricut Joy
If you've read any Cricut Joy reviews (including this one!), then you probably have a good idea of the pros and cons of the little cutting machine. But I'll summarize them for easy digestion.
Pros of getting a Cricut Joy
The Joy is not intimidating
The machine is easy to learn how to use
It's speedy
It's the lowest-priced Cricut cutting machine available
There are more free projects in Design Space than any other machine
The only cutting machine that can cut without a mat
Cuts single creations up to four feet long
Can create repeated cuts up to 20 feet long
The card mat easily and quickly makes unique cards
It's capable of making the most popular Cricut projects (and so much more!)
It's portable
It can be stored easily
Cons of the Cricut Joy
Machine-specific tools and accessories means that you must buy products specifically made by Cricut for the Joy.
You need to manually switch the blade with the pen if your design includes both cutting and writing.
Large designs will need to be broken up into smaller cuts. (the Design Space software will help you with this)
Materials are limited to a dimension of 5 inches on one side.
Can't cut as many materials as bigger cutting machines.
Cricut Joy Project Ideas
After all that I've included in my Cricut Joy reviews, it's time to give you some proof. You need to see that this machine can do exactly the projects so many crafters are looking for.
So I've come up with 20 different projects that can be made just with the Cricut Joy. Some are simple. Others are extremely detailed. But the truth is, they're all very easy! They only require your little cutting machine and materials to cut.
2. Fanned and Flourished Table Runner
10. Happy Birthday Wrap Sticker
11. Personalized Elephant Stuffy
Here are some more creative and fantastic projects that aren't shown in the image above:
13. Merry Christmas Stocking Card
16. Father's Day Tool Collage Card
19. Envelope Labels
20. Warm Winter Wishes Mitten Card
Many of these ideas are free to make, and they're all available in Design Space.
I love that every single one of these projects is super impressive, and some are true showstoppers!
Final Thoughts: Yours and Mine
After reading this long and extensive review, what are your thoughts? Is it worth it?
I've thought long and hard about this, and I fully believe that this is the perfect little cutting and crafting machine for a variety of users.
The compact footprint and minimal weight offer so many advantages. Not only will it fit into small spaces, it's also great for crafting on the go!
Is it REALLY "Your DIY Best Friend?"
I put this question into my article outline as a joke, but I started taking it seriously as I wrote more. The truth is, I actually DO think it's your DIY Best Friend!
I can see serious crafters loving The Cricut Joy as companion to their "main" cutting machine – either the Cricut Maker or the Explore Air 2.
The Joy is so quick and perfect for small jobs. Being able to take it places means you can create on the spot and make things for others in real time!
It's also a DIY best friend because it's so SO easy to use. The effortless setup, the lack of buttons and dials and the mat-free cutting…all of it makes for the easiest, least intimidating Cricut experience ever!