A great idea for a stocking stuffer is the Arm and Hammer Tooth Tunes Musical Toothbrush!
Kids can now rock out to their favorite Kidz Bop music when they brush their teeth!

Songs include:

We Found Love
Party in the USA
Good Feeling
Arm & Hammer Tooth Tunes Musical Toothbrushes can be found at Walmart with a MSRP of $11.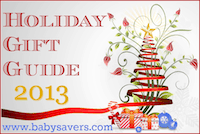 The 2013 BabySavers.com Holiday Gift Guide may contain advertising or promotional information provided by the manufacturer or PR representative.
The gift guide is intended as a shopping guide for the holiday season, and this post should not be considered a product review or endorsement unless otherwise stated. As always, feel free to contact me if you have any questions.