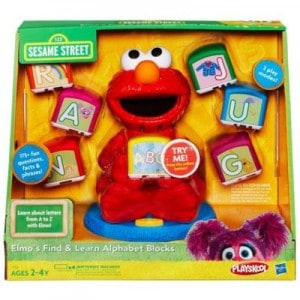 Elmo's Find and Learn Alphabet Blocks makes learning about letters and the alphabet so much fun!
Your child can place a block in Elmo's hand and watch as he comes to life – he'll be so excited to tell them about his favorite letters which are all on the blocks.
Push a button to switch to question mode and discover another great way to play and learn about the alphabet! Elmo will ask your little one to find a particular block by communicating phonics and different picture hints. Elmo's excitement for getting it right will thrill your child, and his encouragement and hints will encourage your child to keep trying!
Elmo's Find and Learn Alphabet Blocks features over 175 fun questions, facts, and phrases which he loves to share, and he sings two songs that your child will enjoy singing along to! Includes 7 blocks with letters from A-Z. Blocks are compatible with Big Bird's Find & Learn Color & Shape Blocks and Cookie Monster's Find & Learn Number Blocks toys (each sold separately.)
Elmo's Find and Learn Alphabet Blocks can be found on Amazon.com for $26.49, at Target.com and at Walmart.com for $29.96.

The 2011 Baby GoodBuys Holiday Gift Guide may contain advertising information provided by the manufacturer or PR representative. I've chosen to feature all the items, but they should not be considered a review or endorsement unless otherwise stated. –Marybeth