Gorilla Gym turns every doorway into an indoor playground.
Gorilla Gym It installs in seconds without any drilling, holes or even tools and is ASTM safety certified for 300 pounds. Your kids can safely swing on it and the plug 'n play design makes it easy to add 4 other exercise attachments.

The Gorilla Gym is also designed for moms and dads. Enjoy  exercising in the air without joint impact with the novel air straps 11-11 system,  hit a boxing bag or even enjoy aerial yoga!
A Gorilla Gym core unit can be purchased at Gorilla-Gym.com for $59.90 + shipping.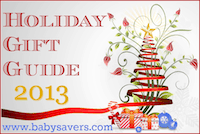 The 2013 BabySavers.com Holiday Gift Guide may contain advertising or promotional information provided by the manufacturer or PR representative.
The gift guide is intended as a shopping guide for the holiday season, and this post should not be considered a product review or endorsement unless otherwise stated. As always, feel free to contact me if you have any questions.