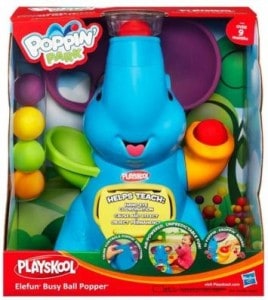 Our favorite character from the Elefun game joins the unpredictable ball popping fun from the popular Playtskool Busy Ball Popper toy!
Engage your baby in put-and-take play with the lively  Playskool Elefun Busy Ball Popper. Designed for children 9 months and older, this elephant will delight young children with its upbeat music and engaging ball-popping action. Easy push-button activation allows your child to choose between 10 songs. The toy's baby-friendly design also encourages young children to reach, grab, and crawl

Drop the five colorful balls into the adorable Elefun character's ears, and they could pop out the trunk or roll into the belly for a giggling good time.  The elephant's trunk rotates 360 degrees so mom can control the ball popping action.  Features ten poppin' droppin' tunes.
MSRP on the Playskool Elefun Busy Ball Popper is $39.95. It's available at Amazon for $23.99! It's can also be found at most major toy retailers nationwide and on HasbroToyShop.com

The 2011 Baby GoodBuys Holiday Gift Guide may contain advertising information provided by the manufacturer or PR representative. I've chosen to feature all the items, but they should not be considered a review or endorsement unless otherwise stated. –Marybeth