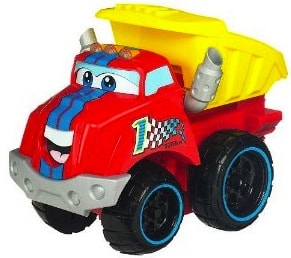 This Chuck & Friends Race Along Truck truck by Tonka gives your little ones a fun way to play all day long:
Get ready to race along with the adventuresome Chuck the Dump Truck character! This lively and energetic vehicle encourages preschoolers to play six active and fun racing games, including tag and red light/green light, with the press of the cab lights.

The Race Along Chuck truck features working red and green lights, says over 50 upbeat phrases, and inspires preschoolers to chase along as he races.
The Tonka Chuck & Friends Race Along Chuck is intended for ages 3 and up and has a MSRP of $39.99. It's available at Target.com for $29.99, at Amazon.com for $29.99 and at Walmart.com for $29.96. It's also available at most major toy retailers nationwide and on HasbroToyShop.com

The 2011 Baby GoodBuys Holiday Gift Guide may contain advertising information provided by the manufacturer or PR representative. I've chosen to feature all the items, but they should not be considered a review or endorsement unless otherwise stated. –Marybeth