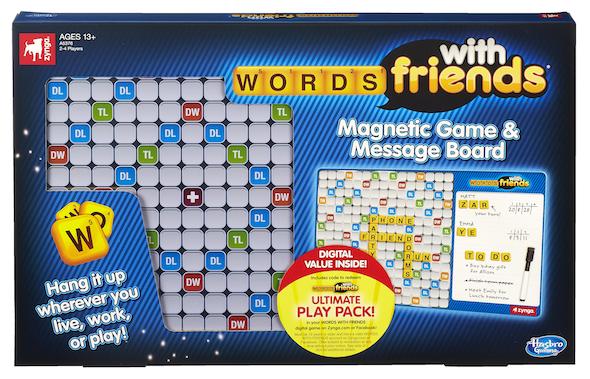 Give the gift of play this holiday season with Zynga Words with Friends Magnetic Game and Message board!
This year Zynga, the world's leading provider of social game services, has partnered with Hasbro games to create tangible versions of some of their most popular digital games.

These games include the ever popular Words With Friends game brought to life in the Words With Friends Magnetic Game and Message Board featuring magnetic pieces and an accompanying dry erase message board for hanging around the house.

You can hang the metal gameboard on a wall, lay it flat or take it with you so you can play anywhere and write scores, player names and other messages on it.

Build words with the magnetic tiles to score points in Classic play, the Words With Friends game you already know and love. Or you can try Letter Up play, a brand new version for busy people who share a space and want to play Words With Friends when they're not together!

Build on each other's words and score points for the big win. Let the wordie wars begin, whenever and wherever, with this magnetic Words With Friends game!
Words with Friends Magnetic Game and Message Board can be purchased at Walmart.com for $19.99.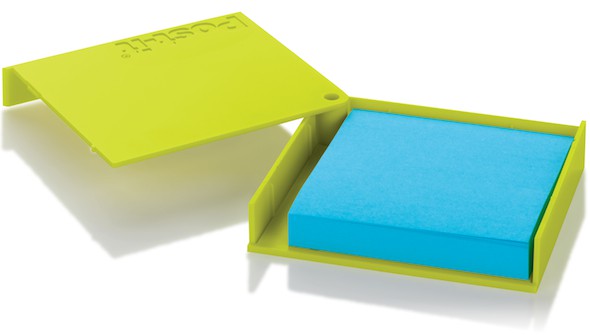 A great stocking stuffer is a Post-Its Color Block Note Dispenser.
Perfect for Secret Santa lists, stocking stuffers, teachers and more, the Post-It Color Block Note Holder keeps your Post-It Notes where you need them, when you need them.
Post-Its Color Block Note Holders are available where office supplies are sold.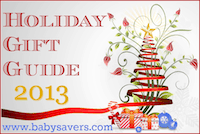 The 2013 BabySavers.com Holiday Gift Guide may contain advertising or promotional information provided by the manufacturer or PR representative.
The gift guide is intended as a shopping guide for the holiday season, and this post should not be considered a product review or endorsement unless otherwise stated. As always, feel free to contact me if you have any questions.