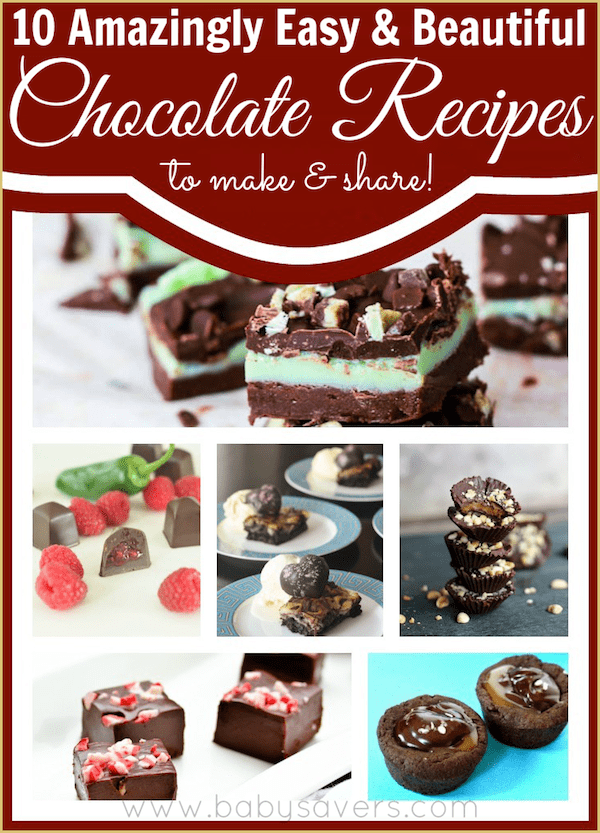 I love giving gifts, especially during the holiday season. One thing I really like to include with my gifts is a little bag with one of my homemade candy recipes and a generous sample of my favorite homemade candy.
Share this post by pinning it on Pinterest! Then follow me on Pinterest!

My recipe box if full of delicious homemade candy recipes, but I haven't started making any for the holidays yet. I'm eager to share as many holiday recipes and gift ideas as possible, so I'm kicking things off with a list of 10 delicious chocolate homemade candy recipes!
I'll do my best to post some of my own favorite homemade candy recipes in the week or two, but I don't want to make you wait! Take a look at these mouthwatering goodies:
10 Homemade Candy Recipes
1. This Peppermint Fudge recipe looks fabulous!
2. These Oreo Truffle Pops are absolutely adorable and look surprisingly easy to make!
3. Chocolate Caramel Tartlets look and sound delicious!
4. I know Chocolate Avocado Truffles sound crazy, but this is straight from the author's site: It may seem like an odd combination, but it is SO good. You don't taste the avocado, rather it brings a really creamy texture. and…they are extremely easy to make!
5. Chocolate Covered Cookie Butter Pretzels: there are just so many delicious words in this recipe title!
6. I think Chocolate Pumpkin Peanut Butter Cups would be a delightful!
7. I love the idea of Andes Mint Chocolate Chip Fudge.
8. Lavender Cream Chocolate Truffles would be a unique and gourmet gift for any food-lover!
9. I can think of plenty of people on my list who would adore Smooth and Creamy Eggnog Fudge.
10. I've heard that orange and chocolate and the most traditional flavors of Christmas candies. This recipe for Orange Chocolate Meltaways would be perfect for those who love time-honored holiday customs.
Do you have some favorite homemade candy recipes? If you want me to share them please feel free to send me a message or leave a comment below!