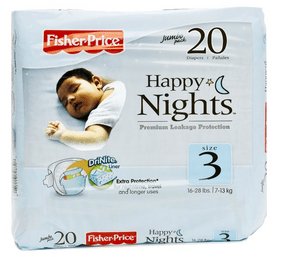 I was just rounding up my Amazon diaper deals when I came upon this super hot diaper deal on overnight diapers. So hot that it deserved its own post!
Right now, Amazon has 240-count size 3 Fisher-Price Happy Nights diapers for just $30.46 when you order with Subscribe & Save and you have the Amazon Mom discount. That makes your price per diaper just $0.12 each!
If you're a regular shopper of overnight diapers then you know that this is an incredible price for those expensive extra-absorbency diapers!
Even if you don't have the Amazon Mom discount you can still easily order these diapers with just Subscribe and Save and get them for $36.17, which will make them just $0.15 per diaper!