Disclosure: I shopped using Walmart Saving Catcher as part of a sponsored post for Crowdtap. #WMTSavingsCatcher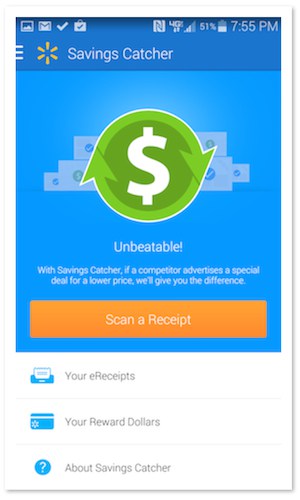 I love for saving money. I actually sort of live for it. At the same time, methods of saving money like using grocery coupons, require time and organization to do it effectively.
I can multitask with the best of them, but my lack of organizational skills is a huge downfall when trying to use grocery coupons to stretch your budget. It can be done, but it's just not a good personal fit when I'm already trying to live my best life with our growing family.
Grocery coupons might not be in my bag of money-saving tricks, but I use plenty of other methods to make sure I'm saving more and spending less.
One of the best methods for saving money is comparison shopping. When it's new boots or a washing machine, comparison shopping is as easy as putting some letters and numbers into google and exploring the output.
Groceries, staples and everyday items make comparison shopping far more challenging, but the Walmart Savings Catcher is eliminating the need to comparison shop at all!
Walmart is already known for having low prices across the board, but grocery stores and other retailers discount various items on a weekly basis. If you want to get the lowest prices on everything on your shopping list, you'll almost positively end up visiting many other area stores.

but now you can buy everything on your shopping list at Walmart, upload your receipt to the Walmart Savings Catcher and let the program do the work of seeing if lower prices could be found in the area.
If the Walmart Savings Catcher finds a lower advertised price, you get the difference in the form of a Walmart gift card!
I went to Walmart last week to test out the Savings Catcher app. I actually found some choice cereal on sale for a super-low price of $1.50 a box, so I bought several boxes. After my purchase, while I was still in the store, I signed into my account on the Walmart app with my smartphone and scanned a single barcode on my receipt.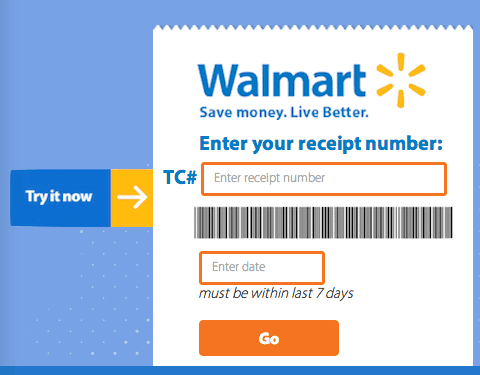 If you don't have a smartphone, you can also visit the Walmart Savings Catcher online and enter your receipt details there.
The next day I saw a notification on my phone from the Walmart app. I tapped it and saw this message: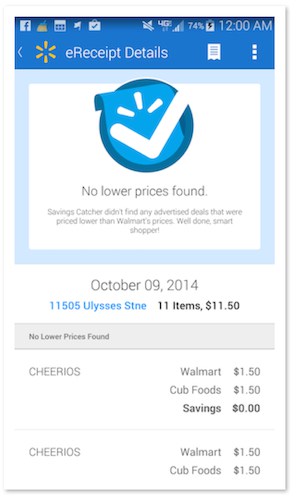 Not bad for not having to run around to more than one store to get my grocery deals!
On one hand, I really wanted the Walmart Savings Catcher to "work" in a way that found at least one lower price elsewhere. I just wanted the experience.
On the other hand, it's pretty fantastic knowing that I did my best shopping in a single trip. When I was in the store I knew the cereal I was buying was at an extra-low price, but it's a good feeling to not have any worry over a missed opportunity to save more somewhere else.
Even though the Savings Catcher didn't actually catch any additional savings for me this time, I can't even tell you how excited I am to use the program and stop thinking all of these remorseful thoughts before or after I make my purchases:
I should have checked prices at other stores before buying that. 
I want this item but I'm sure it's on sale somewhere else. 
I'm pretty sure this is on sale at the grocery store, but I don't remember if I saw it in this week's ad or last week's ad. 
I really don't have time to run to another store for a lower price, so I'll suck it up and buy it here. 
Life just gets busier and busier as we approach the holiday season, and the Walmart Savings Catcher is going to be amazing for tackling all the area sale prices in a single shopping trip!