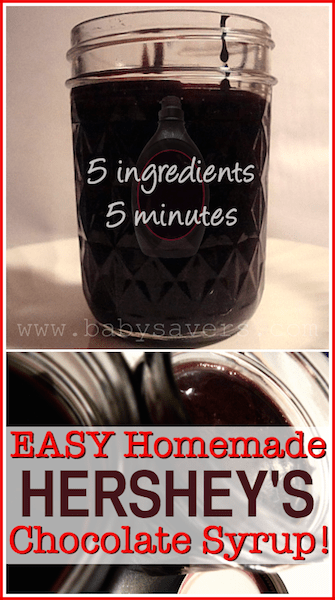 Did you know that I know how to make chocolate syrup? Every once in a while I'm reminded that you might not know about articles I wrote years ago.
It's silly, really–who wouldn't want to know how to make chocolate syrup, especially the kind that's an exact copycat for Hershey's syrup?
While the post about how to make chocolate syrup gets a lot of views from people searching for the recipe, I want to make sure that all of you, my current readers, know that it's out there and it's a super-easy recipe!
Like it says in the image above, this Copycat Hershey's syrup recipe only has five ingredients and it only takes 5 minutes. The icing on the cake (or the topping on the ice cream?) is that it's so exactly like real Hershey's syrup that you'll wonder why you didn't know how to make chocolate syrup at home before today!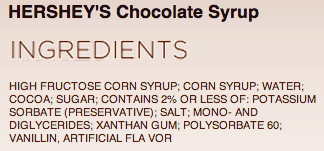 Finally, check out that image above.  Did you know that the real Hershey's chocolate syrup has these ingredients? High fructose corn syrup. Corn syrup. Water. Cocoa. Sugar. Potassium sorbate. Salt. Monglycerides. Diglycerides. Xanthan gum. Polysorbate 60. Vanillin. Artificial flavor.
When you check out the how to make chocolate syrup article you'll see that my copycat Hershey's syrup recipe has just five real ingredients: water, cocoa powder, sugar, salt and vanilla extract. I love that I know exactly what each of those items are and I don't mind feeding them to my family!