This rich and sweet homemade strawberry syrup recipe uses only natural ingredients and fresh strawberries. It's perfect for homemade strawberry milk and as a topping for so many other delicious desserts!
My homemade Hershey's chocolate syrup recipe has been one of the most popular posts on this site for years. I don't know why I haven't thought of it before, but it recently struck me that a strawberry syrup recipe would be a perfect companion to it.
After all, strawberry milk made with stawberry powder or a plastic bottle of high fructose corn syrup-laden dessert syrup is delicious. I get why anyone would love it – especially kids!
But I bet you're using store-bought, artificially flavored and sweetened mix-ins for milk because you don't know exactly how easy it is to make your own, homemade strawberry syrup.
I'm positive that making it from scratch (with this strawberry syrup recipe) is going to make you a homemade strawberry milk that will knock your socks off. It's like a million times better than anything you can buy!
Why you'll love this strawberry syrup recipe:
It's easy. Just 3 ingredients and 20 minutes will give you this delicious syrup.
It's versatile. You can use it to make or jazz up so many different foods and drinks.
It's kid-friendly.
It's made with real, natural ingredients: fresh strawberries, sugar, and water.
Equipment needed to make this recipe for strawberry syrup
This recipe is so easy, you're just going to need some basic kitchen tools and equipment to make it.
1/2 cup measuring cup
Medium saucepan
Jar or resealable container for storage
Ingredients for strawberry syrup
Strawberries
Granulated sugar
Water
How to make strawberry syrup from scratch
Note: This is an explanation of the techniques needed to make this syrup recipe. Scroll down to the bottom of the article to get the full recipe with step-by-step instructions.
The basic method for making this syrup is to cook strawberries in water and sugar until they're very mushy. Then, you press the strawberries through a fine-mesh strainer so you get all of the juice and the best parts of the berry into the syrup while leaving the seeds behind.
Because of this, it's best to cut up your strawberries into very small chunks. They'll break down even more when they cook, and you'll have less work when it's time to strain.
First, you should chop the strawberries into small pieces. Then, add them to a saucepan and cover them with 1/2 cup of white sugar and 1/2 cup of water and let it all cook for 10-15 minutes.
Your last step is to pour the mixture into a bowl through a fine mesh strainer. Using the back of a spoon, you'll push the strawberry pulp through until only the solids remain in the strainer basket.
Once it's cooled you can use the syrup for anything you want!
How to use your homemade strawberry syrup:
It's a mix-in! It's a topping! I have lots of ideas for using your delicious syrup. Here are just a few:
How to store homemade strawberry syrup
Store your syrup in an airtight container in the refrigerator and use it within 3-5 days. You can also freeze it in a freezer-safe container for 3 months.
I like to keep the syrup in a mason jar in my fridge, but I'll put it in a plastic container if I'm freezing it.
How to thaw frozen strawberry syrup
Take your container of frozen syrup out of the freezer and put it right in the refrigerator. Let it thaw overnight (5-15 hours). It may have separated while defrosting, so you'll need to mix it up again. Shake it in the container or stir the syrup really well to re-mix the liquids and the solids.
Other great recipes
I have a few other drink recipes that make delicious drinks, toppings and treats! Check these out:
Strawberry syrup recipe FAQ
Can I use frozen strawberries in this recipe?
Yes. Just be sure your frozen berries are unsweetened. You also may not have to slice them after thawing, depending on how soft they are.
Is strawberry syrup healthy?
This recipe is made with fresh, natural ingredients and it doesn't have any artificial flavors, colors or dyes. But it does have added sugar. Please read the recipe card below to review the nutritional content and choose if it's the right recipe for you.
Is this strawberry syrup recipe organic?
It's not organic as written, but it can easily be an organic strawberry syrup recipe by using organic strawberries and organic sugar.
Yield: 1 cup
Strawberry syrup recipe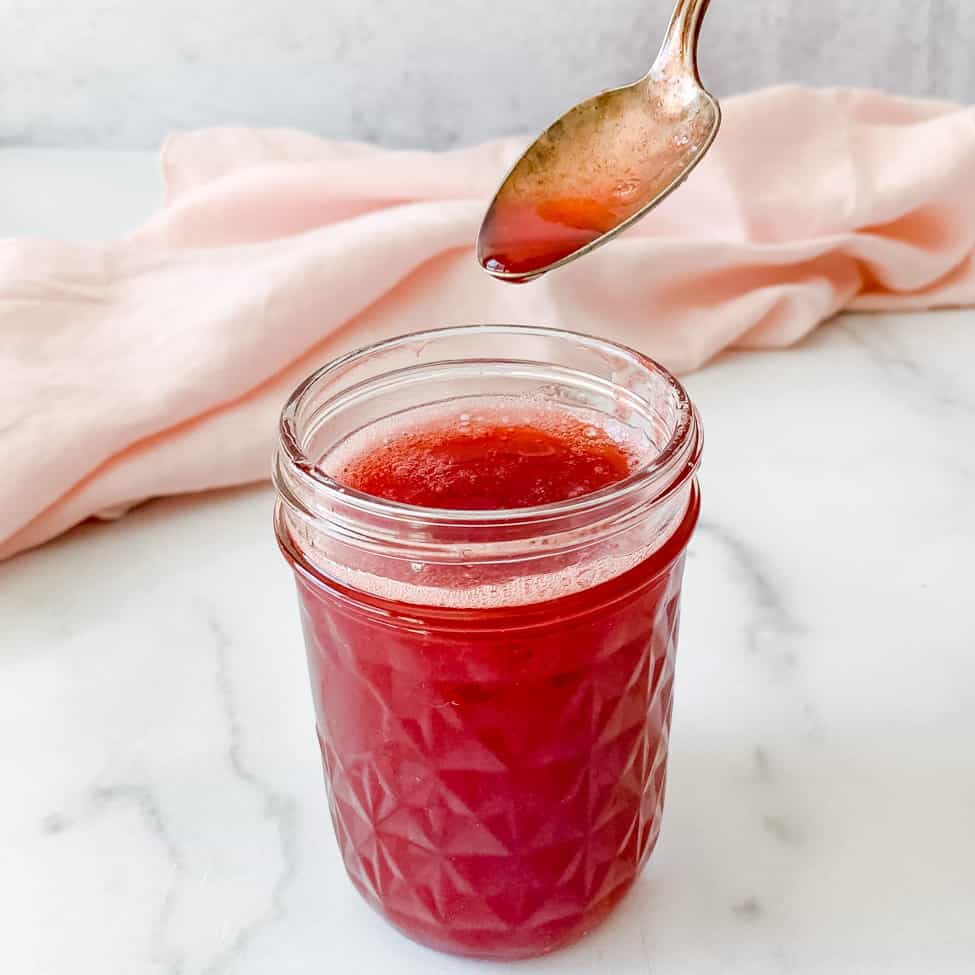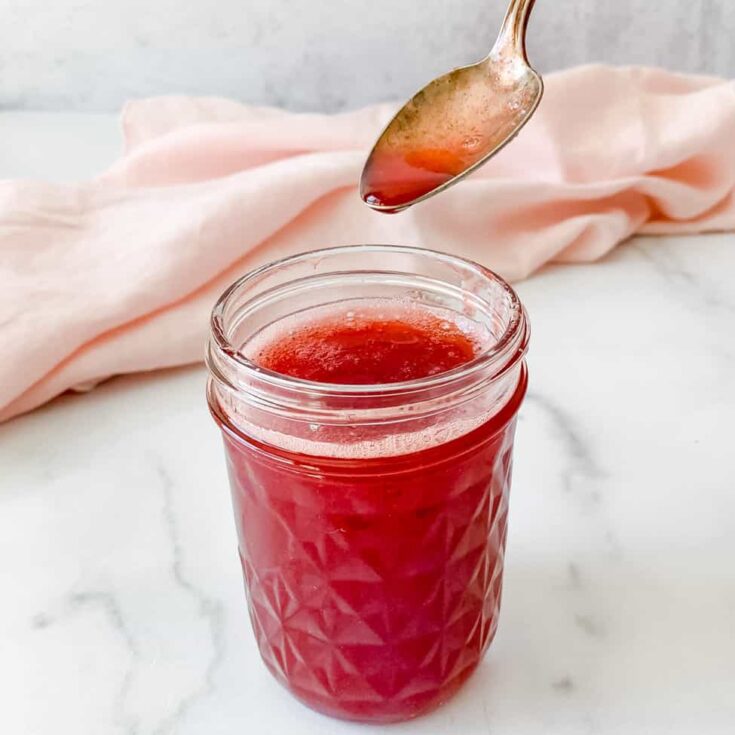 Homemade strawberry syrup recipe made with just three ingredients.
Ingredients
2 cups strawberries, sliced
1/2 cup sugar
1/2 cup water
Instructions
Combine the strawberries, sugar and water in a medium saucepan over medium heat and bring to a boil. Reduce heat and simmer for 10 minutes, stirring often, until mixture has thickened and strawberries are very soft.
Place a fine mesh strainer over a bowl and carefully pour the hot strawberries into the strainer. Let it strain for a few minutes, then use a spoon or fork to push the pulp against the mesh. Let the mixture sit in the strainer a few more minutes, then repeat pushing the berries against the mesh until the juice has been extracted.
Let the syrup cool, then transfer to an airtight container for storage.
Notes
Refrigerate cooled syrup for 3-5 days or freeze in an airtight container for up to 3 months.
Nutrition Information:
Yield:
8
Serving Size:
2 tablespoons
Amount Per Serving:
Calories:

62
Total Fat:

0g
Saturated Fat:

0g
Trans Fat:

0g
Unsaturated Fat:

0g
Cholesterol:

0mg
Sodium:

1mg
Carbohydrates:

16g
Fiber:

1g
Sugar:

15g
Protein:

0g