Need to know how to make homemade Pedialyte? Just use this easy DIY reicpe made with 4 simple ingredients!
Don't run to the store for fluids when you have sick kids. You'll save time and money if you make this recipe at home instead.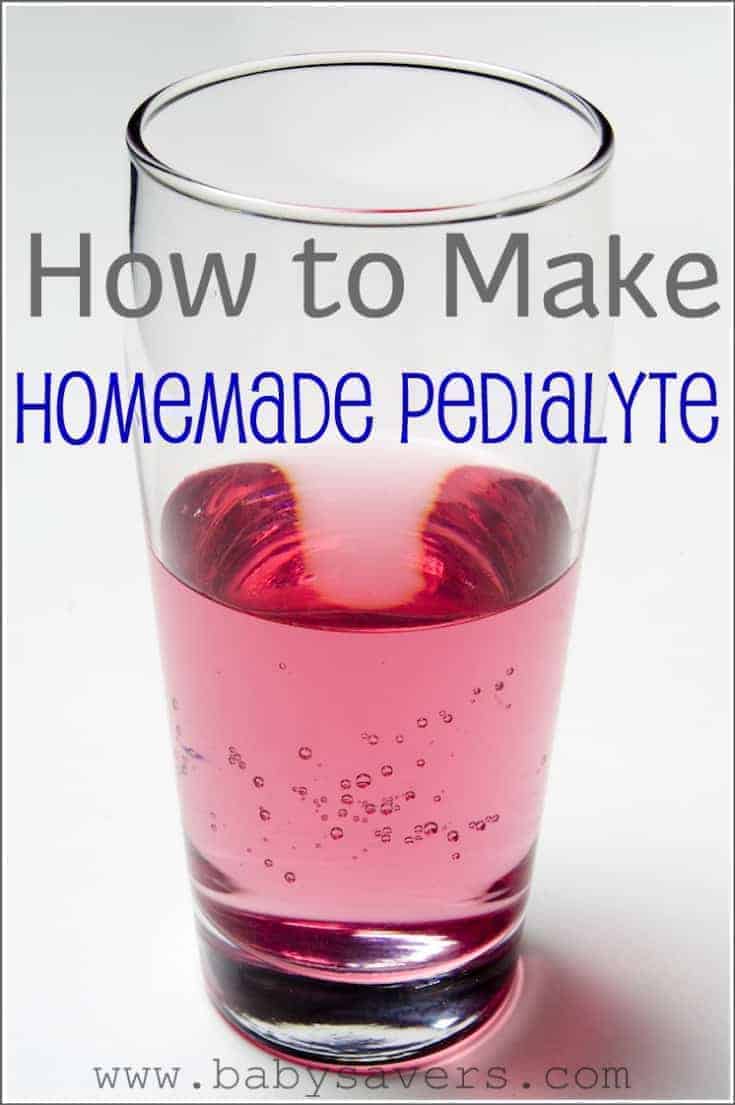 This sure is a popular topic! This article was updated in May 2020 with additional information and several alternative recipes. The original content is all still there.
If you're looking for more variations of these DIY Pedialyte recipes you're in luck! I recently added several new ones to the end of this post with additional tips on how to make the best recipes.
Note: This DIY recipe was given to me by a pediatrician, and I've used it for years. I've always loved that it uses ingredients that are already in my pantry.
Feel free to ask your own doctor if you have questions about the recipe below.
This recipe is absolutely fine for adults to use. I've even had it when I've been sick! But I also shared a homemade electrolyte drink recipe. Be sure to check it out!
Rehydration drinks for sick kids. I had no idea this would be such an important phrase in my life.
My kids are two and three, and both of them were up all night last night with a terrible stomach bug.
Why does it seem like every time a child has the stomach flu (also known as gastroenteritis) it's absolutely the sickest he or she has ever been?
The vomiting, and the resulting exhaustion and fussiness, makes for a very unhappy home.
Rehydration drinks for kids
My biggest concern when kids are sick with a fever, vomiting or diarrhea is dehydration.
While I know we need to be careful to manage fluid intake with vomiting, I'm always anxious to start getting little ones rehydrated. It feels like the first step to feeling better!
At least I can make it at home to save money and save a trip to the drugstore!
This wasn't our first run-in with a bad stomach bug, but I still wish I wasn't able to say that I'm an experienced mom in this category!
There are different recommendations according to various doctors and sources, but If there's one rule for stomach bugs I always try to remember, it's this:
Don't even think having little ones drink anything until they haven't vomited for 2 hours. After that, we move on to ice chips or tiny sips of water.
If they keep that down for 20 minutes, then they're likely ready to start drinking more water, electrolyte replacement drinks like Pedialyte and Gatorade, or any one of the alternative recipes below. This will get you on track to rehydrate your sick kids.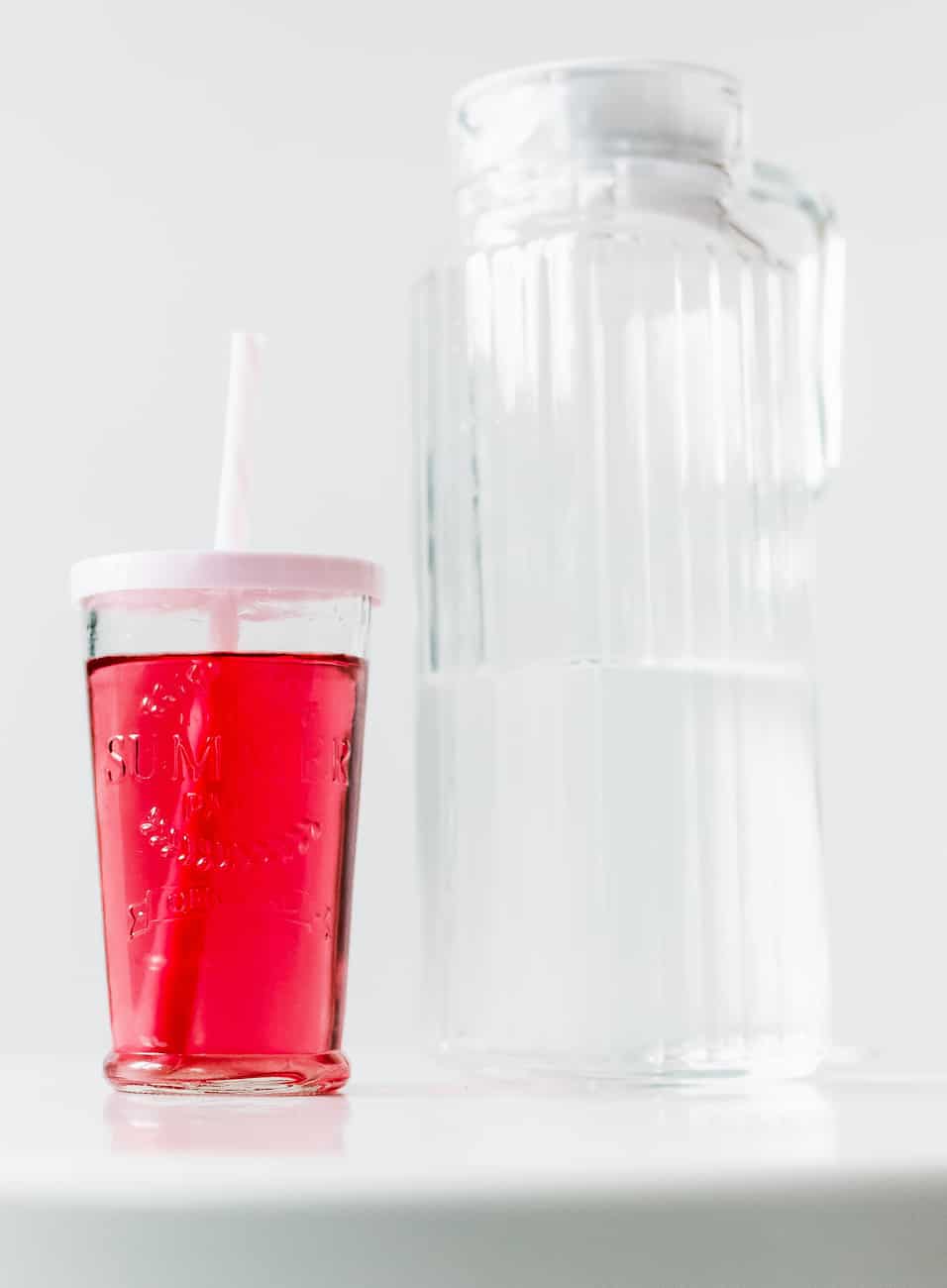 About Pedialyte
What does it do?
It quickly replenishes lost fluids and electrolytes to help prevent dehydration and help you feel better fast. (source)
I have good news! you can get the same benefits of the store-bought product with my homemade recipe. 
Why is it important?
In addition to replacing the water the body needs, it restores electrolytes from sodium chloride (salt) and other minerals that are lost during vomiting or diarrhea.
Electrolytes help our cells absorb and retain fluid, so drinking a beverage that helps replace those electrolytes will rehydrate the body faster than drinking water alone.
Pedialyte Ingredients
Other parents may not like the name brand or store brand hydration drinks because of the ingredients found in them.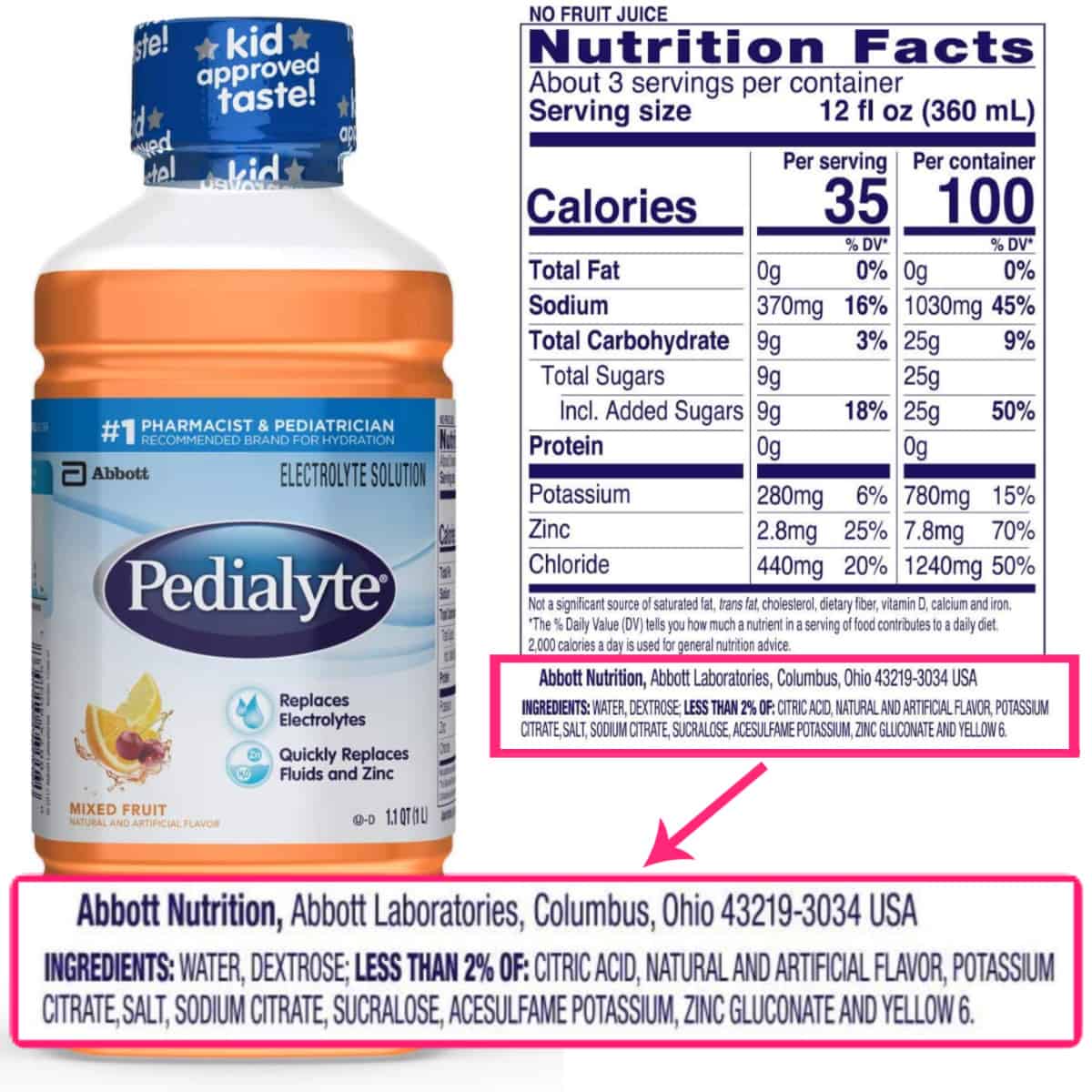 After all, the brand is made by Abbott, a huge pharmaceutical company. While the products are responsibly labeled listing all sorts of information on what's in the bottle, the ingredients themselves are complex.
Take a look at the image above, pulled from the bestselling Mixed Fruit variety.
If you can't read that list in the image, I apologize. It's the biggest I could get it without it starting to get blurry. I'm also listing them all here for your convenience.
Brand name Ingredients
Water
Dextrose
Citric acid
Natural and artificial flavor
Potassium citrate
Salt
Sodium citrate
Sucralose
Acesulfame Potassium
Zinc Gluconate
Yellow 6
There have also been several comments about vitamins. Those comments state that my homemade recipes don't have enough vitamins. 
 According to the corporate website, Pedialyte does not contain vitamins.
Keep in mind that the purpose of electrolyte-replacement beverages is to rehydrate, prevent dehydration, and replenish vital minerals and nutrients lost during diarrhea and vomiting. It is not to provide vitamins.
Of course, if you have any medical concerns about your little one or yourself, please don't hesitate to seek the advice of a doctor!
What can Pedialyte be Used For?
Any electrolyte rehydrating beverage can be used when a child is experiencing one or more of the following conditions:
Dehydration from vomiting
Diarrhea
Sweating
Travel
Exercise
Heat exhaustion
How to use this recipe
You can use this recipe in the same way that you use the store-bought product.
Here are a few tips:
As I stated above, make sure your child (or adult) hasn't vomited two hours before giving them any fluids.
Drink the rehydrating beverage in small sips, waiting about 15 minutes between drinks to ensure she can keep it down. The serving size can be increased from small sips as tolerated. 
You can serve this recipe cold or at room temperature. If your child prefers ice in their beverages, you can easily pour it over ice. 
How much should I use?
You can usually follow the same instructions for homemade pedialyte that you do for the store bought product. 
32-64 ounces of fluids each day may be needed for proper hydration. 
Be sure to ask your doctor if you have questions or concerns, especially if your child is sick for more than 24 hours. 
Does it need to be refrigerated?
Yes. This recipe should be mixed up and kept in a pitcher. Store it in your refrigerator and use it within 3 days of making it.
Who can use this recipe?
This recipe was shared to use with children over one year of age. You can ask your doctor if you want to give it to a child under a year old. 
Adults are also free to use this recipe! You can try our electrolyte replacement beverage recipe for different flavors, but you don't have to.
Finally, I've had people email me and ask me if this homemade recipe recipe is safe for pets. Especially cats and dogs. 
I've looked up a lot of information and all the ingredients in the recipe are safe for dogs and cats. All the same, I would absolutely ask a veterinarian before giving a pet this or any other new food.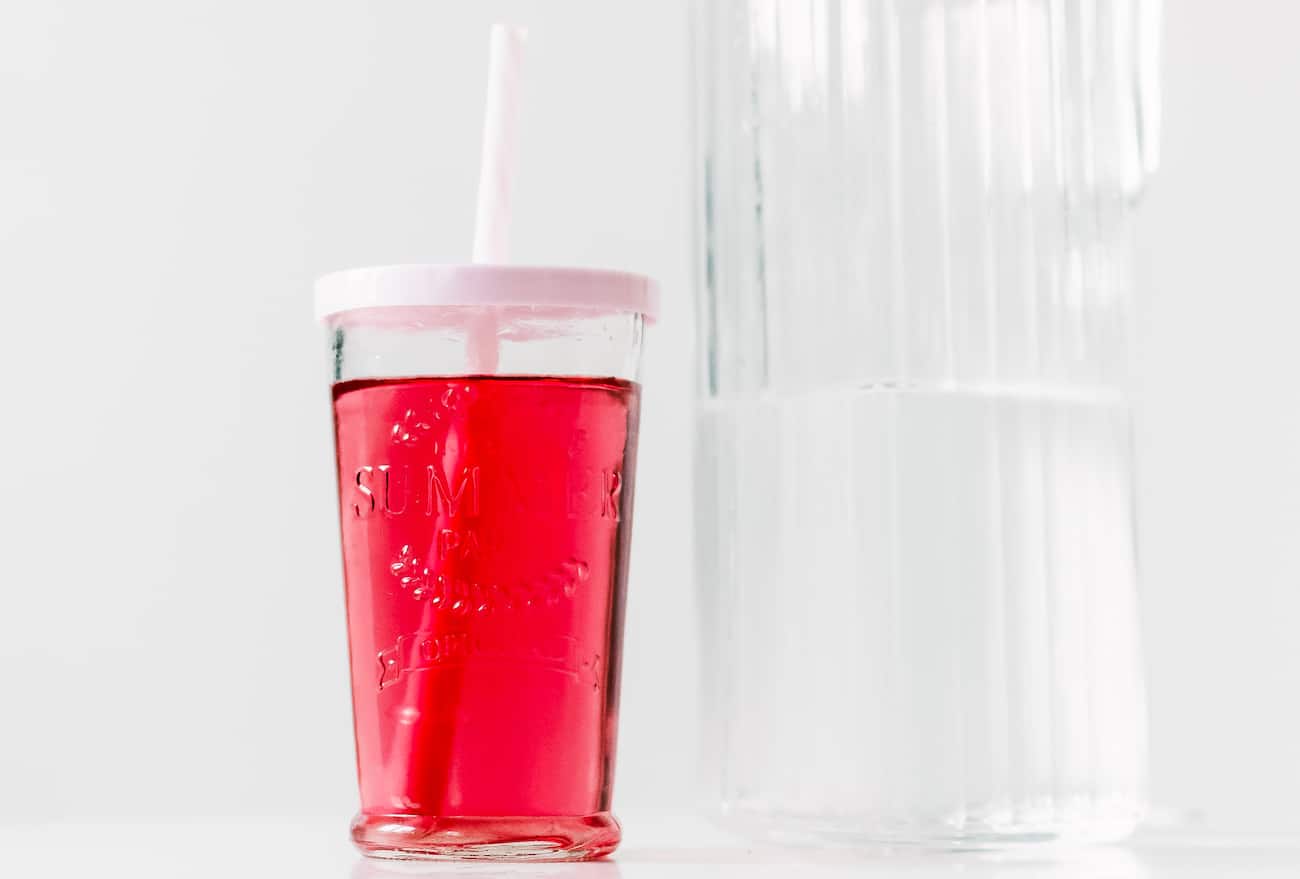 Why I make homemade Pedialyte instead of buying it
I have two problems with both the name brand and the generic equivalents:
It's expensive
My kids just don't like it
I've bought several different forms and flavors of both generic and name-brand rehydrating drinks.
Every time, my kids have had one sip and refused to drink any more. That's why I was so happy to learn that I could make a homemade version myself!
This recipe was given to me by a pediatrician a long time ago, and I've had great success with it. So I wanted to share it with all of you! I think it has just the right balance of sugar with the minerals thirsty bodies need.
I made a half batch of the first homemade recipe this morning and my kids drank it right down. I then made a second batch that they drank throughout the day.
Admittedly, I haven't tried the other recipes below, but I wanted to include the alternatives so you can try variations to find one that your little ones will drink.
Here are some products that can help you make and serve this recipe:
Bormioli Rocco Hermetic Seal Glass Pitcher With Lid, 68 Ounce

Jell-O Cherry Gelatin Mix 3 Ounce Box

Gunter's Pure Clover Honey Bears, 12 Oz (Pack of 2)

ARC International Pitcher, 16 Ounce

Note: scroll down to get a printable card of the first (and most popular) recipe.
How to make Homemade Pedialyte
If you can, make this recipe in a pitcher instead of a bowl. It's so much easier to store, pour and serve.
I prefer an airtight glass pitcher: this one for large batches, and this cute little glass pitcher for the recipes that only require 2 cups of water.
Another nice perk of making it in a pitcher: it's easy to pour into popsicle molds if you want to make DIY Pedialyte popsicles.
Any of the recipes below can be used to make popsicles, too!
Need ice pop molds? Check out these two:
Mini Silicone Ice Pop Molds With Sticks and Drip Guards

Silicone Ice Pop Molds with Lids, Set of 8

I especially love the little mini popsicle molds with drip guards. They're so great for toddlers. 
Scroll down to print this recipe.
Homemade Pedialyte Recipe
1/2 cup hot water
3 1/2 cups cold water
1/2 teaspoon salt
2 1/2 tablespoons sugar
1 teaspoon Jello gelatin powder/mix, any flavor (I used cherry)
Instructions: Mix salt, sugar and Jello with hot water until dissolved. Stir into the 3 1/2 cups of cold water and serve. You can refrigerate this for up to 3 days. 
The above recipe is the one you'll get when you print the card at the end of this article. 
If this recipe doesn't work for you, I have six recipes for you to try below!
Alternate Kid-Friendly Rehydration Recipes
1. Rehydration Drink Recipe with Kool-Aid
4 cups water
1/2 teaspoon baking soda
3 tablespoons sugar or honey (babies can't have honey until they're at least 1 year old)
1/2 teaspoon salt
1/2 packet unsweetened Kool-Aid
Instructions: Mix all ingredients together and serve. Refrigerate up to 3 days. Use your child's favorite Kool-Aid flavor to make it easier for her to drink. 
About NoSalt and Nu Salt: These salt alternatives add potassium, another electrolyte mineral. You don't need it for this recipe to be effective, but you can put it on your shopping list so you have it for next time. 
2. Pedialyte Substitute Recipe
2 quarts water
1 teaspoon baking soda
2 1/2 tablespoons sugar
1/2 teaspoon salt
1 cup orange juice
Instructions: Mix all ingredients together and serve. Refrigerate up to 3 days.
3. Natural recipe:
1/2 cup hot water
1 1/2 cups cold water
Juice from 1-2 fresh lemons or 3 tablespoons lemon juice
2 tablespoons honey (substitute sugar for babies)
1/4 teaspoon salt
Pour the hot water, salt and sugar into a pitcher and stir until dissolved. Stir in the cold water and lemon juice. Serve in small amounts. Refrigerate up to 3 days.
4. Organic Pedialyte recipe:
3 tablespoons organic sugar
1/2 teaspoon organic salt
1 cup organic juice, any kind
1 liter water (1 liter = just over 1 quart)
Combine all ingredients in a pitcher and stir until the sugar and salt are dissolved. Serve in small amounts. Refrigerate up to 3 days.
5. DIY Recipe:
3 cups hot water
1 tablespoon clear light corn syrup
1 teaspoon lemon juice
pinch of baking soda
pinch of salt.
Combine all ingredients in a pitcher and stir until they're thoroughly mixed. Like the other recipes, you can store this mixture in the fridge for 3 days.
6. Make Your Own Rehydration Recipe
1 cup hot water
1 1/2 teaspoons himalayan salt
1/2 teaspoon Morton salt substitute
2 tablespoons sugar
2 tablespoons honey
4 teaspoons lime or lemon juice
Mix all ingredients in a 1 gallon container and stir until completely dissolved. Fill the remainder of the container with enough cold water to make a full gallon. 
(thanks Alan!)
Your turn: Have you made this before? Share your recipe below!
Yield: 4 cups
Homemade Pedialyte Recipe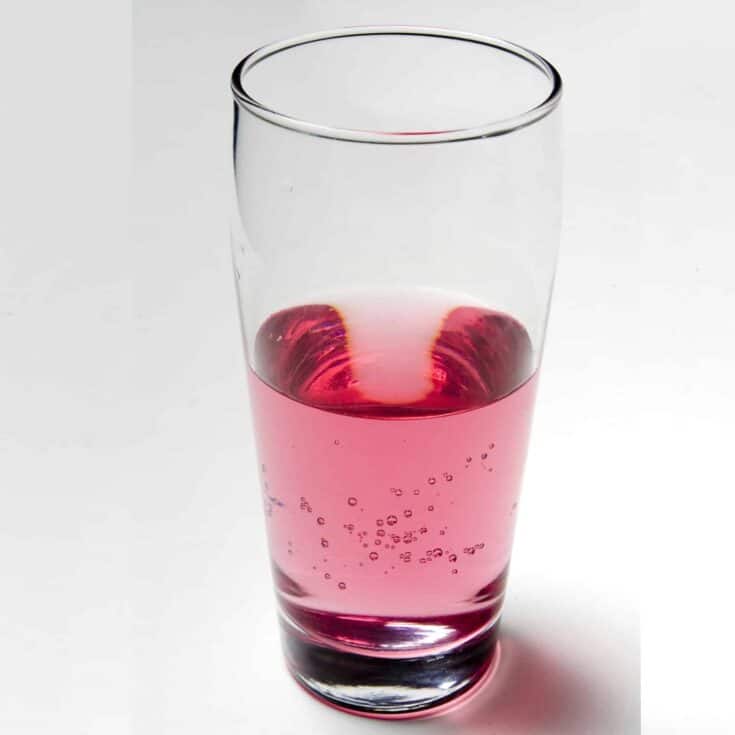 This is easiest Homemade Pedialyte recipe! Learn how to make this electrolyte replacement at home so you can have it ready for babies, toddlers, kids, adults and even pets!
Ingredients
1/2 cup hot water
3 1/2 cups water
1/2 teaspoon salt
2 1/2 tablespoons sugar
1 teaspoon Jello gelatin powder, any flavor
(optional) 1 pinch NoSalt or Nu Salt salt alternative
Instructions
Mix salt, sugar, Jello and optional salt substitute with 1/2 cup hot water until dissolved.
Stir into 3 1/2 cups of water and serve.
Notes
Store your homemade pedialyte in the refrigerator for up to 3 days.
About NoSalt and Nu Salt: These salt alternatives add potassium, another electrolyte mineral. You don't need it for this recipe to be effective, but you can put it on your shopping list so you have it for next time. 
Here are a few alterations you can make to this recipe:
Organic homemade Pedialyte, skip the Jello and use organic sugar and salt.
All natural alternative to Pedialyte: Sugar is natural, but, if you prefer, you can also substitute Agave, 100% maple syrup or honey for the sugar in this recipe. Sea salt may also be used instead of table salt.
Note: do not use honey if you're giving this to a baby.
Pedialyte popsicles: You can make homemade Pedialyte popsicles by pouring the solution into popsicle molds and freezing it. Smaller popsicles freeze faster.
Recommended Products
As an Amazon Associate and member of other affiliate programs, I earn from qualifying purchases.
Nutrition Information:
Yield:
4
Serving Size:
1
Amount Per Serving:
Calories:

32
Total Fat:

0g
Saturated Fat:

0g
Trans Fat:

0g
Unsaturated Fat:

0g
Cholesterol:

0mg
Sodium:

453mg
Carbohydrates:

8g
Fiber:

0g
Sugar:

8g
Protein:

1g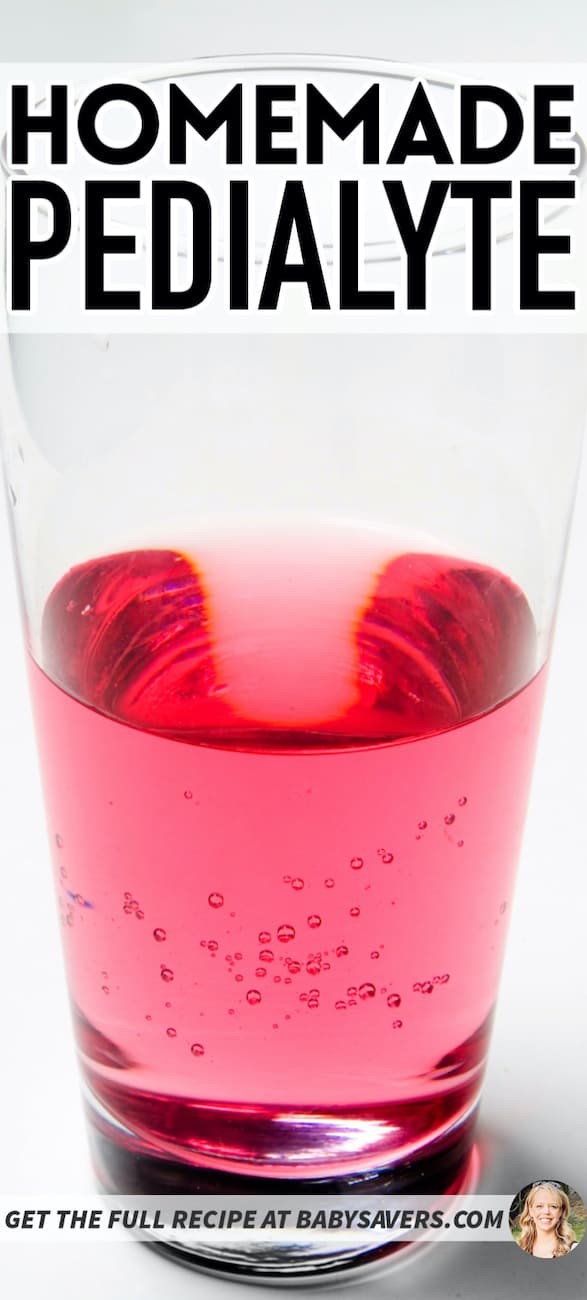 Looking for more health tips? See how honey and cinnamon have been known to help the common cold!