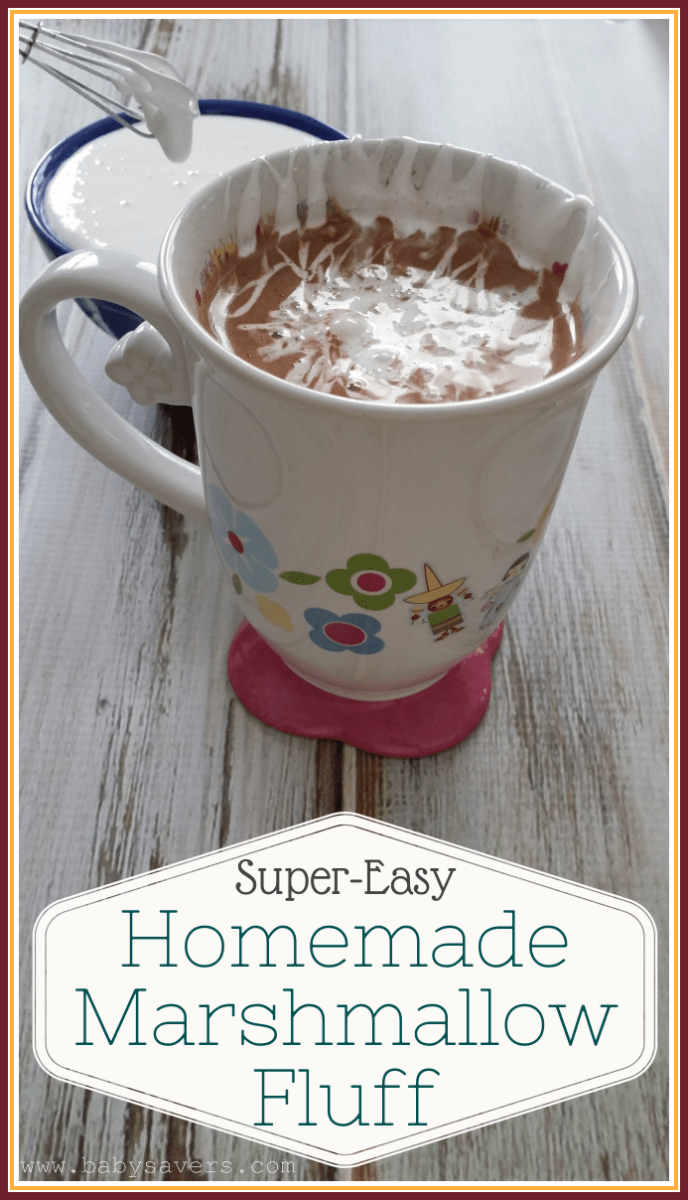 Figuring out how to make marshmallow fluff has been on my mind for a while.
One of my friends makes lovely homemade marshmallows, and she claims that they're easy and fun to make. Because of that, I figured that learning how to make marshmallow fluff at home had to be at least a little easier than actual marshmallows!
Why marshmallow fluff? I've only recently become accustomed to having a homemade mocha in the morning. It may be unhealthy, but it's the perfect blend of sugar and caffeine that gets my day off to the right start. One of the ingredients that makes my particular mocha recipe so delicious is the addition of marshmallow fluff.

Share this post by pinning it on Pinterest, then follow me on Pinterest!
One morning I was craving a hot, sweet coffee drink and I was all out of my store-bought fluff. I tried to skip it, tried adding a little extra milk, and I even tried adding actual marshmallows, but it wasn't the same. Then I searched for
how to make marshmallow fluff
and found several articles that helped me come up with my own special marshmallow fluff recipe!
The thing I like most is that I came up with a marshmallow fluff recipe without raw egg whites. Using Just Egg Whites powdered egg whites is far safer than using egg whites straight from the fridge. I like that these are actually pasteurized and "salmonella negative."
Note: since powdered egg whites are useful for far more than learning how to make marshmallow fluff, you might want to consider buying a larger volume. It's cheaper to buy an 8-ounce bag of powdered egg whites than the 3 ounce can. Just remember to store the extra in the freezer to prolong the freshness.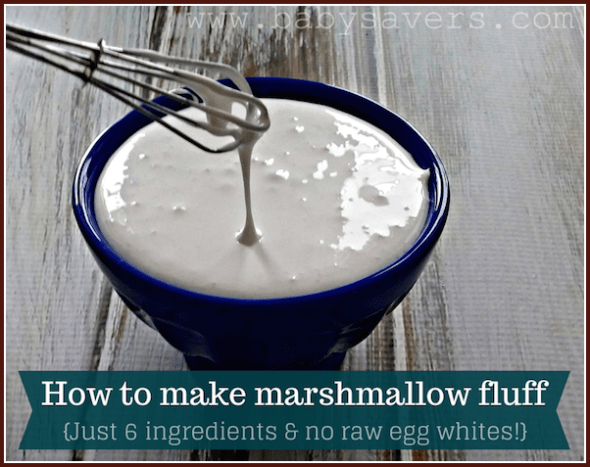 How to Make Marshmallow Fluff
Ingredients
2 teaspoons Just Egg Whites powder
2 tablespoons warm water
2/3 cup light corn syrup
1/8 teaspoon salt
2/3 cup confectioner's sugar
2 teaspoons vanilla extract
Directions for how to make marshmallow fluff
In a large bowl, gently stir the egg white powder into the warm water with a fork for a minute or two until smooth and fully combined.
Add corn syrup and salt to egg white mixture. Beat on high speed for 10 minutes. This is when it starts to get really fluffy and white!
Add the confectioner's sugar and mix in on low speed for two minutes or until blended.
Stir in the vanilla.
This makes just under three cups of marshmallow fluff. Store the extra in a covered bowl in the refrigerator for a week, or in a sealed container in the freezer for up to two months.
If you do choose to freeze your homemade marshmallow fluff, it doesn't freeze solid so you don't need to worry about a long thawing time. Just stir it well before using it.
Finally, you'll see that you'll need to beat the egg white powder, water, corn syrup and salt for 10 minutes straight on high speed. It's recipes like these that really make me appreciate my KitchenAid mixer! Being able to walk away while it does the work is a huge advantage.