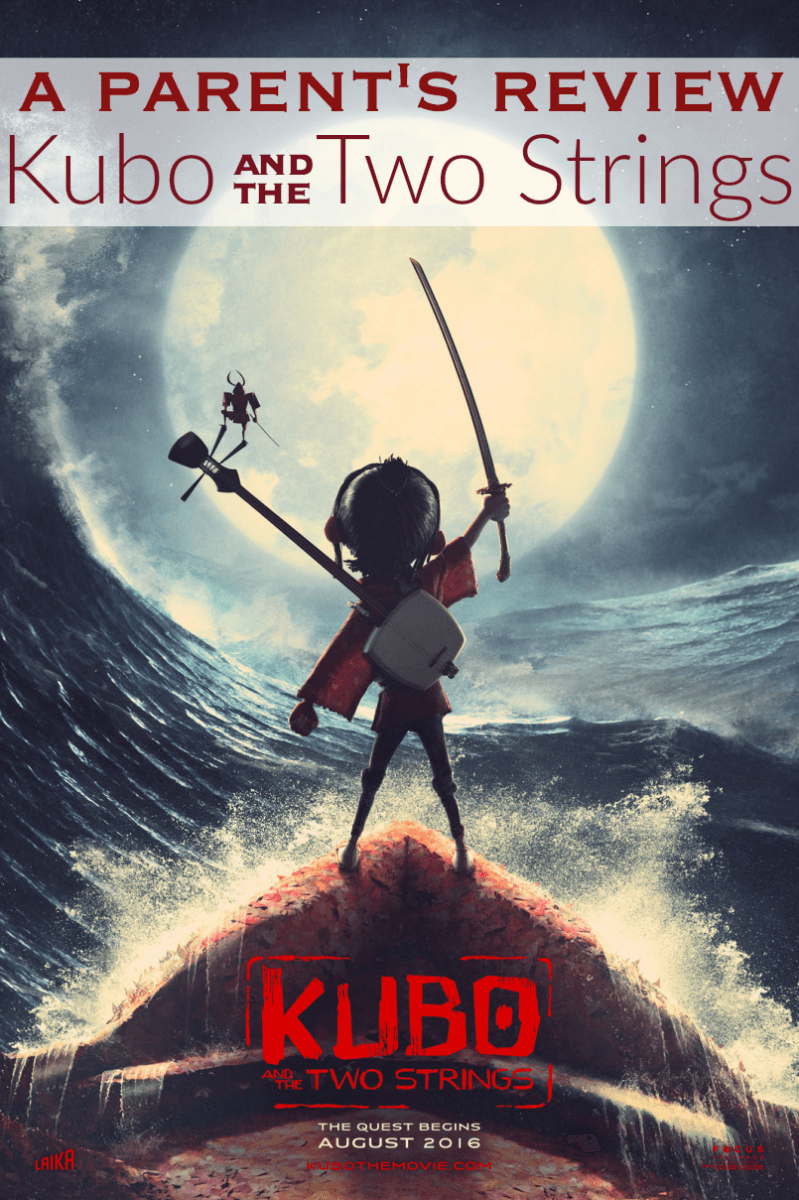 I attended an early screening of Kubo and the Two Strings when I was in LA for the film's press junket. I already spoke of my absolute love for the credits in Kubo and the Two Strings with While My Guitar Gently Weeps, but I promised a parent's review of Kubo and the Two Strings, plus more about the actual movie and other reviews!
First, the real critics are raving about Kubo. Check out just a few of the snippets I found when browsing online.

Kubo and the Two Strings Reviews
RottenTomatoes.com has Kubo and the Two Strings Certified Fresh at 94%.  The "Critic's Consensus" of Kubo and the Two Strings on Rotten Tomatoes states:
"Kubo and the Two Strings" matches its incredible animation with an absorbing — and bravely melancholy — story that has something to offer audiences of all ages.
The Globe and Mail states that Kubo and the Two Strings is "visually stunning" and elaborates with these glowing words:
The overall stunning nature of the work cannot be ignored. Audiences would do well to take Kubo's advice from the movie's beginning, "If you must blink, do it now," as there is no telling what they might miss if they look away.
Killer Movie Reviews rates Kubo and the Two Strings an impressive 5 out of 5 stars with these words:
"Kubo and the Two Strings" continues Laika's string of arresting, unconventional stop-motion animated films that are both sophisticated and enchanting…Kubo is audacious enough to tackle serious subjects and to do so with no pretense about the finality of death, or the reality of evil.
The true magic in "Kubo and the Two Strings" is found in the characters, starting with the titular character, who is brave, but also essentially a little boy on the verge of manhood struggling with his sense of loss and his desire for family…This is a transcendent film of astute insights that resonate with the heart.
The AV Club published an astute review of Kubo and the Two Strings that hit quite close to my own feelings on the film:
No American animation studio is better-suited to dreamlike plotting than Laika, and the animation of Kubo is truly dazzling, mixing sophistication and handmade charm with inspired flow. The movie glides from one gorgeous sequence to the next…
Laika has nonetheless crafted a movie with real resonance. Plenty of animation uses dead parents as an easy trope; Kubo actually attempts to process death as a part of life.
Finally, Variety wraps up their detailed review of Kubo and the Two Strings with this statement:
With such awe-inspiring artistry, designed so as to never distract from the material it serves, "Kubo and the Two Strings" stands as the sort of film that feels richer with each successive viewing, from the paper-folded Laika logo at the beginning…to the emotional resonance of its final shot.
In his first project at the helm, Travis Knight has delivered a tale that touches on immortality.
As for my own thoughts, as a parent, on Kubo and the Two Strings, I strongly believe that parents should see this movie with their children. In addition to being beautiful and having some great funny moments, it's thought-provoking for all ages.
Kubo and the Two Strings and Death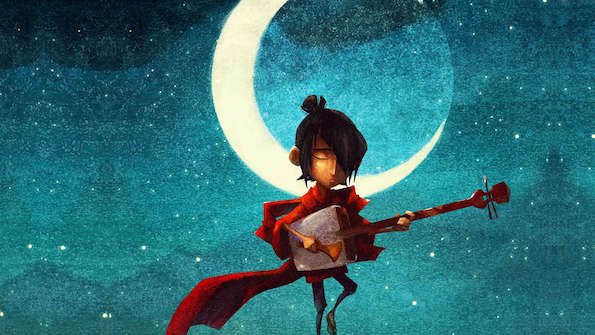 Like other movies from LAIKA, Kubo and the Two Strings doesn't sugarcoat death of loved ones. I lost my dad, my kids lost their grandpa and my husband lost his father-in-law just a few months ago. That loss is still very fresh for us, and I think parts of the movie could be cathartic for my kids.
In the past three months, it's become hard, at times,  to find new things to say to help grieving little ones when I'm going through the same thing in my own way. I actually like the idea of my kids getting a different perspective on the theme, of seeing a fictional character experiencing a similar loss.
On that note, if your own children haven't experienced loss in a capacity that helps them understand death, I think it's fair to say you should discuss it before seeing Kubo and the Two Strings to help cushion the sadness within the film.
Finally, Kubo and the Two Strings is sweeping gorgeous both in design and in the story. But it has very intense scenes that are potentially scary for little kids. At the same time, it seems like every animated movie that's worth seeing has those moments.
It's definitely up to us, the parent's, to determine if a movie is appropriate for our children. I'd just say that Kubo is on the more intense end of the spectrum when it comes to animated movies.
All in all, Kubo and the Two Strings is amazing. Knowing what I know about everything that went into making the movie, I'm even more proud and amazed at how it all came together so beautifully.
In a world of computer-generated animation, Kubo and the Two Strings is so different, and so much more than an evening of entertainment.
Kubo and the Two Strings is now in theaters. Find it in a theater near you and get your tickets today!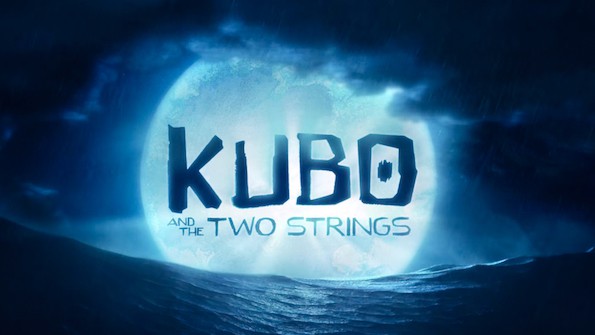 See the rest of our Kubo and the Two Strings coverage: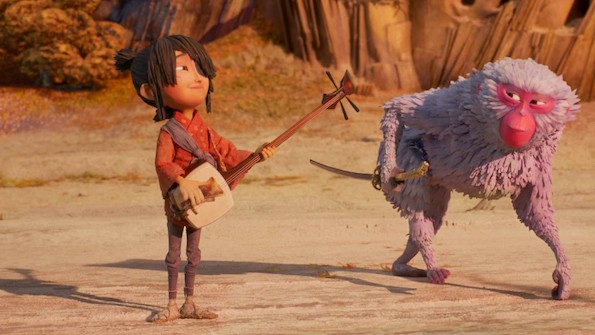 About Kubo and the Two Strings:

An epic action-adventure set in a fantastical Japan from acclaimed animation studio LAIKA.

Clever, kindhearted Kubo (voiced by Art Parkinson of Game of Thrones) ekes out a humble living, telling stories to the people of his seaside town including Hosato (George Takei), Akihiro (Cary-Hiroyuki Tagawa), and Kameyo (Academy Award nominee Brenda Vaccaro).

But his relatively quiet existence is shattered when he accidentally summons a spirit from his past which storms down from the heavens to enforce an age-old vendetta.

Now on the run, Kubo joins forces with Monkey (Academy Award winner Charlize Theron) and Beetle (Academy Award winner Matthew McConaughey), and sets out on a thrilling quest to save his family and solve the mystery of his fallen father, the greatest samurai warrior the world has ever known.

With the help of his shamisen, a magical musical instrument, Kubo must battle gods and monsters, including the vengeful Moon King (Academy Award nominee Ralph Fiennes) and the evil twin Sisters (Academy Award nominee Rooney Mara), to unlock the secret of his legacy, reunite his family, and fulfill his heroic destiny.
Find out where Kubo and the Two Strings is showing at a theater near you!

Disclosure: Travel and most expenses were covered to facilitate the trip and learn more about Kubo And The Two Strings.  All opinions are my own.