This shop has been compensated by Collective Bias, Inc. and its advertiser. All opinions are mine alone. #RadiantLaundry #CollectiveBias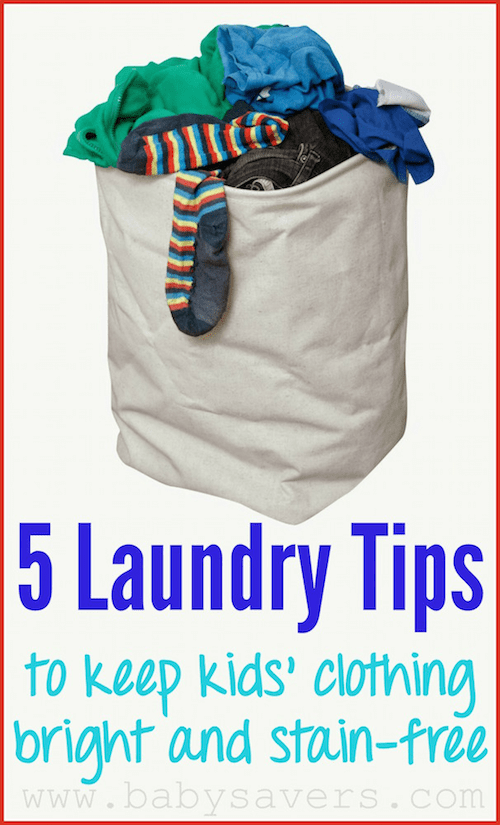 Here's a new confession: I'm a borderline spaz about laundry. Call me crazy, but I firmly believe clothing should be clean when it comes out of the washing machine. That means I have a variety of methods to ensure our clothes are stain-free for as long as possible.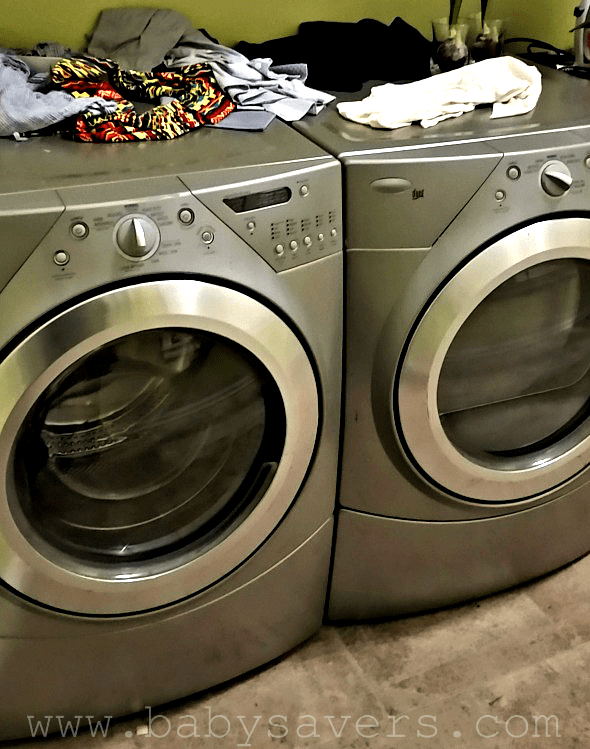 I also really hate when clothes look worn out and dingy. Over-washing and over-drying garments multiplies how used they appear, so I try really hard to get stains out the first time an item goes into the washer.
Let's face it: as a mom of two young kids, stained clothes, lots of stained clothes make their way into my laundry pile. After all, I don't want to stop my kids from playing just because I'm afraid for their clothes!
I'm not the only one who thinks throwing sticks from the muddy banks of a river is a special childhood experience, am I?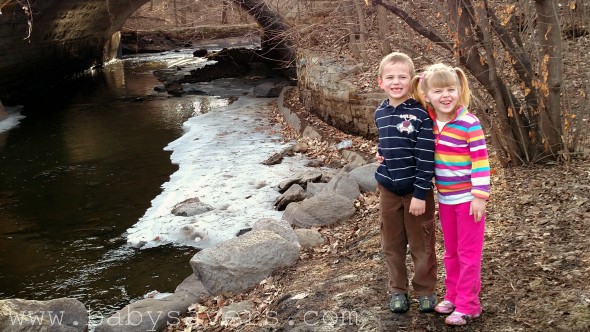 The worst stains require more than just a turn on my washer's Quick Wash cycle, but a part of me loves the challenge of getting clothes super-clean and looking nice again.
It's not surprising that my own mom is even more of a freak about laundry than I am, but I'm lucky because she's passed along plenty of effective laundry tips to me. Now I'm going to share them with you!
5 Tips to Keep Kids' Clothing Bright and Stain-Free
1. Treat and/or wash soiled clothes right away. Stains don't disappear if you ignore the garment and leave it in the hamper for a few days.
2. Pre-treat…from the inside…with a brush: Most laundry detergents are also formulated to be used as a pretreatment. My new bottle of all Radiant has these specific (and easy!) instructions:
Pre-Treating: Rub a small amount directly on stain before washing. Check an inseam for colorfastness.
I have two rarely mentioned tips to make your pre-treating more effective than ever before:
• Turn the garment inside out and apply the detergent to the inside of the fabric.
• Use a toothbrush to work the detergent in.
Why inside out? Why use a brush? Treating the inside starts forcing the stain out instead of deeper into the fabric. The brush works the detergent into the fibers of the garment.
3. Pre-Soak: This is a biggie for anything you know is going to cause a big headache in the laundry room.
Pre-treat the stain first, then put it in a bucket with your preferred soaking solution. Even a soak in plain water helps loosen up many stains before the washing machine is put to work.
4. Wash Stained Clothing at the Right Temperature: My general rule: Use cold water when the stain is caused by bodily functions (blood, vomit, etc.). Hot water will "cook" the proteins into the fabric.
5. Use Good Detergent. I have no scientific proof for this, but I know from experience that name-brand detergent works much better than generic. I know it can be expensive, but I think it's totally worth it if it keeps clothes in wearable condition.
Using some or all these tips for keeping kids clothing stain-free on a great deal of my laundry has saved so many different clothes.
While I can't guarantee that my kids won't get dirty after they're dressed and ready for the day, I can make sure their clothes are photo-ready at the beginning of the day!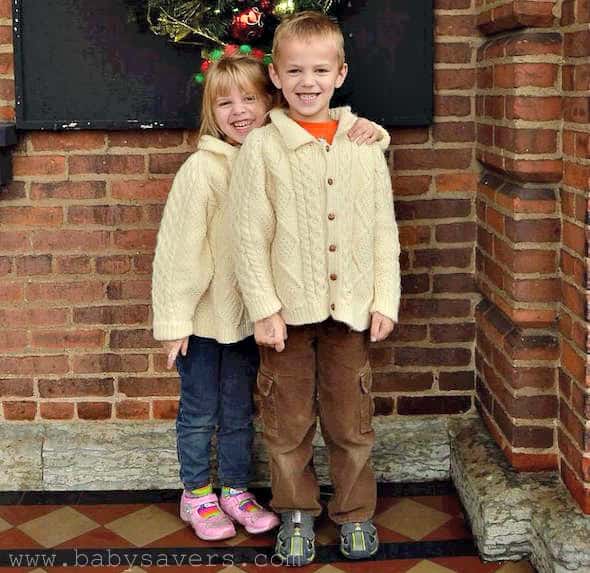 I just tried the new all Radiant in a few loads of laundry over the weekend and I'm super pleased with the results.
all Radiant has a patented Fiber Shield technology that restore whites and protects bright colors.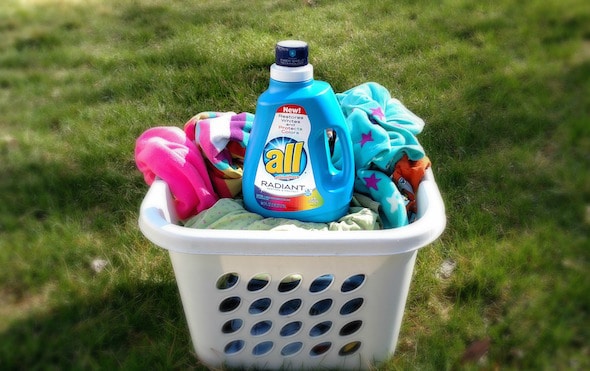 My load of my husband's white undershirts and socks washed with all Radiant definitely came out much whiter than they've been in months. That's exactly what a crazy-laundry-person like me needs in a detergent!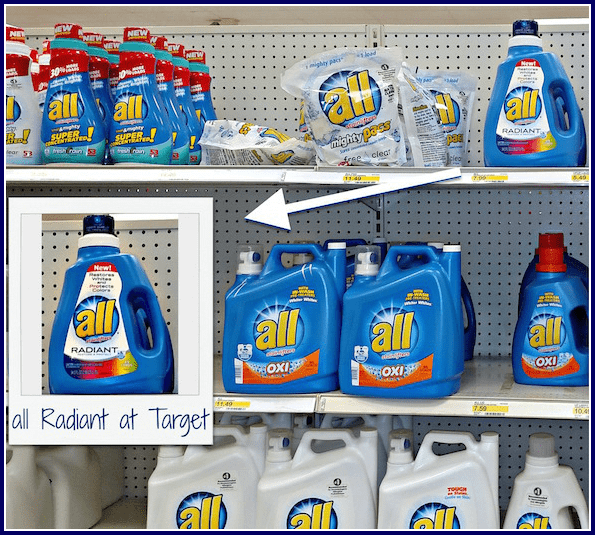 I found all Radiant on the top shelf of the laundry detergent aisle at Target:
I was happy to see that there was a Target Cartwheel offer to save 30% on all Radiant when I bought my laundry detergent.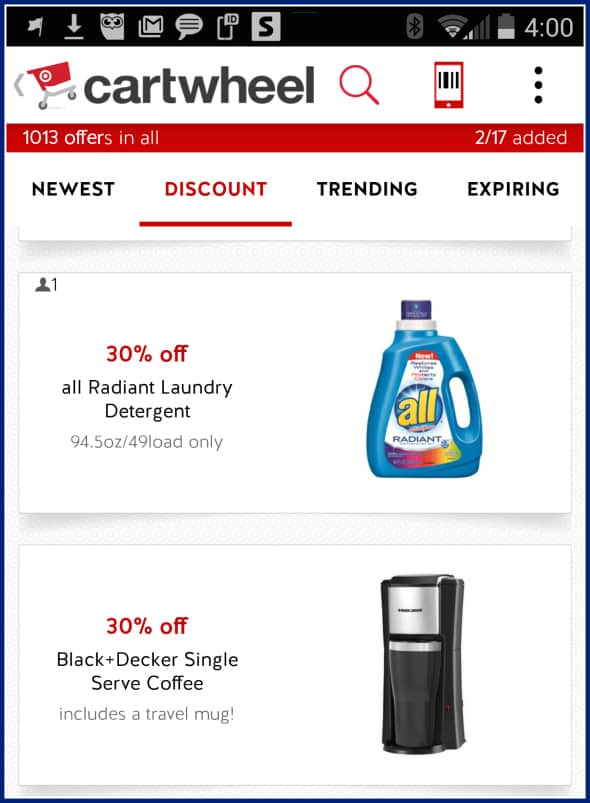 The good news is that there's going to be another Cartwheel offer for all Radiant from May 3rd 2015 through May 9th!
I've shared how I keep my kids' laundry stain-free, even after an especially muddy outing. Does your family have a favorite activity that leads to dirty clothes?