It's time for the best deals in the Lovevery Black Friday and Cyber Monday sales for 2023! Keep reading for an exclusive Lovevery discount code for the biggest savings of the year!
This page was updated on November 22, 2023 with the most current sales and promotions available.
The 2023 LOVEVERY Black Friday Sale is LIVE NOW! We have all the information below, and we'll add to it if new details become available.
Lovevery Black Friday 2023
For Black Friday, Lovevery is offering a promo code to save $30 on new Play Kit subscriptions! It's a rare and fantastic discount for these premium toddler and baby educational play sets!
Click here and use Lovevery discount code FUN30 at checkout to save $30 AND get free shipping!
Even better, the promo code can be combined with the existing offers to prepay and save…up to $78 on your purchase!
Here's how:
You usually save $12 to $18 when you prepay for a 3-kit plan. Right now you can save up to $48 when you combine it with the Lovevery coupon!

You save $48 when you pay in advance for a 4 kit plan. Use this coupon for Black Friday and save $78 on your purchase!
If you need more information before taking advantage of the sale, we can help! Read below for some questions and answers to common questions about the Love Every Black Friday deal.
And if you're wondering, What Is Lovevery? Scroll down for a thorough explanation about the products and how Lovevery works.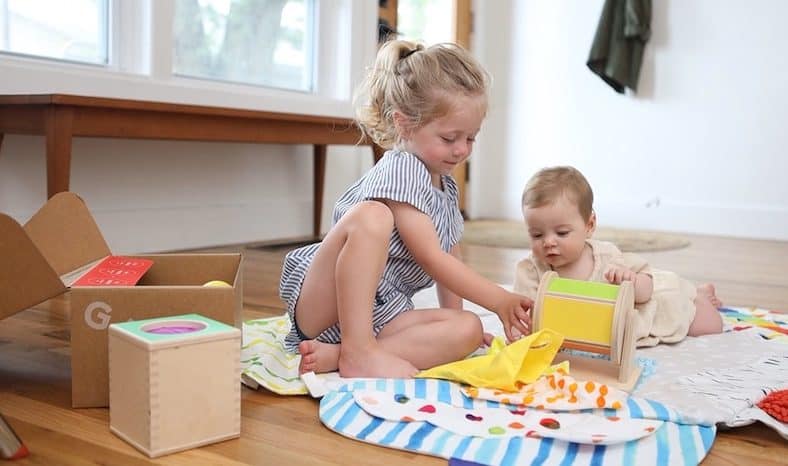 How does the Lovevery Black Friday discount code work?
Lovevery offers subscription play kits created with the goal of educating babies and toddlers through play. From tummy time with play mats to to motor skills with Montessori toys, Lovevery products help babies and toddlers learn through quality toys and sensory exploration!
Lovevry offers a baby kit and a toddler kit to make sure your little one is getting the right developmental toy selection for baby's age.
Use the Lovevery Black Friday 2023 code and you'll save $10 on each of your first three Play Kits shipments.
You'll save $10 on each of your first three Play Kits shipments when you choose the Pay Per Kit option.
If you instead decide to use the Prepay & Save option (great for gifts!), you'll save $30 on your total purchase at checkout.
Just don't forget to use the coupon code FUN30 to save!
Can current Lovevery subscribers use the Black Friday discount code?
Yes! Just log into your customer portal and select Subscription.
Look for the options to extend your subscription and select the Prepay & Save option. You'll be able to save an additional $30 off your 5% or 10% prepayment discounts!
How long is the Black Friday Lovevery promotion going to last?
The Loveevery.com Black Friday deal is valid through November 28, 2023.
This will be updated when I have more information.
Will there be a Lovevery Cyber Monday deal?
That is unknown at this time. The FUN30 Lovevery discount code is valid through Cyber Monday (and after!), and the prices shouldn't change.
If there's a different Lovevery Cyber Monday sale you'll see it here!
Are there any other Lovevery promo codes?
There are no other Lovevery promos or coupon codes available right now.
Your biggest opportunity to save is to combine the Black Friday Lovevery 2023 coupon code with a 4-kit purchase to save $78 on the regular prices!
Honestly, there are rarely Lovevery discount codes available at all. The last one was actually last year for Black Friday
Do I need to prepay for a full year to get the Black Friday deal?
No! You can select the Pay per Kit option and you'll save $10 on each of your first three kits when it's time to pay for them.
Can I buy just one Lovevery Play Kit to get the Black Friday sale price?
Yes, but you need more information.
Love every says that their kits are available by subscription only, which is true. But you can place your order for a subscription and cancel it as soon as the first one ships. You won't owe any additional money and you'll still save $10 on your kit!
Does a subscription mean I'm committing to buying a play kit every month?
No. While your Play Kit is set to ship on a delivery schedule according to the birthday entered at the time of purchase, you can change, cancel or adjust your delivery schedule at any time in your customer account.
What is Lovevery?
Lovevery, pronounced Love Every, is committed to helping parents make the most of playtime. They want you to spend less time researching ways to play with various playthings, and spend more time connecting with your child.
The Lovevery experts link brain science and Montessori to the way you play with your child by providing the right toys at the right time.
What does that mean? It means you'll support your child's learning during important stages. Lovevery provides the play essentials that are tailored to your baby or toddler's developmental milestones!
Click here to Learn more about Lovevery's Play Kits.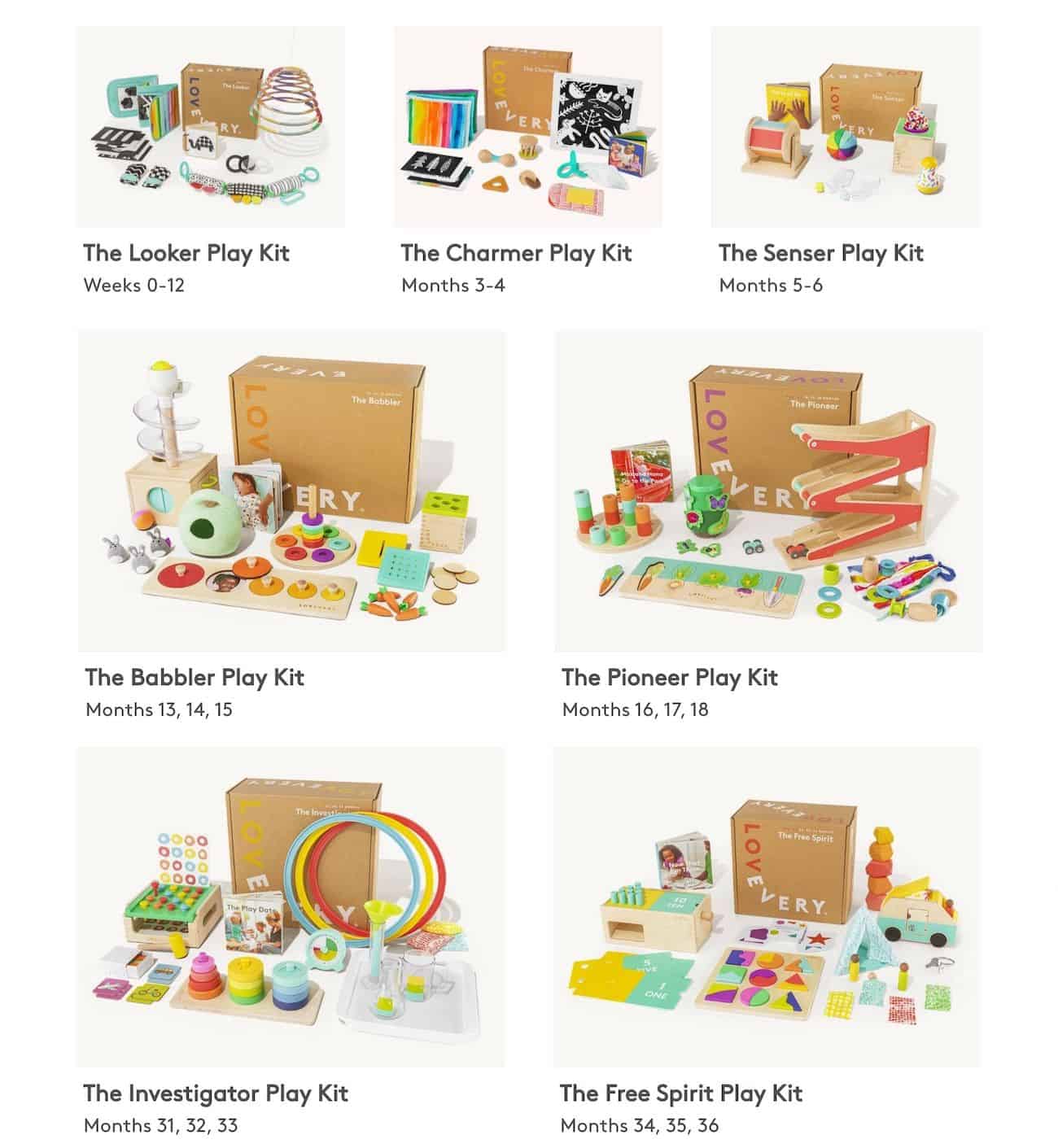 How does Lovevery work?
Lovevery makes age-tailored play kits for both babies and toddlers and sells them in a subscription model.
The great thing about the subscriptions is that you can subscribe, pay for a single play kit, then easily cancel if you decide you don't want to continue receiving them.
Each Lovevery Kit comes with quality toys (think ball runs, wooden blocks, play gyms and more!) that will shape your little one's growth and development. Each kit includes developmental toys that are tailored to the stages and developmental milestones that we all want our babies and toddlers to achieve.
Even better, the kits also include developmental tips and activity guides to show parents and caregivers how to best use the kits for babys age and growth.
More about the Play Kit subscription:
The Love Every Play Kit subscription program delivers stage-based play products right to your home.
Lovevery has done the research to develop products that are right for your child at each developmental stage, and each kit includes a detailed Activity Guide that helps you use each toy and learn right alongside your baby.
The products and in-depth information in each Love Every kit were informed by published research in the field of child development and reviewed by child development specialists from multiple disciplines, includkng neuroscientists, pediatricians, therapists and researchers!
Does Lovevery have a guarantee?
Yes! According to the Lovevery Guarantee at the top of FAQ, they stand behind the quality of their products! Here's what they say:
We're committed to creating learning products that are safe, beautiful and meaningful for your children.

Designed by child development experts, our play products are distilled to their simplest, purest purpose: to be exactly what children need at each stage.

Via the Lovevery FAQ
More Black Friday and Cyber Monday Sales
We love shopping online for Black Friday, and we definitely have our favorite places to shop! Don't miss our other favorite sales:
Erin Condren Black Friday Sale