We love the Mabel's Labels Black Friday sale and Cyber Monday deals! Keep reading to see how you can save big on kids labels, name stickers and clothing labels!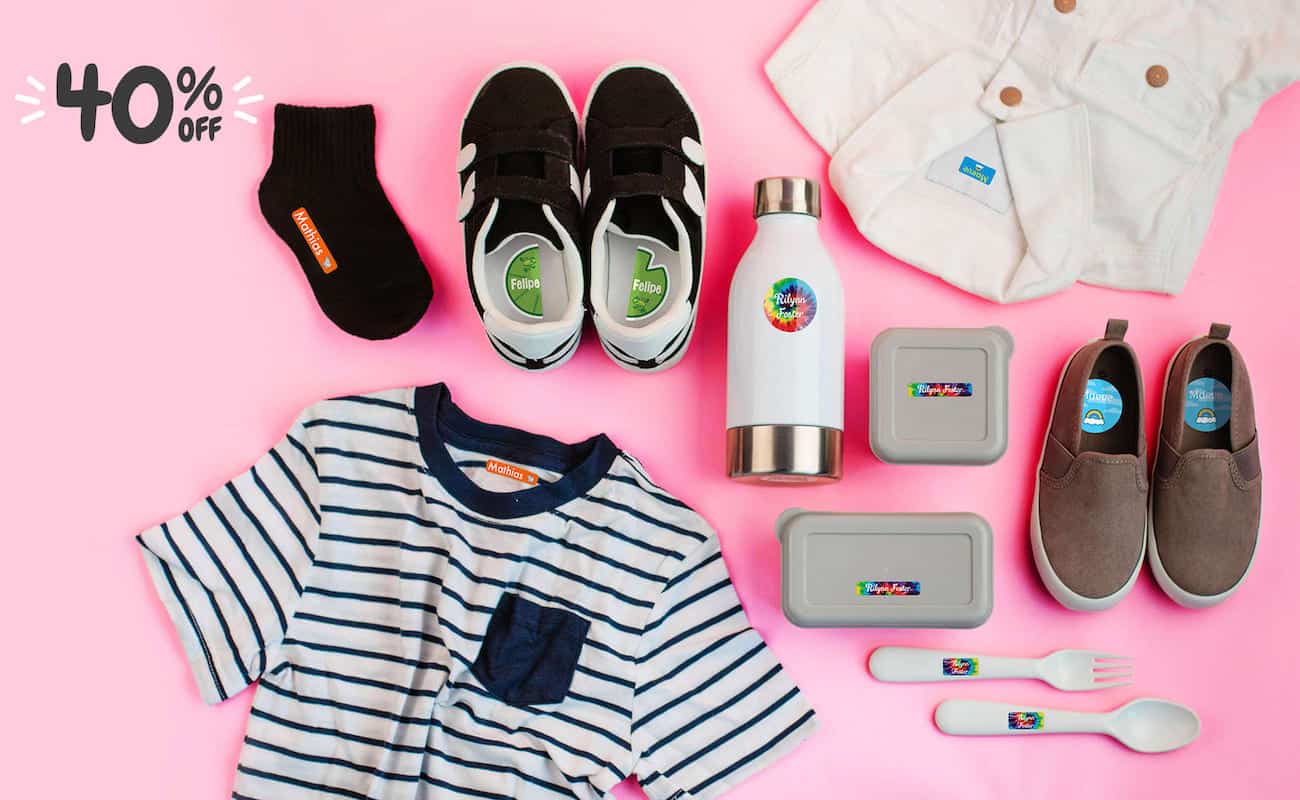 Everyone's favorite personalized custom label store, Mabel's Labels, is having a big Black Friday to Cyber Monday sale on bestsellers! The sale starts today for Black Friday and ends on Cyber Monday.
You can save 40% off bestselling products from their site AND you'll get get free shipping!
You don't need a coupon or promo code for this great sale. All prices are as marked.
Mabels Labels Black Friday Sale
Here's what's you'll find for the Black Friday Mabel's Labels sale:
Middle School Label Pack
The Mabel's Labels Middle School Label Pack is a school label combo pack featuring a range of modern, stylish designs that are perfect for older kids and even adults!
Use these sophisticated labels on school supplies, water bottles, electronics, chargers and much more! This label value pack will save you time and money by keeping your middle school or junior high school student's stuff out of the lost and found.
Shop for Mabels Labels Middle School Label Pack!
Mabel's Labels Preschool Shoe Labels
We love these durable little shoe stickers to help kids get their shoes on the right feet!
Cute, tough, and educational, Mabel's Labels Preschool Shoe Labels identify footwear by labeling shoes on the inside, and they help small kids tell their left foot from their right.
Pre-readers can simply match the halves of familiar shapes, making learning – and dressing – fun! Personalize these toddler shoe labels with a name and choice of 5 fun designs.
Shop for Preschool Shoe Labels here!
Clothing Label Pack
The Clothing Label Pack is a great value pack for labeling all the kids' clothing and shoes you can't afford to lose!
From coats and sweaters to boots and gym shoes, this combo pack has a durable, laundry-safe label for every item of clothing your little one takes to daycare, school, camp or activities.
The 82 label pack includes Tag Mate Clothing Labels and durable Shoe Labels. The Clothing Label Pack is the perfect choice for parents who have plenty of kids' clothing that needs identifying.
Shop for the Mabel's Labels Clothing Label Pack here!
Iron-On Clothing Labels
Laundry-safe Iron-On Clothing Labels for kids are easily applied with a household iron! They're a permanent and simple way to keep your family's laundry sorted.
Suitable for many types of fabric, this set of 40 custom iron-on labels are laundry safe and perfect for towels, socks and tagless clothing.
Shop for Iron-On Clothing Labels here!
Tag Mates Stick On Clothing Labels
Tag Mates sticker clothing labels are laundry-safe peel-and-stick clothing labels that require no ironing or sewing.
These discreet laundry labels are an easy way to keep your family's clothing organized and from being misplaced at school, daycare and camp.
Just stick these lasting custom clothing labels to the existing care tags on everything from clothes to soft toys, blankets and towels.
Shop for Tag Mates Stick On Clothing Labels here!
Mabel's Labels Small Rectangle Labels
Small Rectangle Labels are waterproof custom name labels that are perfect for identifying even the smallest items. They're dishwasher and microwave safe, so put them on all the sippy cups and water bottles you have. They're also perfect for school supplies, toys, toiletries and much more!
With these little peel-and-stick labels, you'll be able to easily identify any item of any size. They're custom, durable and absolutely adorable!
Shop for Small Rectangular Labels here!
There are lots of cute styles to choose from. Shop at MabelsLabels.com today through Monday to save an extra 40% off plus get free shipping!
More Black Friday, Cyber Monday Deals
We love shopping online for Black Friday and Cyber Monday and we definitely have our favorite places to shop!
Don't miss more of our favorite sales:
Fab Fit Fun Black Friday, Cyber Monday promo codes
Erin Condren Black Friday Sale