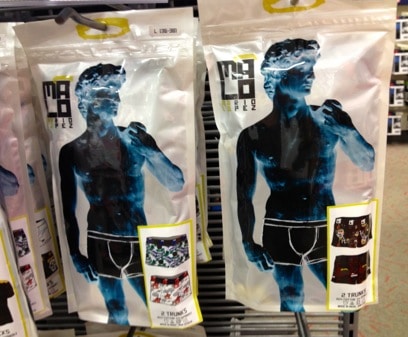 When I learned via Social Fabric that Mario Lopez was launching a new line of underwear for Target, my eyes and ears perked up. I have very fond memories of Mario Lopez as AC Slater on Saved By the Bell, and I've continued to watch his career as I've grown up.
Then, I learned I was one of a group of bloggers tasked with shopping for the new MaLo Underwear line and I did a little, tiny happy dance. After all, the assignment is going to Target and picking out new underwear for my husband!
I wasn't sure James (my husband) would be thrilled that I'd be writing about his underwear here, but he was totally ok with the whole setup. He loves Target. He knows that shopping at Target makes me happy. He generally likes things that make me happy, so we were good!
I don't know how it happened, but it seems that my husband's underwear drawer desperately needed a makeover and I just hadn't noticed. As a wife, I've come to realize that my husband is very dependable in all sorts of areas–taking care of the kids, fixing things, being emotionally supportive, having a great work ethic–but I know that I can't count on him to notice when his clothing becomes unwearable.
One of my jobs in our relationship is to make sure he has clean, presentable apparel and undergarments, and somehow I missed that he could use a really use a few new packs of underwear to replace some that needed to be thrown out ASAP!
I have to say, my husband has a hard time parting with clothes, regardless of the condition. It's not that he's attached to particular items or styles, I swear he just doesn't notice when things are worse for wear, but he gets a bit insulted if I point it out to him.
When it's time for an item of clothing to go, I just have to get rid of it and not tell him. In the end, it doesn't bother him, and there are no hard feelings about the housekeeping I do in terms of keeping and letting go of clothes. I had been slowly eliminating the worst of his underwear from the drawer, and it was time to get some replacements!  I'm happy that I would be replacing them with MaLo underwear!
Piper and I headed to Target with a short shopping list that included #MaLoUnderwear. It didn't take too long to find a little endcap with the MaLo products, which included undershirts, tanks, briefs and trunks.
All packages contained two pairs of underwear or two shirts, and the price per package was $12.99.
I was tasked with buying the trunks, which are a boxer-brief style of men's underwear. There were a few different patterns and colors of MaLo trunks available, and I really liked that the back of the package was clear so I could see what the fabric really looked like!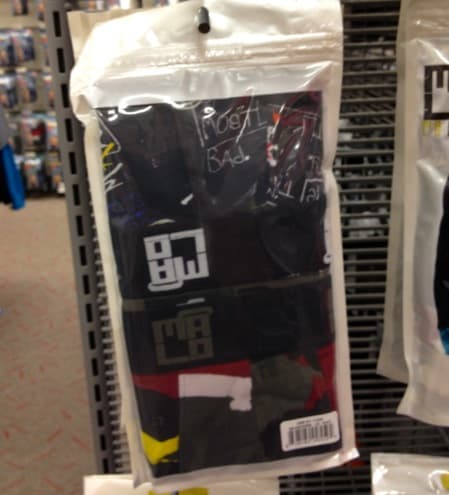 I knew my husband would prefer the solid shades, so I picked out a package containing white and red trunks: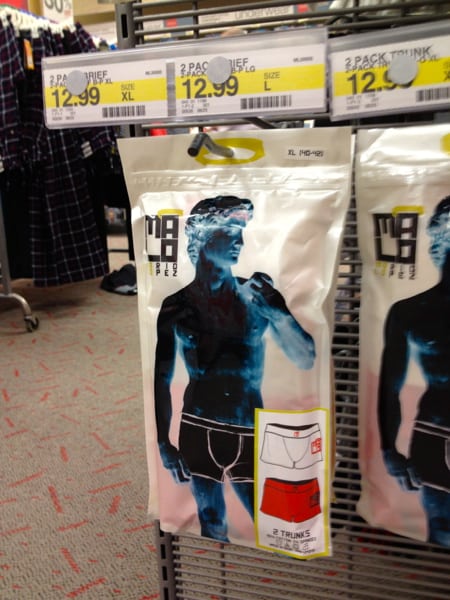 After we paid and I headed back home, I had an email in my inbox requesting that I call the store I was visiting to make sure they had the MaLo underwear in the size I needed before heading out to go shopping.
It was too late for me, but I obviously was successful in finding exactly what I was looking for! If you, however, are going to go to Target to look for the MaLo items, you may want to call ahead and make sure they have them in stock since it's a brand new product.
I returned home and handed the new skivvies to my husband. He thought they looked great, and he was excited that the MaLo underwear from Target were going to replace some of the other pairs in his drawer!
This is what James' underwear drawer looked like after some of the older pairs of underwear were tossed and replaced with the MaLo underwear:
I also took the time to fold and stack his boxers instead of leaving them in those funny rolls like they were in the "before" photo! Regardless, I think his underwear drawer looks much better with the new underwear in it!
If you're looking for updates on the brand directly from Mario Lopez, you can follow him on Twitter at @MaLo!
I am a member of the Collective Bias™ Social Fabric® Community.  This shop has been compensated as part of a social shopper insights study for Collective Bias™ and MaLo #CBias #SocialFabric As always, all opinions are my own.