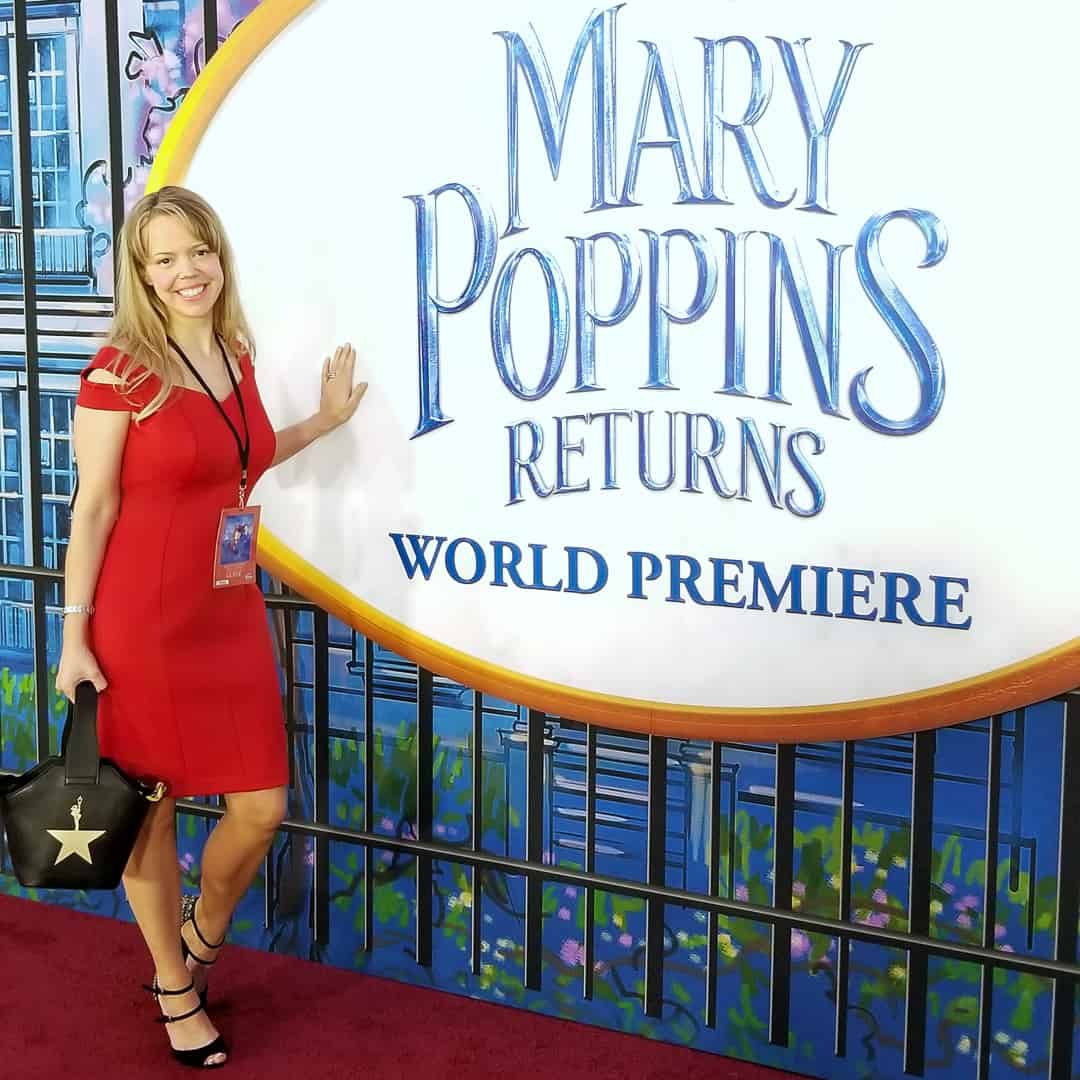 On November 29th 2018 I did something extraordinary: I attended the red carpet premiere of Mary Poppins Returns in Los Angeles!
To be 100% honest, I'm lucky I made it to the premiere at all! An hour before our shuttle departed to leave I got so unexpectedly sick I could hardly get to my hotel bed to lay down.
I was devastated at the very idea of missing the premiere, and I was relieved to learn that we were scheduled to arrive at the Mary Poppins Returns red carpet with a few hours to spare.
So I rested for an hour and found myself just well enough to throw on a dress, hop in a Lyft and make my way to Hollywood Boulevard.
If you've ever wondered how long it takes to get ready for a movie premiere or what sort of makeup you should wear when walking a red carpet, I have the answers to both questions.
At that moment I was under a lot of pressure to get to the premiere before the film started. I threw on a dress and heels, brushed my hair and my teeth and washed my face. I tossed a lipstick in my purse and walked out the door.
If you had asked me 7 days ago if I would go anywhere for anything related to this site without makeup I would say absolutely not.
But there I was, at the epic Hollywood premiere of Mary Poppins Returns with nothing on my face. It was ok, though, because I was at the epic Hollywood premiere of Mary Poppins Returns.
I couldn't worry about my lack of makeup or hair that could really use a flat iron–I had a red carpet to walk and a movie to see!
So my amazing Disney rep met me at the entrance and took me on a speed tour of the best spots on the Mary Poppins Returns red carpet. It was magical – like walking down Cherry Tree Lane! Then we met up with my fellow bloggers and found our seats in the theater.
After sitting down, we spotted plenty of stars entering the theater. Emily Blunt and John Krasinski. Lin-Manuel Miranda and his gorgeous wife. Alison Janney. Weird Al Yankovich.
The entire theater stood up in a standing ovation when Dick Van Dyke entered the room. It was a wonderful tribute to an outstanding man.
After we enjoyed every single minute of the movie, one in the audience stood up again to give the filmmakers and stars another standing ovation. The movie was just that amazing, and you could just feel the joy in the room.
Then it was time for the after party! I jumped right into the activities and made a photo flip book with my friend Kathy from A Mom's Impression. More friends were just behind us in line so I jumped into their shot for a second book!
There were huge displays of some of the most amazing costumes and props from Mary Poppins Returns. Let me tell you, these are the costumes that everyone is going to be talking about.
The costume designer, Sandy Powell, hand-painted the canvas to make the clothing look animated. The effect is brilliant – it's unlike anything I've ever seen!
Then Chrysa from Thrifty Jinxy and Enza from EnzasBargains.com and I started spotting stars who were also having a great time at the party. Check out who I met!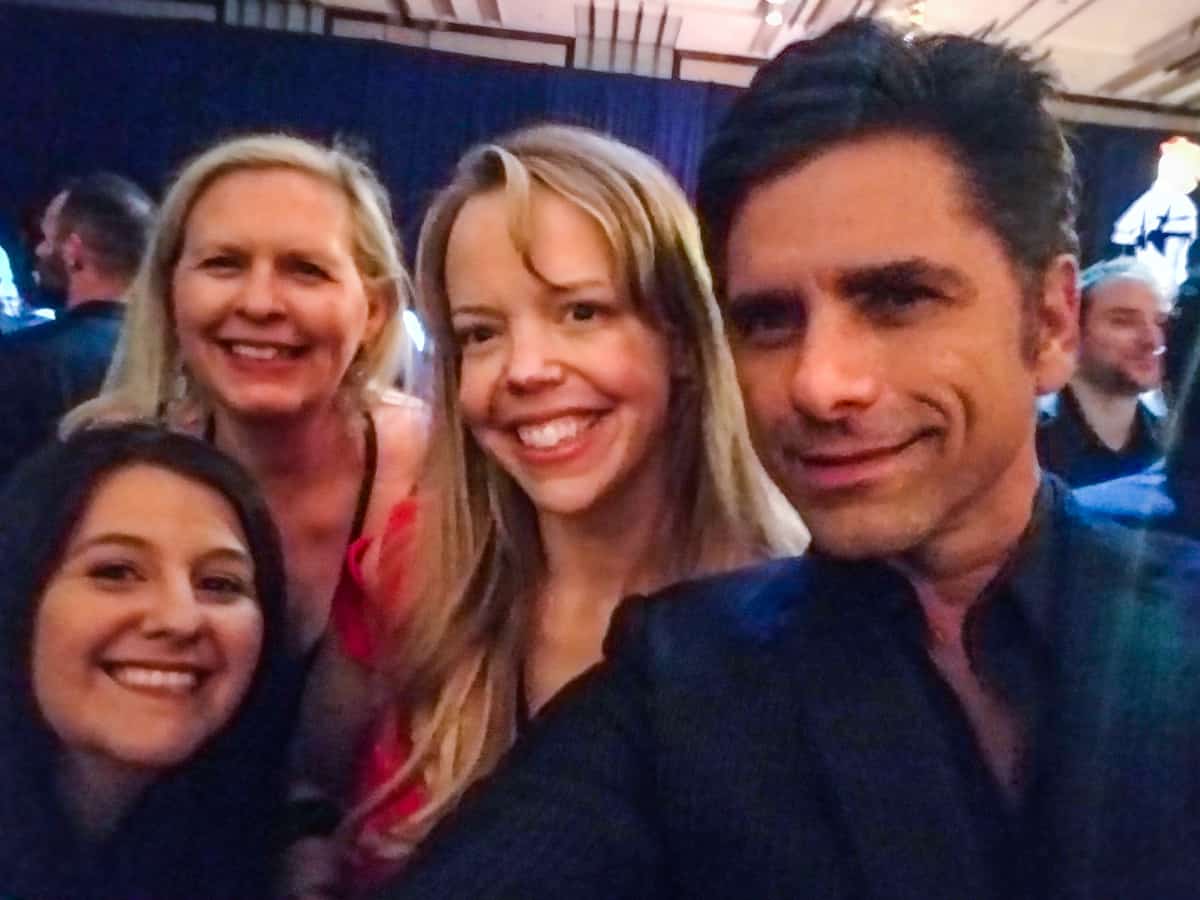 John Stamos was our first sighting and he was so very, very nice!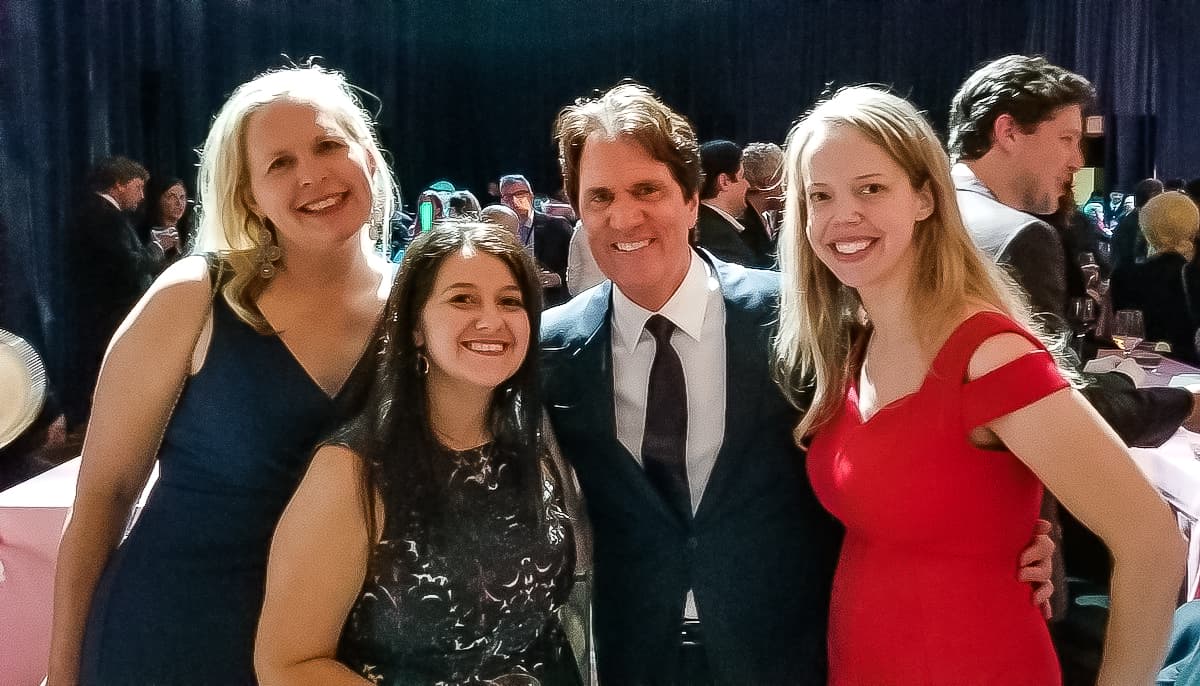 We had interviewed Rob Marshall earlier that day. Afterwards, we spoke about his positivity and success. He laughed when we told him we wanted him to be a life coach or our next door neighbor!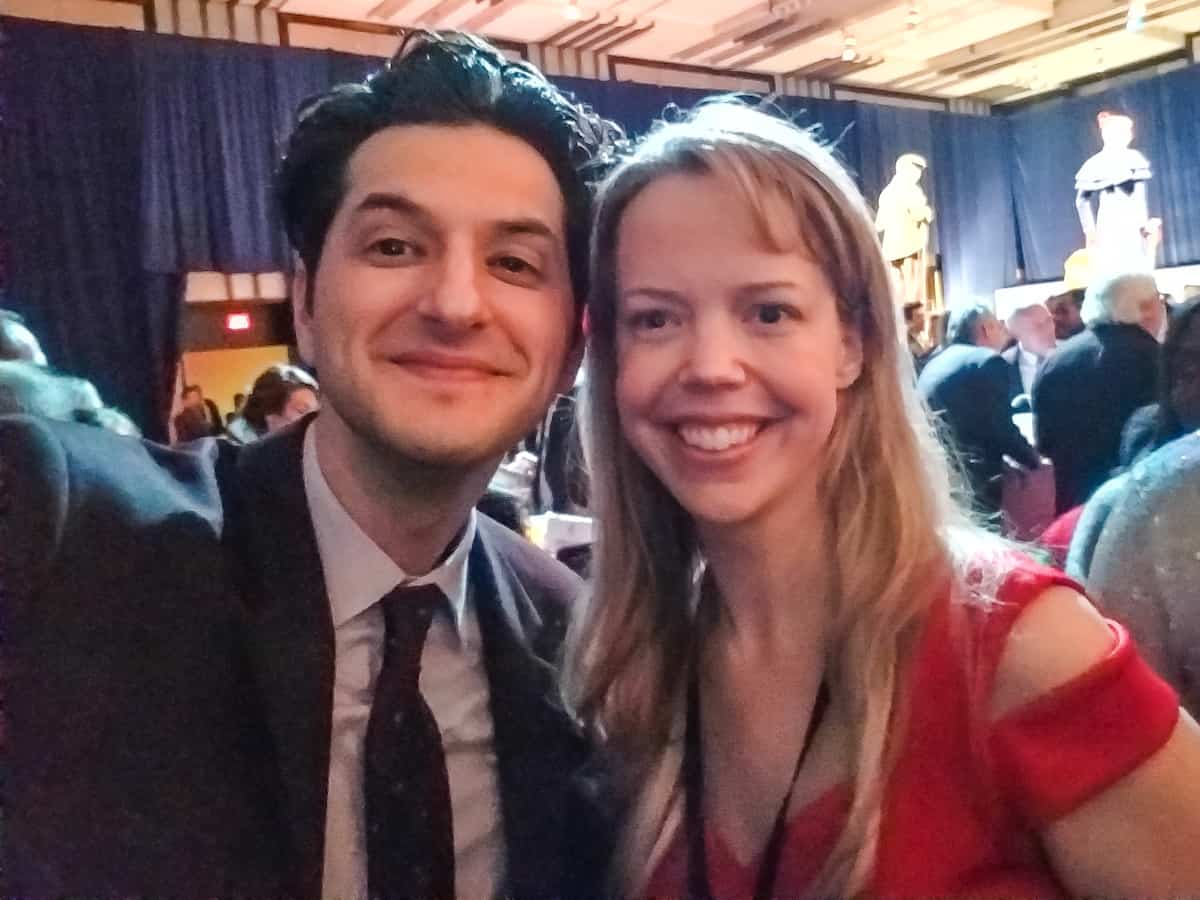 I was thrilled to spot Ben Schwartz – I loved him on Parks and Recreation and my husband is a huge fan.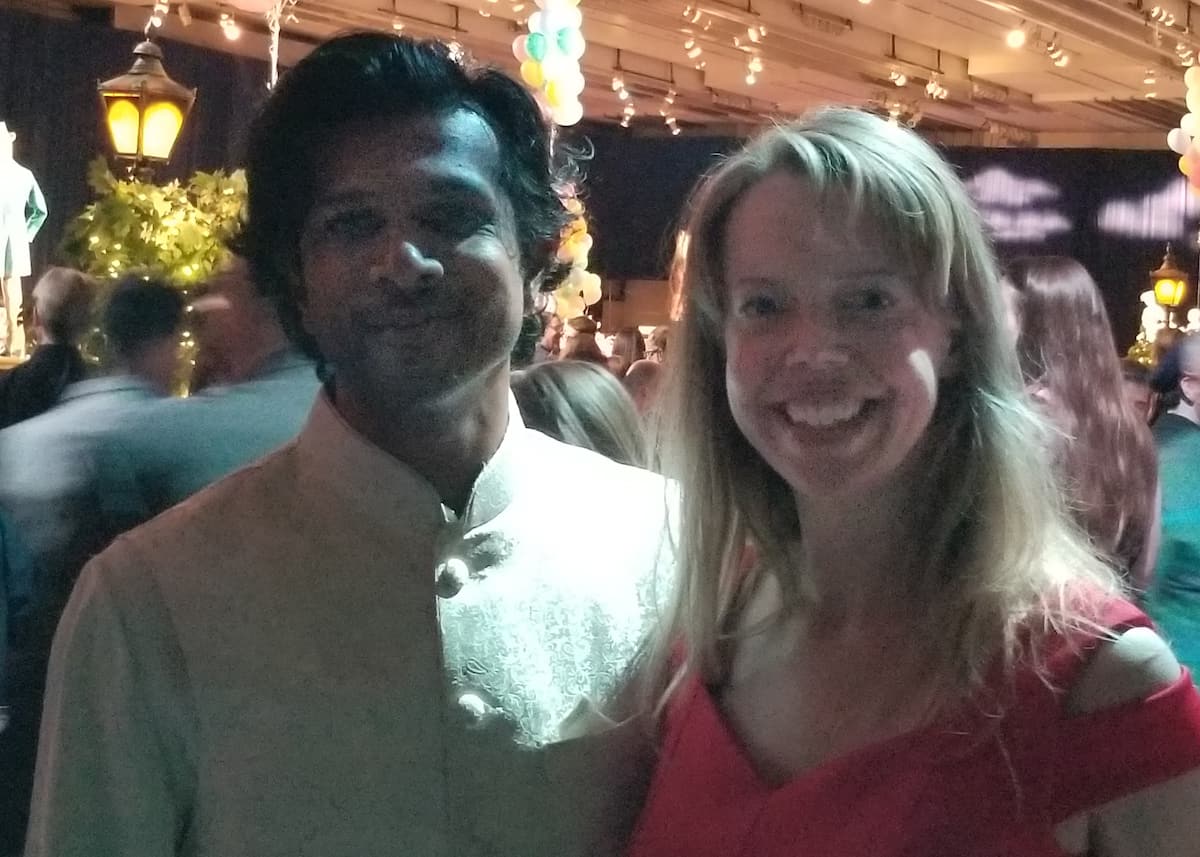 I met UTK, Utkarsh Ambudkar, a talented rapper and actor who was in Pitch Perfect. I'm excited to see him perform in Disney's upcoming live-action Mulan! It was also just announced that he's voicing a character on Disney Junior's Mira, Royal Detective! This guy is going places, and I'm excited for his future.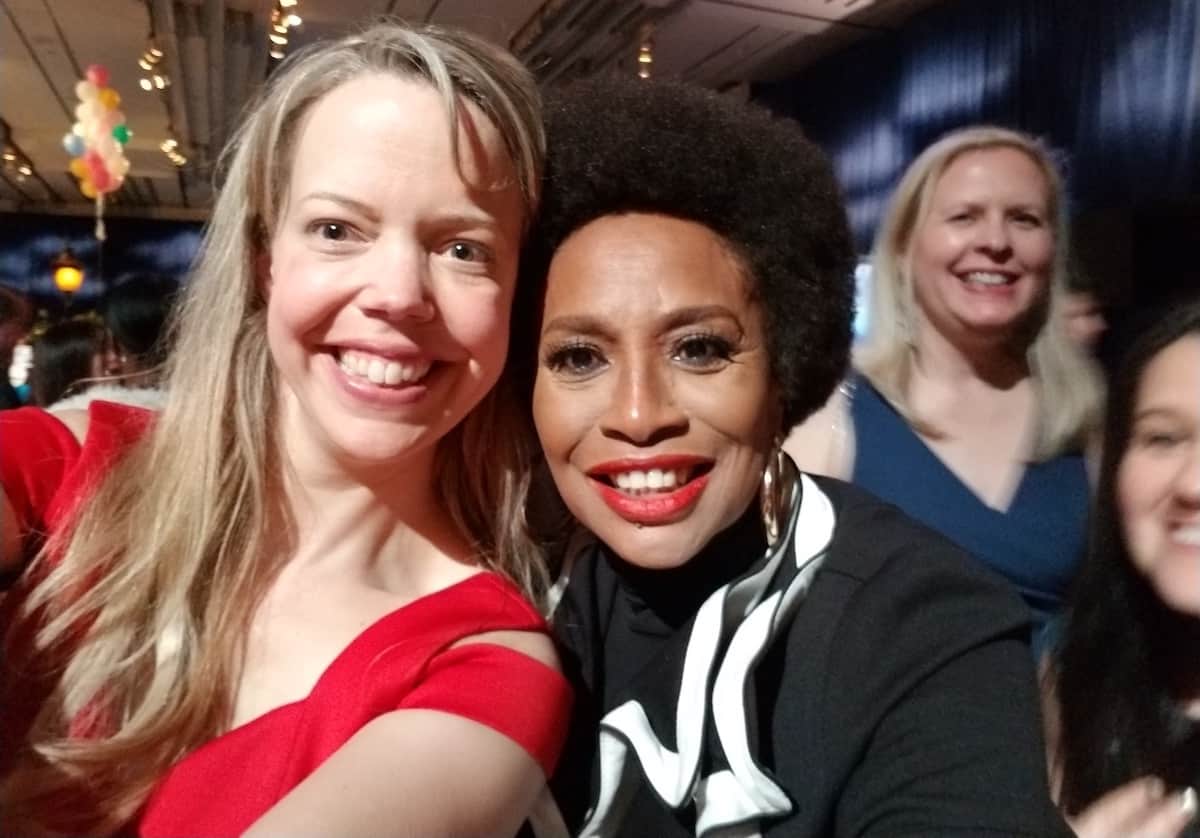 I had a fantastic conversation with Jenifer Lewis of Blackish. We talked about adoption and I told her all about my sister after meeting her daughter, Charmaine.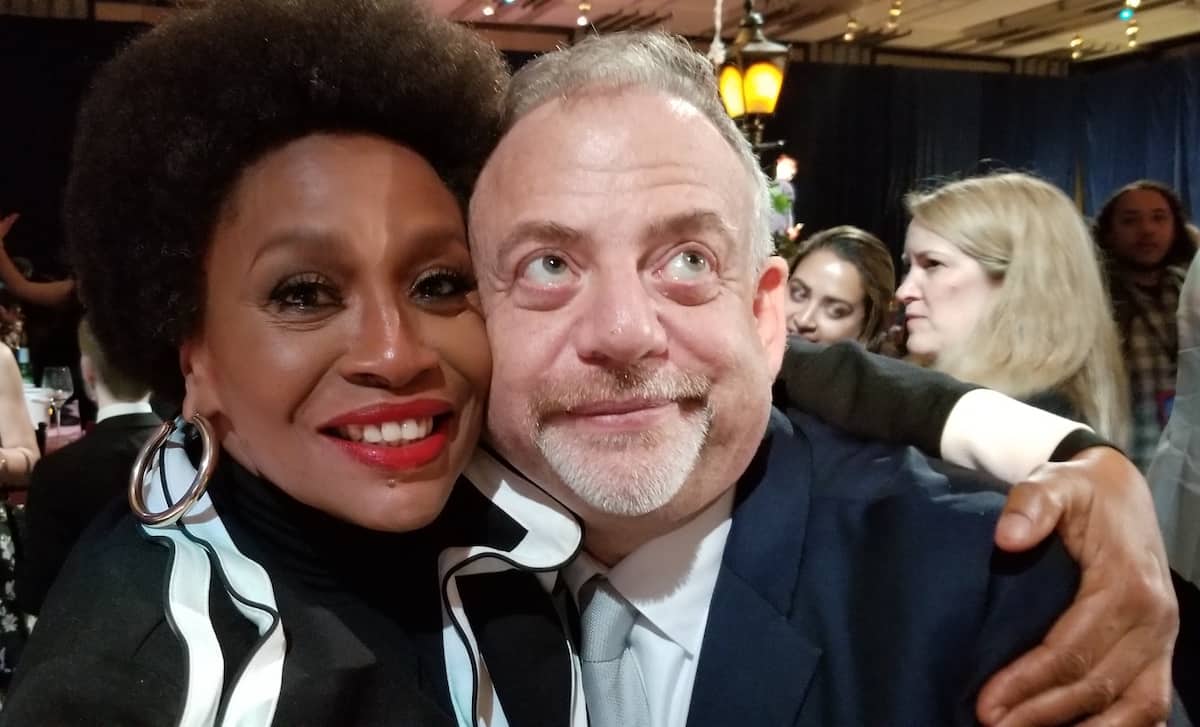 I also learned that her best friend is songwriter and composer Marc Shaiman – he composed the music for Mary Poppins Returns!. They were hilarious together – I loved seeing their history and years of friendship!
I met Richard Sherman's granddaughter who was so proud of him. She had a few great stories ago tell and it was pretty amazing to see the generation that are following him.
When the party started shutting down I grabbed some fresh cotton candy to bring home for my kids. As we went back to the shuttle I realized I was feeling so much better.
Maybe I had just had something that didn't agree with me, and I was able to get over it. But I think it was the magic of the evening that healed me! It was a pretty perfect movie screening and party, and I'm thrilled I didn't miss any of it!
Mary Poppins Returns opens on December 19, 2018. Get your tickets and see local showtimes now!
follow these social media accounts to stay on top of everything Mary Poppins Returns:
Like Mary Poppins Returns on Facebook
Follow Walt Disney Studios on Twitter and search for #MaryPoppinsReturns
Follow Mary PoppinsReturns on Instagram
Mary Poppins Returns arrives in theaters everywhere on December 19, 2018. See more details and information about your local showtimes here!
Watch the newest Mary Poppins Returns trailer: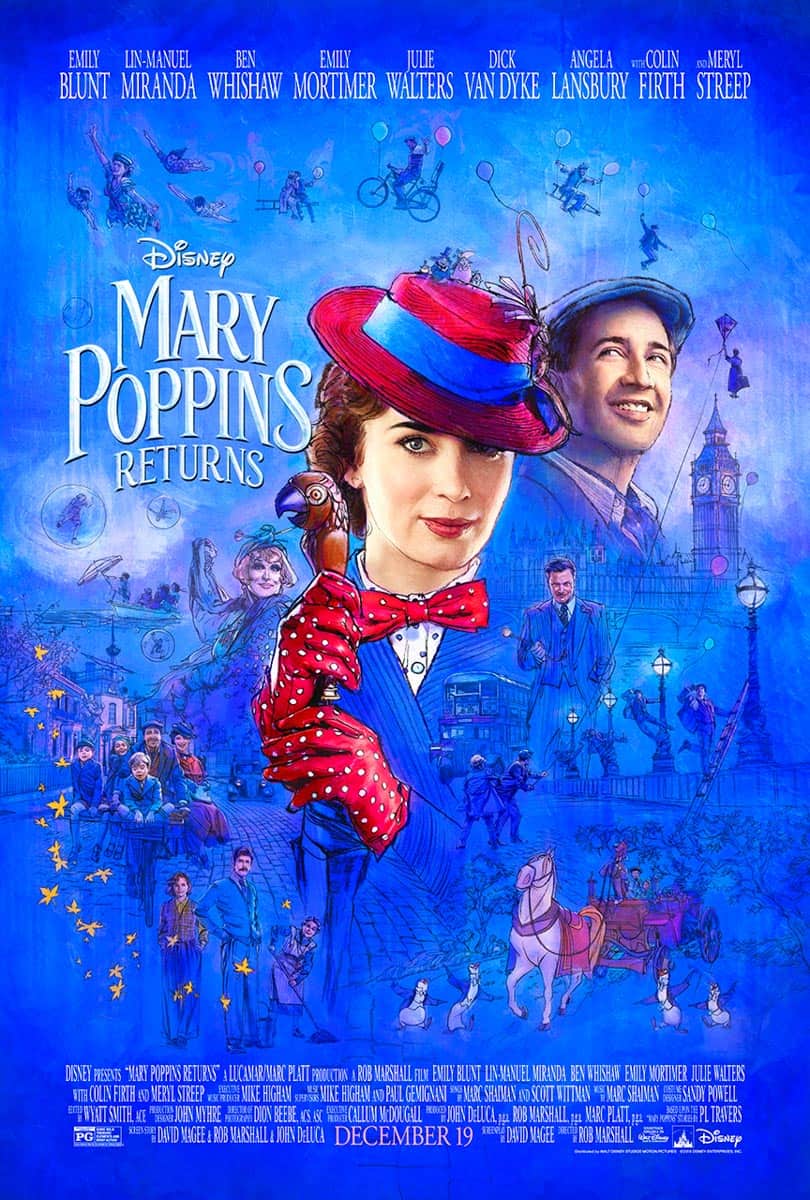 About Mary Poppins Returns
In Disney's "Mary Poppins Returns," an all new original musical and sequel, Mary Poppins is back to help the next generation of the Banks family find the joy and wonder missing in their lives following a personal loss.
Emily Blunt stars as the practically-perfect nanny with unique magical skills who can turn any ordinary task into an unforgettable, fantastic adventure and Lin-Manuel Miranda plays her friend Jack, an optimistic street lamplighter who helps bring light—and life—to the streets of London.
"Mary Poppins Returns" is directed by Rob Marshall and the screenplay is by David Magee. The screen story is by Magee & Rob Marshall & John DeLuca and it's based upon the Mary Poppins Stories written by PL Travers.
The producers are John DeLuca, p.g.a., Rob Marshall, p.g.a. and Marc Platt, p.g.a. with Callum McDougall serving as executive producer. The music score is by Marc Shaiman and the film features all new original songs with music by Shaiman and lyrics by Scott Wittman and Shaiman.
The film is set in 1930s Depression-era London, almost 25 years after the original Mary Poppins took place. The grown Michael Banks works for the same financial institution that employed his father. He still lives at 17 Cherry Tree Lane with his three children, Annabel, John and Georgie, along with Ellen, their housekeeper.
Jane Banks continues in her mother's honor as she campaigns for workers' rights and offers a helping hand to Michael's family.
When the Banks family suffers a personal loss, Mary Poppins magically returns to their lives. With Jack's help, she brings joy and wonder back into their home at Cherry Tree Lane.
The film also stars Ben Whishaw as Michael Banks; Emily Mortimer as Jane Banks; Julie Walters as Ellen; Pixie Davies, Nathanael Saleh and introducing Joel Dawson as the Banks' children, with Colin Firth as William Weatherall Wilkins; and Meryl Streep as Mary's cousin, Topsy. Angela Lansbury appears as the Balloon Lady, a treasured character from the PL Travers books and Dick Van Dyke appears as Mr. Dawes, Jr., a retired chairman of the bank that's now run by Firth's character.