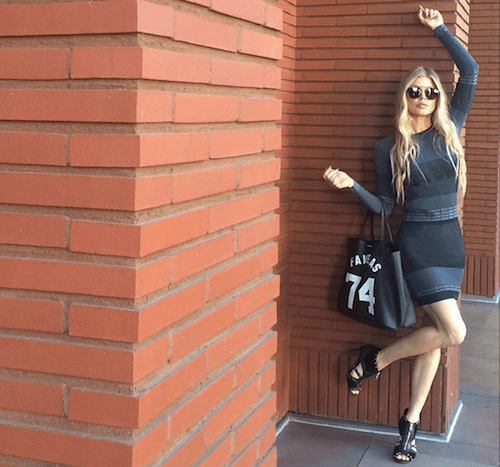 A last-minute addition to the ABC and Disney press trip I was recently on was a huge surprise: Fergie – THE Fergie – was going to visit ABC and meet with us.
Wait. What?!?
Like it wasn't enough that we were going to the premiere of Big Hero 6, touring the set of black-ish, going to Dancing With the Stars, playing the part of a voice actor at Disney Animation Studios, getting an art lesson from a Disney animator, and so much more!
But there it was. We walked into a conference room at the ABC building, sat around a table and Fergie walked in.
I was instantly starstruck. She looked perfectly gorgeous and happy to be there, and, while she was entirely positive, she was also candid. I'm pretty sure she didn't pull any punches when she answered our questions and talked about her life.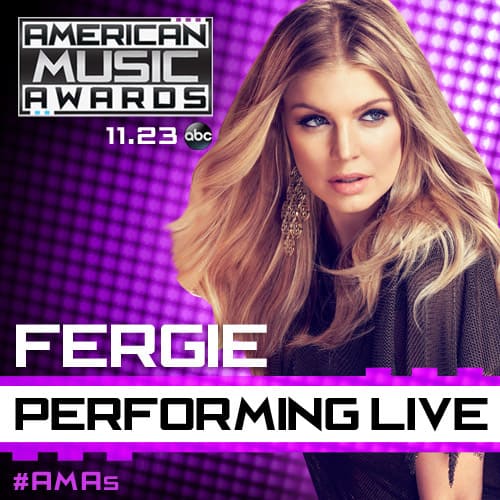 First, did you know Fergie's last single (from The Dutchess) was released in 2006? That's all changing in just a few days! Fergie is set to take the stage at the 2014 American Music Awards to perform her new single, L.A. LOVE (la la).
The AMAs will broadcast live on Sunday, November 23rd at 8:00pm ET/PT on ABC! Scroll down to the end of this post for more details about the AMAs.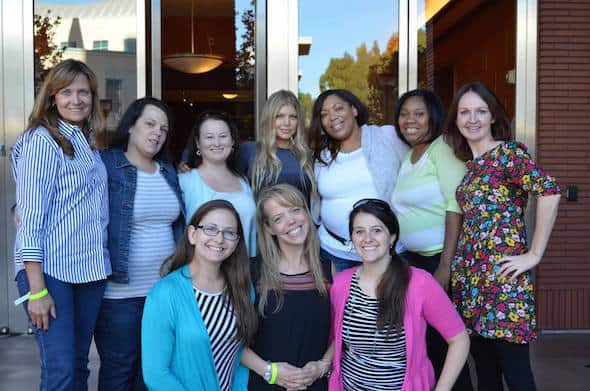 Listen to a sample of Fergie's new single, LA Love (la la) before you watch her perform it live at the AMAs!
Back to meeting Fergie: I really do LOVE hearing about a celebrity's life and all those "other half" details. But it was even more amazing (and surprising!) to listen to Fergie gush about her baby and bring almost every question back around to her family.
We had a few minutes to ask her questions, and I felt like she was incredibly real and honest with her answers. Here's what we talked about:
As much as she values her time with her son and her husband, the first thing she told us was that personal "me time" is extremely important to her. She has time set aside every day to read the print version of WWD (Women's Wear Daily). She also uses the time to prep for the day, and she feels that it all gives her inspiration for future projects.
I mentioned earlier that Fergie's last single was released in 2006. It's been a while since she's been immersed in the music scene, but that time away has been deliberate. She had her son, Axl, in 2013, and she wanted to make sure she had restructured her life as a mom. She wanted to keep her life simple, and she said, "I was really blessed to have that time at home and just be with my baby." As a mom, I could wholeheartedly relate to what she was saying!
Like every other woman in the world, we wanted to know how Fergie "does it all." In addition to putting her baby before her career, she had a very simple, practical answer to the question: iCal (Apple's digital calendar)! She said that she schedules and color codes everything, and that she was ready to add more colors and categories to her calendar! Everything from exercising to writing lyrics to date nights has a place in her calendar. She also kept it real with this statement: You can have it all, just not all at once.
In addition to her upcoming appearance on the AMAs, Fergie will also be co-hosting Dick Clark's New Year's Rockin' Eve with Ryan Seacrest on ABC on 12/31 starting at 8pm EST!
About the 2014 American Music Awards:

dick clark productions announced today that Fergie, Lorde and One Direction will join the growing list of superstars set to perform at the 2014 American Music Awards.

Fergie will take to the stage to make her worldwide television debut performing her first single, since 2006, "L.A. LOVE (la la)," from her upcoming album.

After stealing the music scene in 2013, Lorde will be performing for the first time at the 2014 American Music Awards.

International sensation One Direction will perform a song off of their highly anticipated album, FOUR. In just four short years, the band has achieved a staggering 94 number one tracks and over 46 million records sold.

Also scheduled to appear at the world's biggest fan-voted award show are previously announced 5 Seconds of Summer, Charli XCX, Mary J. Blige, Sam Smith and the evening's host, Pitbull.

The 2014 American Music Awards will broadcast live from the NOKIA Theatre L.A. LIVE on SUNDAY, NOVEMBER 23 (8:00-11:00 p.m., ET/PT) on ABC. 
Photo credit: ABC and Staci Salazar from 7 on a Shoestring
Disclosure: ABC and Disney flew me to LA to participate in this interview and other activities.