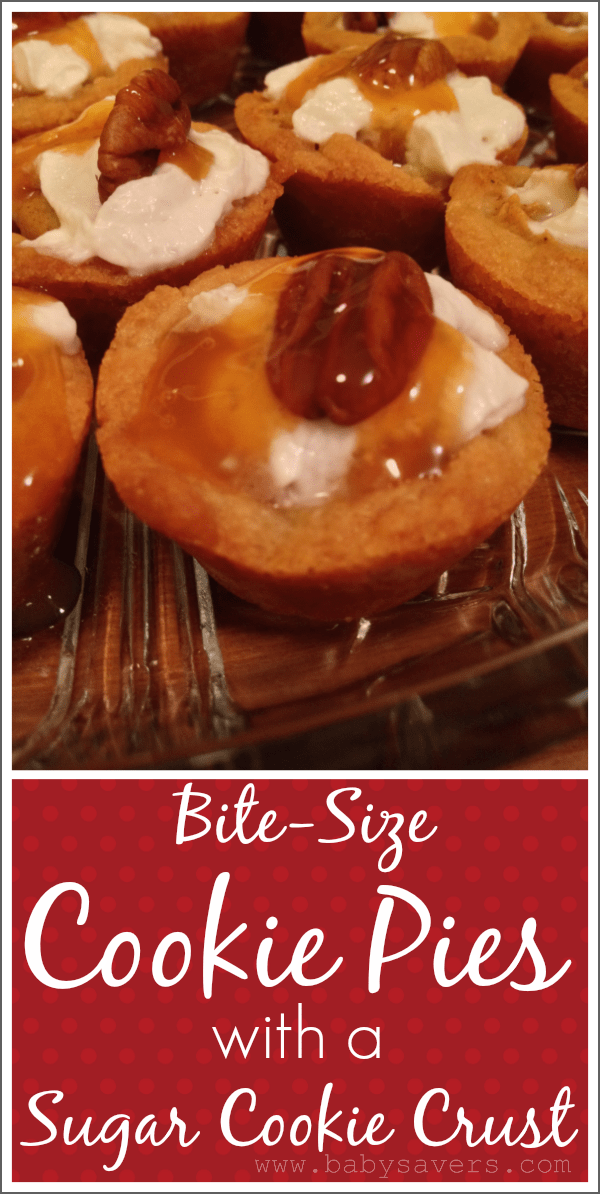 Last month I visited ALDI's US headquarters on a blogger trip to participate in an ALDI Test Kitchen holiday event. One treat that was introduced during the food styling portion of the day was their take on mini sweet potato pies. They had named them "Cookie Pies" and I was instantly in love with their adorable size, and I definitely adored the name!

After a delicious dinner from a selection of ALDI's specially developed recipes, I popped one of those mini sweet potato pies into my mouth. I decided right then and there that I needed to make these cookie pies for my family!
With a buttery sugar cookie crust, and a topping of whipped cream, pecans and caramel, the sweet potato flavor in the fluffy filling is very almost undetectable. In fact, I made everyone in my family try a cookie pie (and confirm that they loved it as much as I did!) before revealing that they weren't pumpkin, which everyone assumed. When I told them all that they were actually eating mini sweet potato pies, no one could believe it!
Now I want to share this Cookie Pies recipe with you. Since the recipe comes directly from ALDI (and I have permission to share it), you'll see some store-specific ingredients. If you don't live near an ALDI store, feel free to substitute a different brand.
Mini Sweet Potato Pies
2 large sweet potatoes, peeled and diced
Nonstick Cooking Spray
16 ounces Bake House creations Break 'N Bake Sugar Cookie Dough
¼ cup Granulated Sugar
1 tablespoon Ground Cinnamon
4 ounces Cream Cheese, room temperature
8 ouncesWhipped Topping, thawed, divided
24 Pecan Halves, toasted
Caramel Apple Dip
Directions for Mini Sweet Potato Pies
Preheat oven to 350°.
Place sweet potatoes in a saucepan and cover with water. Boil for 30 minutes or until cooked through. Drain and place in a medium bowl. Mash until smooth. (use a hand mixer to speed up the mashing)
Coat a mini muffin pan with cooking spray. Place a sugar cookie square in each muffin tin and bake for 8-10 minutes or until golden brown.
Remove from oven and press down the center of the cookie to create a cup.
In a medium bowl, combine mashed sweet potatoes, sugar, cinnamon, cream cheese and half of the whipped topping.
Remove sugar cookie cups from muffin tin and place on a platter. Spoon sweet potato mixture into cooled cups and top with a dollop of whipped topping.
Place a toasted pecan half on top of each cup. Drizzle with caramel apple dip.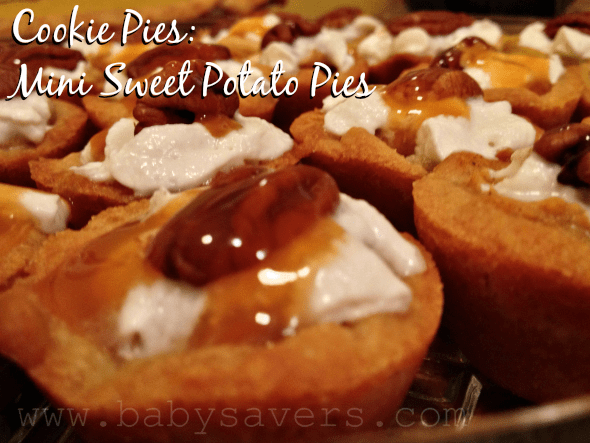 These mini sweet potato pies are perfect for the holidays or any sort of gathering! If you make them, please come back and let me know how much you like them 🙂