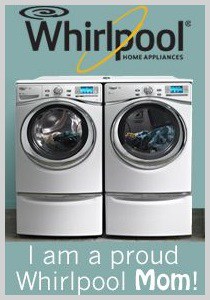 2011 marks Whirlpool Corporation's 100th anniversary. In our age of innovation, it's hard to believe that it's taken 100 years to get from a hand-crank washer to a fully-operational washer/dryer set with LCD screens and hundreds of user functions!
I have to say, The features of the Whirlpool Duet Premium washer and dryer are far beyond anything I've ever dreamed of in a washing machine. Here are details about a few of my favorite features of the Whirlpool Duet Premium washer and dryer set:
The Whirlpool Precision Dispense Ultra: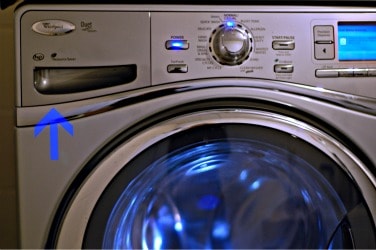 Every front-load washing machine has the little drawer where you pour in your detergent, plus the optional fabric softener and bleach for each load. This is the inside of that little drawer on my washer: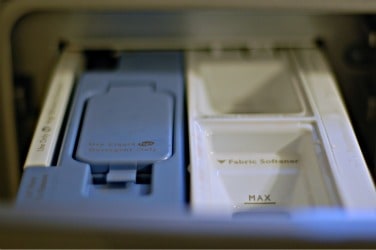 The Whirlpool Duet Premium washer has the Precision Dispense Ultra system. That little blue cartridge is a HE detergent reservoir that holds enough laundry detergent to last up to 36 loads! I never thought that adding soap to a load of laundry was a big deal, until I didn't have to do it anymore! Now, I can pop my clothes in the washer, select the cycle and hit Start for most loads. It's a pretty amazing time-saver.
The Precision Dispense Ultra System…
…cleans better and uses less detergent, saving nearly 10% in HE detergent costs. By adding detergent throughout the length of the fill time, Precision Dispense Ultra delivers better results than adding detergent manually. The system also releases bleach and fabric softener at the right time during the cycle for optimal fabric care.The removable reservoir can hold enough detergent for up to 36 loads of laundry in a single filling.
Another perk of the Precision Dispense system can only be appreciated by other laundry-control-freaks like myself. I literally used to cringe when I found out my husband had done laundry. Perhaps I had bad memories of the time a few years ago that he told me, "this load is really dirty" as he doubled the amount of detergent that should have gone into the washer. The Precision Dispense feature eases my fears that our clothes will be swimming in a half-detergent, half-water concoction!
Handwash Cycle for my most precious garments: 
I know I just said it, but I'm very uptight about my laundry. I'm paranoid that something's going to get ruined in the washing machine, and I have way too many delicate shirts and sweaters that I'd never want to put through a standard wash cycle.
The Handwash cycle on the Whirlpool Duet washer uses extra low, intermittent agitation to mimic washing in the sink for delicate care of hand wash only garments. And what clothes-loving mom wouldn't feel absolutely spoiled by a feature called Cradle Clean Technology? Cradle Clean actually simulates washing garments by hand by "rocking" the inside wash drum instead of spinning it.
Allergen Removal cycle:
I have year-round allergies that cause frequent discomfort. My son had pediatric asthma and still periodically wheezes when conditions are "just right." While both of our conditions are generally under control, the Allergen Removal cycle reassures me that I've done everything I can to launder the heck out of our bedding to eliminate 95% of dust mites and pet dander!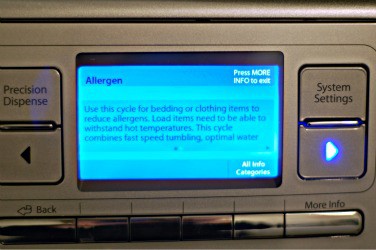 Even better, a push of a button is all it takes to see exactly how this washing machine is going to treat the clothes going into it.
Stain Assist:
Did you even know that there's a washing machine out there that includes directions on how to treat almost any type of stain? Once I get into the Stain Assist menu, I can choose the source of the stain. Believe me, everything from Children to Food to Mystery (really!) is included.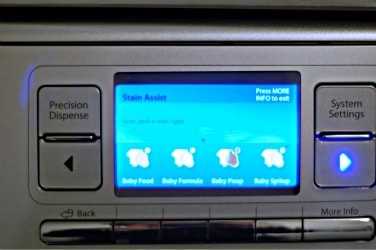 After the source is selected (I picked Children): the washing machine wants to know even more details about the type of stain. For this category, it wants to know if it's Baby Poop, Baby Formula, Spit Up, or other options.

From there, the Whirlpool Duet gives comprehensive instructions on how treat the stain for best results, right down to how to dry the garment!
EcoBoost Efficiency for the Washer and Dryer: 
I'm not a hardcore environmentalist, but I definitely do what I can to conserve energy and reduce waste. The Ecoboost options on both the Whirlpool Duet washer and dryer allow me to do just that while getting laundry done for my family.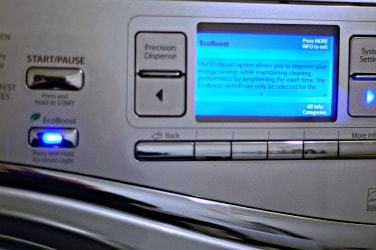 With the touch of a button, the EcoBoost setting on the washing machine  lowers water temperature and increases the tumbling action to use less energy while still delivering great cleaning and gentle performance. The same setting on the dryer saves energy by using a portion of the dryer's dual heating element and extending cycle time.
Maybe you didn't believe me before, but I'm going to say it again: The Whirlpool Duet Washer and Dryer are an AMAZING set of appliances! I've loved them from the moment they were delivered, but I don't think I truly realized exactly how spoiled I am by all of their offerings until I saw a brief history of the Whirlpool company's washing machine's over the past 100 years.
Seeing the evolution of the washing machine from a washtub all the way to a computerized, space-age-looking silver set of machines really makes me appreciate my incredible Whirlpool Duet washer and dryer.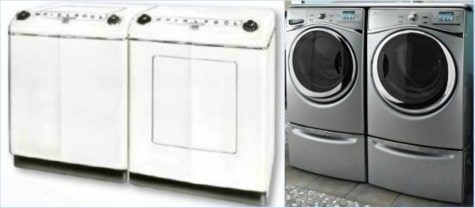 I want to extend a true and heartfelt THANK YOU to Whirlpool and Mom Central, who collaborated to name me one of 50 Whirlpool Moms. This has absolutely been the best blogging opportunity I've ever had, and I'm honored to be a part of it!
 I wrote this review while participating in a test-drive campaign by Mom Central Consulting on behalf of Whirlpool and received a complimentary Whirlpool Duet washer and dryer to facilitate my review.