Read this Name Bubbles review to see my thorough and honest overview of my experience with their kids name labels for school!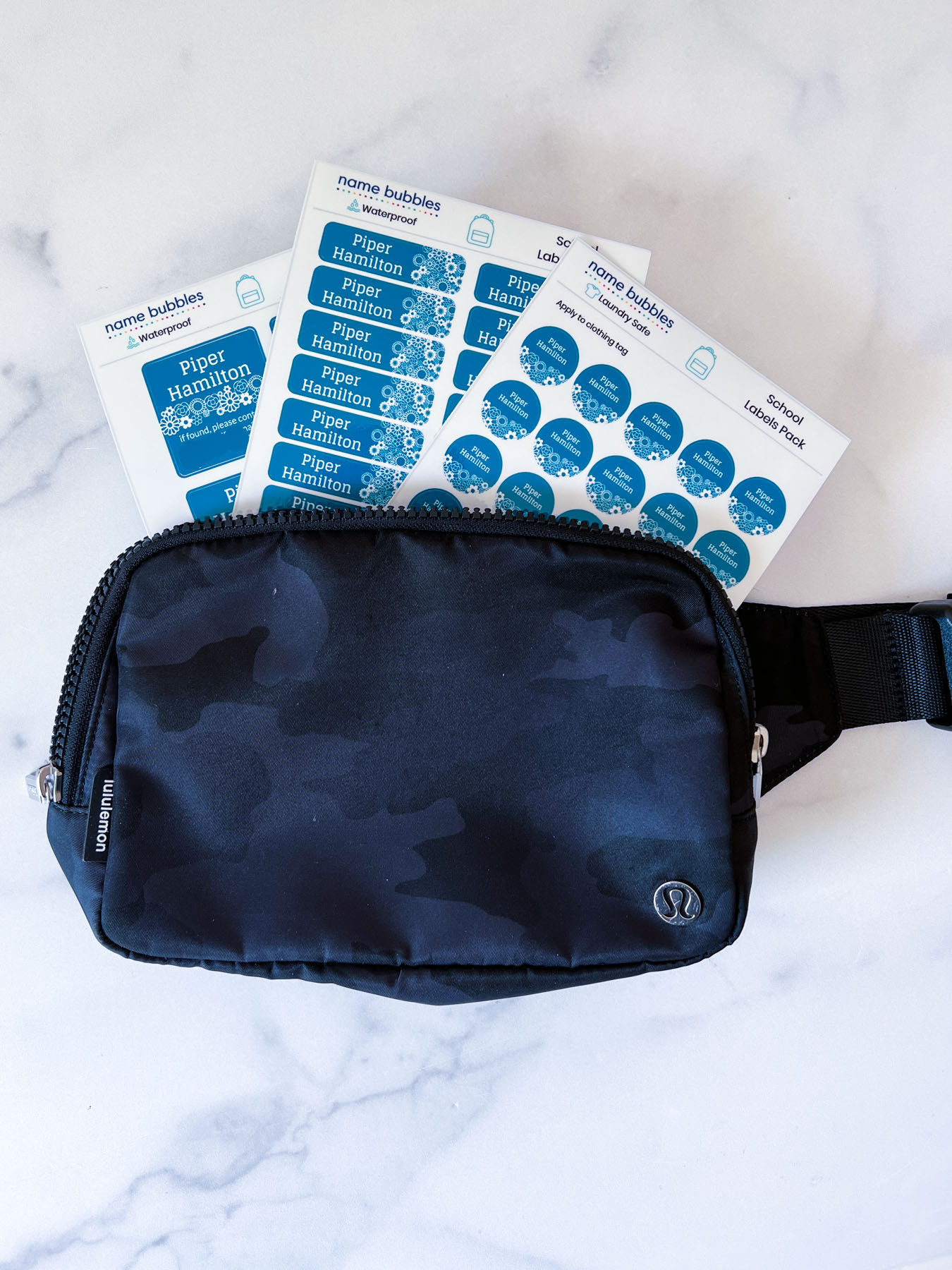 Key Takeaways from this Name Bubbles review
Before we really get into this Name Bubbles review, here's a quick overview of my thoughts:
Name Bubbles offers a variety of personalized name labels for kids, including clothing labels, contact labels, shoe labels, medical labels, and write-on labels.
The labels are made from high-quality materials and are designed to withstand the wear and tear of everyday use. They're also safe to use.
These labels are safe to go through the dishwasher and laundry. They can be boiled and they can even be microwaved!
Using Name Bubbles will save busy parents time and ease frustrations by helping keep track of kids' belongings for school, camp and anywhere else.
Name Bubbles has personalized school labels, camp labels, daycare labels and much more!
Name Bubbles discount code
Click here or click the button below and use Name Bubbles promo code BABYSAVERS to save 10% on your next purchase!
As a busy mom, I'm always looking for ways to make my life a little easier. But do you know what makes things harder for moms? Losing things!
I admit, my kids aren't the only ones in the family who lose track of things in our house – I'm frequently misplacing my stuff – inside of my home. Haiden and Piper, however, are experienced in leaving their belongs behind in a wide variety of places.
They've left things at the strangest places. A water bottle at the apple orchard. Lunch boxes at the animal shelter. Jackets at the doctor's office. At friends' houses. At that same friend's grandparent's house.
Of course, they've left plenty of belongings at school over the years, too (food containers, I'm talking to you! I miss so many sets of my Tupperware, my Gladware, those little reusable snack bags. I'll never see any of them again).
We've done our best to label the most important things, but it only recently occurred to me that we should literally just label EVERYTHING so everyone knows who those stray items belong to.
It also dawned on me that those labels should also be really good labels, so they can go through the craziness that comes with belonging to a kid and still stay stuck to whatever they're supposed to stick to.
So that's one thing that's going to change for the new school year. Because my kids are transitioning out of a very small school (where everyone knows everyone) to big schools where their things will likely not be returned if they're misplaced.
This year, we're using the Name Bubbles labels for school supplies and any other belongings that kids need to keep track of.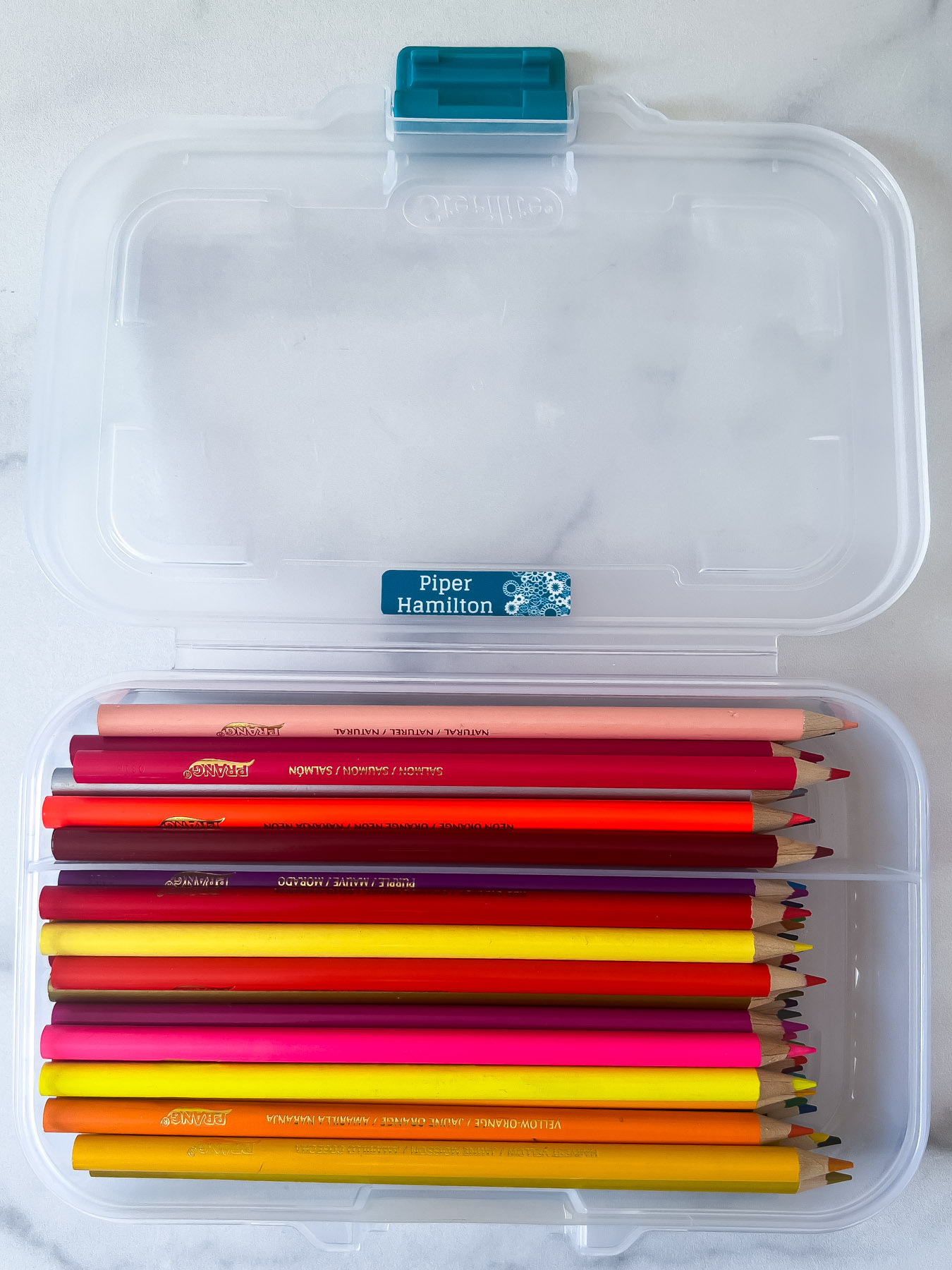 About Name Bubbles
Name Bubbles is a woman-founded label company that offers personalized labels for kids in these categories:
Name labels
Clothing labels
Iron-on labels
Luggage tags
Allergy labels
Daycare labels
Camp labels
Washable labels
Waterproof labels
Safety labels
Shoe labels
Write-on labels
All in a variety of sizes, colors and shapes. Seriously, if you have a need for a label, they can help!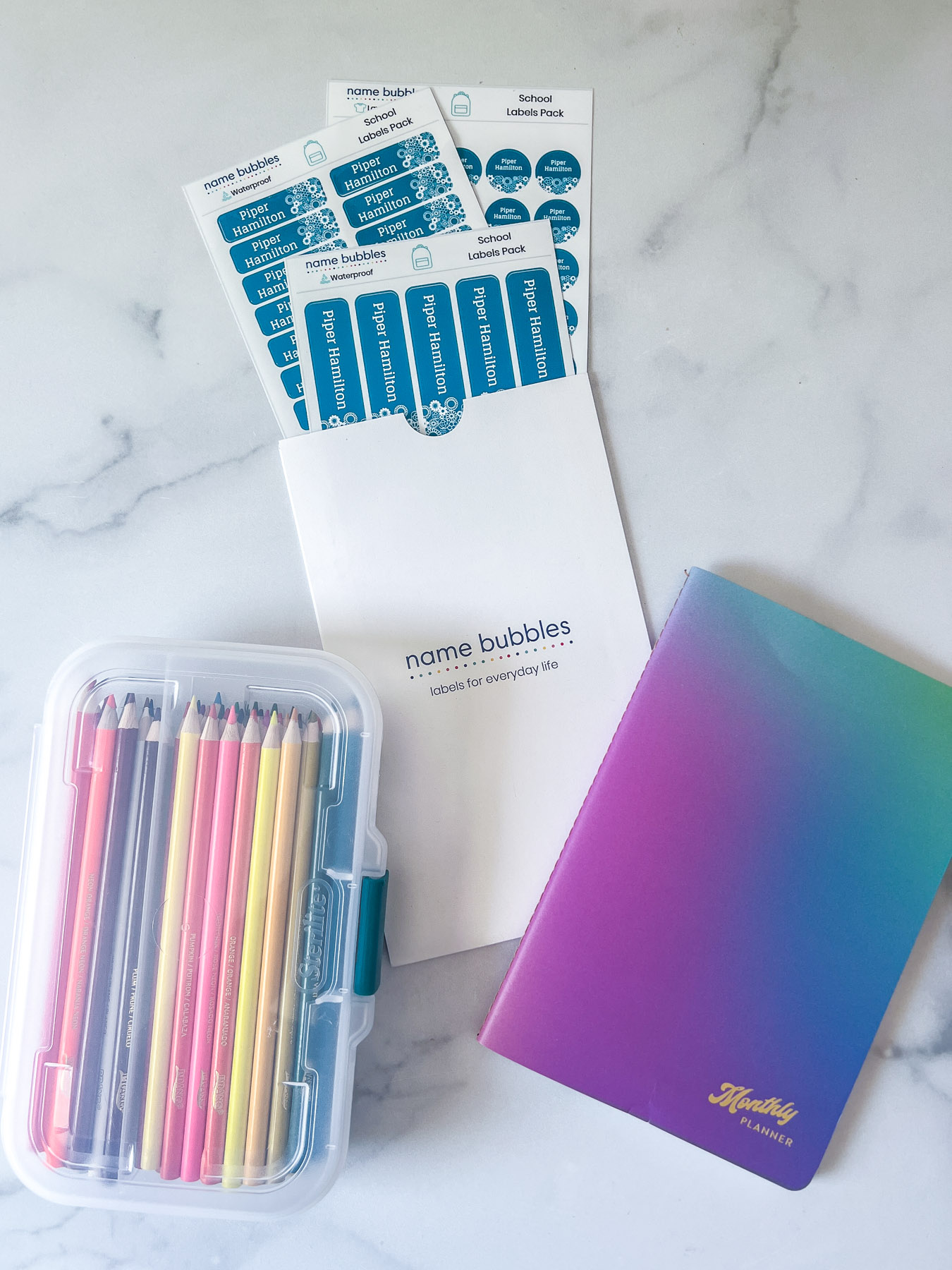 Brief Name Bubbles review
Overall, my experience with NameBubbles has been fantastic.
I've used multiple stickers from the school labels pack and they're so great.
The labels are easy to apply, stay in place, and have held up well through the dishwasher and regular use.
More importantly, they're going to save me time and have saved me time and frustration by helping me keep track of my kids' belongings.
I would highly recommend them to busy parents looking for a convenient and reliable way to label their child's school supplies.
Name Bubbles Review
I had decided that it was time to start our new labeling habit before I had even heard of NameBubbles, so I was super happy when they reached out to me.
I was excited to try them out, and I wrote this Name Bubbles review after using them for a while.
Product Overview
While they offer all sorts of different products, I tried the School Labels Pack.
The school labels pack allows you to choose a single design and receive a variety of kids school labels in several shapes and sizes. The labels all match, making it easy for your child to recognize them, even if he or she can't read yet.
What I love about Name Bubbles
The thing I love most about this pack is that all of the personalized labels are waterproof. They can go through the washing machine and the dishwasher.
Why are waterproof labels important? When you use them, you don't have to worry about missing labels or sticky things clogging up your dishwasher. You also don't have to keep checking to make sure the items you slapped labels on are still labeled once they're clean and ready to use again.
Another feature of the Name Bubbles school pack that I love is the various sizes and shapes of labels that I received:
Circle labels
small rectangle labels
larger rectangle labels
Square labels
My last favorite feature of the back to school labels pack is the square labels that have room for more information.
As Piper gets older, her belongings just get more expensive. She's also going more places with friends, and she'll be going more places without a parent to watch over her (and remind her to gather all her belongings before she leaves).
When I ordered the labels, it was suggested that I use the extra lines on the square labels to put "If found, please contact" along with a phone number and email address.
Now that they're in hand, I'm seeing how useful these labels are. Here's how we're going to use them:
One is going on her laptop, and one on her tablet. One will be stuck to her calculator, and one will be used inside her backpack. She doesn't have a phone yet, but the first day she gets one, a detailed Name Bubbles label will be attached to it.
What worried me about Name Bubbles
I admit, I had two big concerns about Name Bubbles.
My first concern was that my daughter would think she was too cool to label her stuff.
It turns out that the design makes all the difference! She didn't love it last year when I used a write-on label for her water bottle that had hearts and rainbows on it. I mean, she still drank from it, but she didn't like it.
But I didn't even have to get her on board with labeling stuff after I had her choose a label in her favorite color (dark teal) with a mature, simple design.
Bottom line: getting my daughter to label things isn't a problem as long as she likes the label.
My other worry was actually how durable the labels are. I had mild concerns about labels being stuck on things forever.
I learned that these custom name stickers are made to stick and stay stuck, but they can be removed if you want them off.
There are specific instructions to remove them in the Help Center:
To remove name labels, peel up from the edge of the label to lift it off of the surface.
For name stickers that have been applied to non-clothing items for a considerable amount of time, you may need the assistance of vegetable oil to ease off the label.
Any residue can be easily removed with 70% isopropyl rubbing alcohol, Goo Gone®, or similar cleaners.
Ordering from Name Bubbles
The ordering process on the Name Bubbles website is simple. Really, the hardest part is choosing which design to go with.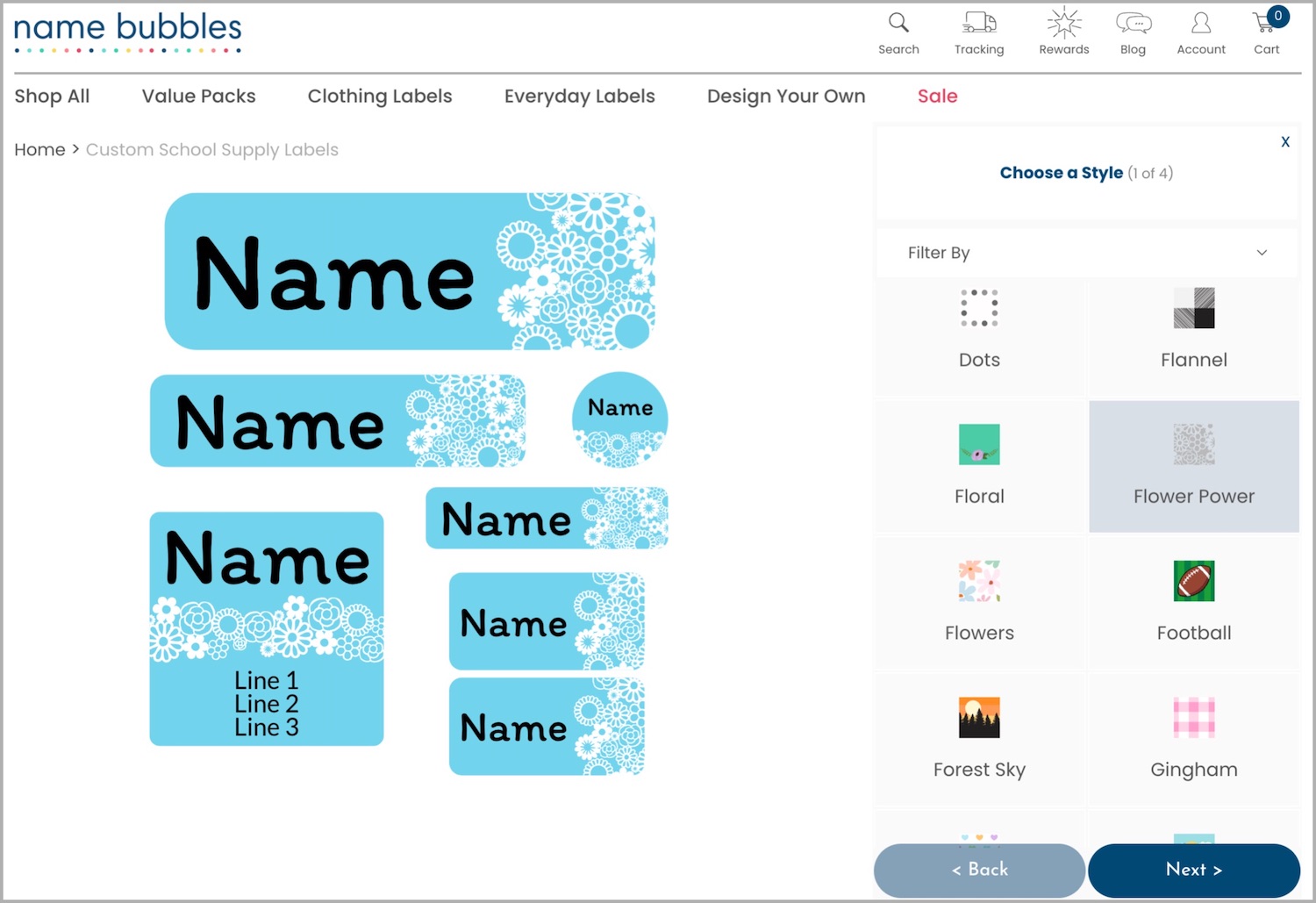 Once you've made your selection, you can customize the labels with your child's name and choose from a range of font styles and colors.
Bigger labels can include additional information, like phone numbers or email addresses, while smaller labels are just for names.
Features of these custom school labels
Name Bubbles offers so many label packages to choose from, including kids labels, name labels for clothing, and name labels for daycare. One of the best things about these labels is that they are waterproof and dishwasher safe, so they can withstand the wear and tear of daily use. This is especially important for items like water bottles and lunch containers that get washed frequently.
Another great feature of Name Bubbles is that they offer write-on labels, which are perfect for items that may not need a permanent label, like temporary storage containers or items that will be donated after use. These labels are also great for labeling items that don't have a specific spot for a label, like toys or books.
Designs for personalized labels
One of the things I love about Name Bubbles is the variety of designs they offer. From cute and colorful to more sophisticated options, there's something for everyone. I especially appreciate that they offer designs that are gender-neutral, so I can use them for both my son and daughter's belongings.
The label customization process is straightforward and easy to use. You can choose from a variety of fonts and colors to make your labels unique. Plus, the labels are printed in high-quality ink, so they look great and are easy to read.
Overall, I've been really happy with my experience using Name Bubbles personalized name labels. They're durable, easy to use, and look great on my kids' belongings.
Frequently Asked Questions about Kids Name Labels
Should you label kids things for high school?
You should label things for kids of all ages. The best thing about Name Bubbles is that they come in plenty of designs that will appeal to bigger kids. The school packs also come with plenty of small stickers that are discreet, while still keeping belongings tagged.
Are Name Bubbles dishwasher safe?
Yes. Not only are they dishwasher safe, they can be microwaved, boiled and sanitized.
What is the best way to label things for school?
The best way to label things for school is to use personalized labels that will withstand a ton of wear and tear. Like Name Bubbles, which are waterproof, laundry safe, long-lasting and dryer safe.
Should you label kids clothing with full names?
Yes, you definitely should label kids clothing with full names. It's the only way to ensure belongings are returned to you, not to someone else who happens to have the same name.
If you're worried about labeling kids stuff with full names for safety reasons, be sure to stick the labels in discreet, non obvious places. Your labels don't need to be advertisements!
Name Bubbles makes it especially easy with their iron-on and adhesive clothing labels that you can place on the inside of bags, garments and more.
how do you label kids school bags?
Backpacks, lunchboxes, waist bags, containers, sports equipment duffels and other fabric items can be labeled with peel and stick clothing labels.
Just stick them to the item's tag. If it's tagless fabric then you can apply it to the brand stamp.
Click here to visit Name Bubbles and make your own custom school labels today!