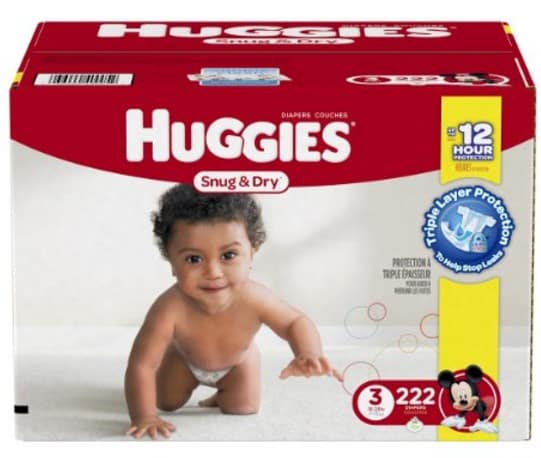 Hooray! We have several new links for printable diaper coupons to save big with a CVS diaper deal this week.
Even if you don't want to take advantage of this deal right now, you should still print the coupons so you're ready for the next deal when it comes along!
Watch a short video and you'll be able to get a Huggies printable coupon to save $3 on one pack of Huggies Snug & Dry diapers. Hit the back button and refresh your browser after the first one prints and you should be able to get a second coupon!
There's also a set of Huggies printable coupons to go along with the Pampers printable coupons that are already available on Coupons.com! You can also watch a  Here are all the coupons that are out there right now:
You can print two of each of these coupons. Just print the first set, then come back here, click the links again and print the second set.
You can use those printable diaper coupons at CVS to get jumbo packs of Huggies and/or Huggies for just $4 each! Here's how to get the diaper deal:
::  Buy 1 pack of Pampers diapers at $10 per pack
::  Buy 2 packs of Huggies Snug & Dry diapers at $10 per pack
::  Use 2 of the $3 off Huggies printable coupons
::  Use 1 of the $2 off Pampers printable coupons
::  Spend $22 out of pocket
::  Get back $10 in ExtraCare Bucks
Final price: $12, or just $4 per pack of name-brand diapers!