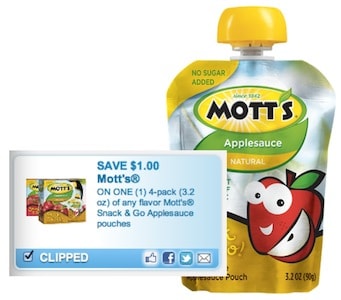 Baby food and applesauce pouches are such a great idea–I can't believe they weren't around even just a few years ago!
Print out your Mott's applesauce coupon to save $1 on any Mott's Snack and Go applesauce pouches. Use it at Walmart where the 4-packs of Mott's applesauce pouches are $2.50 each. That makes them just $1.50 each after the coupon!
::  Mott's Snack & Go Applesauce Pouches  ::  $2.50
::  Use $1 off 1 Mott's Applesauce coupon
Final price: $1.50 each after the coupon!