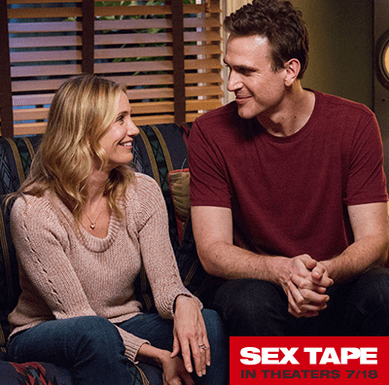 Last week I attended the "Sex Tape" movie press junket at the Beverly Hills Four Seasons. It was incredible, but the absolute highlight of the brief trip was interviewing the stars of the movie, Cameron Diaz and Jason Segal!
About "Sex Tape" starring Jason Segal and Cameron Diaz:

Jay (Jason Segel) and Annie (Cameron Diaz) are a married couple still very much in love, but ten years and two kids have cooled the passion.

To get it back, they decide – why not? – to make a video of themselves trying out every position in The Joy of Sex in one marathon three-hour session. It seems like a great idea, until they discover that their most private video has gone public.

In a panic, they begin a wild night of adventure – tracking down leads, roping in friends, duping Annie's boss – all to reclaim their video, their reputation, their sanity, and, most importantly, their marriage.
Exclusive Interview with Cameron Diaz and Jason Segal from the "Sex Tape" Movie:
What was it like working with the three child actors? Jake told us they were pretty fantastic. What was that like for you? 
Cameron Diaz (CD): There were three? 
Me: Harrison? Harry? [Harrison Holzer]
Jason Segal (JS): Oh, yeah. He does NOT feel like a kid at all. He's like a James Bond villian or something. 
CD: He was fantastic. That kid blew us away. It was not…normal.
JS: He was really talented. When I met him I was like [baby voice] 'hey man, I'm so excited to meet you!' And he was like, 'Mr. Segal.' [Laughs]
CD: And his adlibs were…some crazy sh*t. I was like, 'that is not a 13 year old child. Where do you know this from?'
JS: He was intense. 
CD: And, then, Giselle and Sebastian were…
Jason: They were the best.
CD: Unbelievable. They were such good little souls and their parents were so sweet. You never know what you are getting with kids who act. You don't know if they want to be there or if it's just the parents…
Jason: Or, if they are that other type of [child actor]
Cameron: Da-de-da-da-da-da
(Both Jason & Cameron mime overacting little kids with dancing and waving arms).
What do your friends and family think of this movie? 
CD: I don't know. None of them have seen it yet.
JS: Mine will see it tonight at the premiere but they read everything I do–since I surprised them in Forgetting Sarah Marshall. They are prepared and excited!
CD: And I think our friends who have children can probably relate to it a lot. That's why we made this movie.
[Being relatable is what this movie is really about]. The actual "sex tape" is four minutes of the movie.
The real thing is about these people who really love each other. They know they've married the right person. They're not having a hard time. They're just having a hard time making this part of the relationship be a priority. It's the night they decide to make it a priority and they do something that feels authentic to them, a "let's try to get that spark back".
JS: Over the past could of days, I've said that one of the things thatwould be really cool that married couples who have been together for a long time…there are a lot of couples who are both sitting feeling separately like they both wish they were having more sex and neither of them are having the discussion…
So I hope when people see the movie, on the car ride home, there's a phenomenon where they laugh a little bit about how great a movie it was…and there's a little bit of silence and this real discussion begins about how we haven't been having as much sex as we like. 
…as I was just saying that I pictured my parents seeing the movie. [Laughs]
What was it like to work together?
CD: We weren't naked. 
JS: Yeah, we weren't really naked unfortunately. We had modesty patches. It was more like going to the beach.
What is [a modesty patch]?
JS: It's like a flesh-colored bikini for Cameron. For me, it looks like Snuffaluffagus. 
CD: It was movie magic. So there are a lot of angles that we took the time to make sure theere are arms in places so you can't see the modesty garments. 
JS: It's more like a locker room vibe. It was sort of like comedians high-fiving. 
What do you think of Mommy Blogging as a form of entertainment. In the movie, [Cameron Diaz] is acting out what we do as a job. What do you think? 
CD: It's great. It's a brave thing to do. You're putting a part of yourself out there into the world.
Annie, my character, sees that the content of her experience and life is being bartered. She's trying to see how much she can give of herself – to be authentic to herself. There are questions about how much you give when you are giving of yourself and you also want to inform people; you want people to relate to you because you want to feel that there are bloggers that understand you because it's a tough thing to do-being human and being a mother and a wife and having these responsibilities.
I think that it's definitely one of those things that I say it's brave to do but it is also a choice. It's elective and it's a new world. We don't know what will come of it. We don't know how it affects us, positive and negatively.
You guys are sort of in the forefront of things. You're on the cutting edge, at the beginning of this idea of the internet and blogging and what that means to our society and to the children that you are revealing about their lives to people.
That's what happens with Annie. She's revealing things about her husband that maybe he doesn't want revealed and she's talking about her children that don't have a choice – all the little bits and pieces about their lives being revealed, you know. I think it's an interesting study in sociology and you guys are doing it.
[To Jason Segal]I know that you wrote a lot of the script and on the last couple of movies you've done, are you thinking about going into just doing your own screenplays?
JS: I am writing a couple of things now.
This is the first thing I've written that wasn't an original idea. It came from Kate Angelo's brilliant script. But, what happens to me is, I'm like in the shower and I have this idea of a premise.Then, I'm finally like …'F**k, that's a good idea.' And, Im kinda bummed about it, because writing is SO much work and I am going to be stuck with it for four years until the movie is done.
So, for me, it really comes down to thinking of something I can't get out of my mind. To the point that it's bothering me because I know going in that it's something I'm commiting to for a really long time.
Unlike acting where you get a script and you sign on and you do your prep and you do it and say goodbye, you write for a really long time. You battle through the periods of being bored by your own idea because you've been writing it for a year and a half. You just want a break from it and you hate it. You think it's so dumb. You've probably thought of a new idea that you think is so much better than that idea. So, it takes some discipline but I really love it.
There's a feeling like nothing I've ever experienced, there's a really cool alchemy to thinking about an idea in the shower and then, a few years later, sitting in a movie theater and seeing it. It's one of the coolest feelings I have ever had. Ever.
Cameron, you are a role model for so many women…what do you do when you experience personal or professional failure??
CD: I don't think that anything is a failure. I think life is a bunch of lessons and the failure is not taking the lesson and utilizing it and trying to make a better choice next time. 
"Sex Tape" starring Cameron Diaz and Jason Segal opens Friday, July 18th. Get your tickets now!
Disclosure: I was invited as a blogger to the "Sex Tape" press junket in LA to provide media coverage for the film. Travel expenses were covered by Sony Pictures. All opinions are honest.