This is a sponsored post written by me on behalf of PERK for IZEA. All opinions are 100% mine.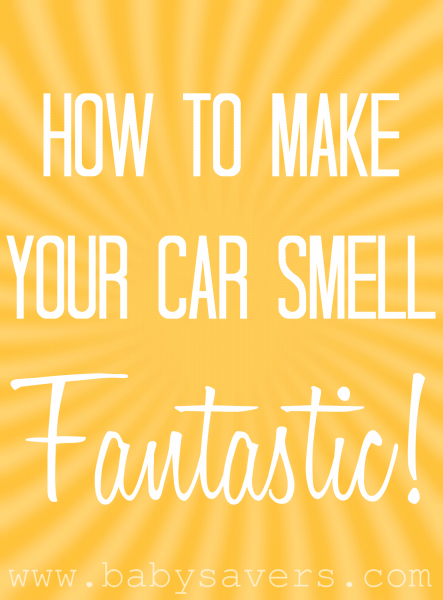 I have mixed feelings about air fresheners, especially in cars.
On the one hand, I love when a car smells good. Scents are closely tied to our emotional state, and a I know that a delicious scent definitely doesn't hurt my mood!
On the other hand, some cars smell like there's a good smell that's trying to cover up a bad smell in there. I hope most adults know this, but the key to having a car that smells great is to start with a clean car. An air freshener should be used to make riding in your car a more pleasant experience.
Aside from all that, I also love the idea of a car that smells fantastic without the obvious placement of a noticeable air freshener.
The PERK Vent Wrap is known as offering fragrance you'll notice, an air freshener you won't! Here's a video with more details:
The Vent Wrap is significantly more discreet than other vent air fresheners, and miles more discreet than those that hang from somewhere on the dashboard.
Even better, it's it's easy to use. The vent wrap looks like a little clip that simply wraps around one vent blade.
It's also pretty clear that it doesn't block air flow from the vent and still lets you adjust the vent as needed.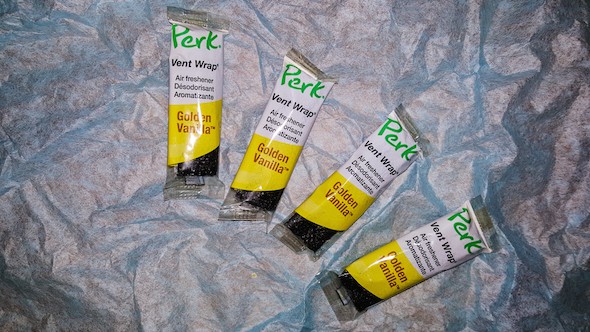 The PERK Vent Wrap is individually wrapped for long lasting fragrance. Each package I received contained four factory sealed wraps. It's nice to know that only one wrap needs to be used and the rest will last until I need them.
Finally, PERK Vent Wraps are available in a variety of amazing PERK fragrances, including Golden Vanilla, Caribbean Colada, Summer Berry and New Car.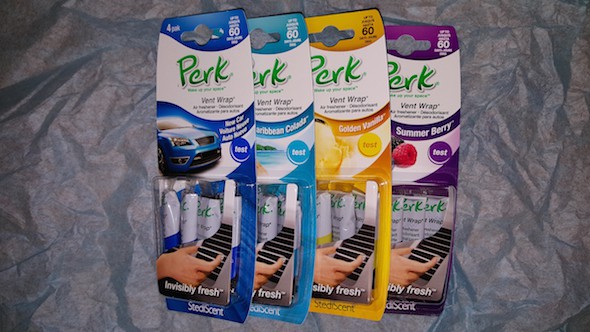 I tried Golden Vanilla first, and the scent is absolutely perfect, especially for this time a year. I've always loved the warm smell of vanilla, and PERK's take on it makes me feel good when I get in my car!
My husband has always enjoyed the New Car scent in other PERK products, so I'll be popping a PERK Vent Wrap on his dashboard vent as soon as he gets home!
The giveaway
One lucky Babysavers.com reader will win a PERK Vent Wrap gift basket containing the following:
6 month supply of PERK products/fragrances
1 PERK travel mug
2 pairs of PERK sunglasses (1 green and 1 black)
Want to win? Wait for the Gleam giveaway box below to load.
PERK Gift Basket

After you enter, be sure to print your $1 off PERK coupon and visit PERK's Facebook page for more details!