A few weeks ago I received an invitation for my family to celebrate the Mall of America's 25th Birthday with a stay at the Radisson Blu Mall of America.
All four of us are big fans of the mall and we're always up for a getaway, so I happily accepted the invite!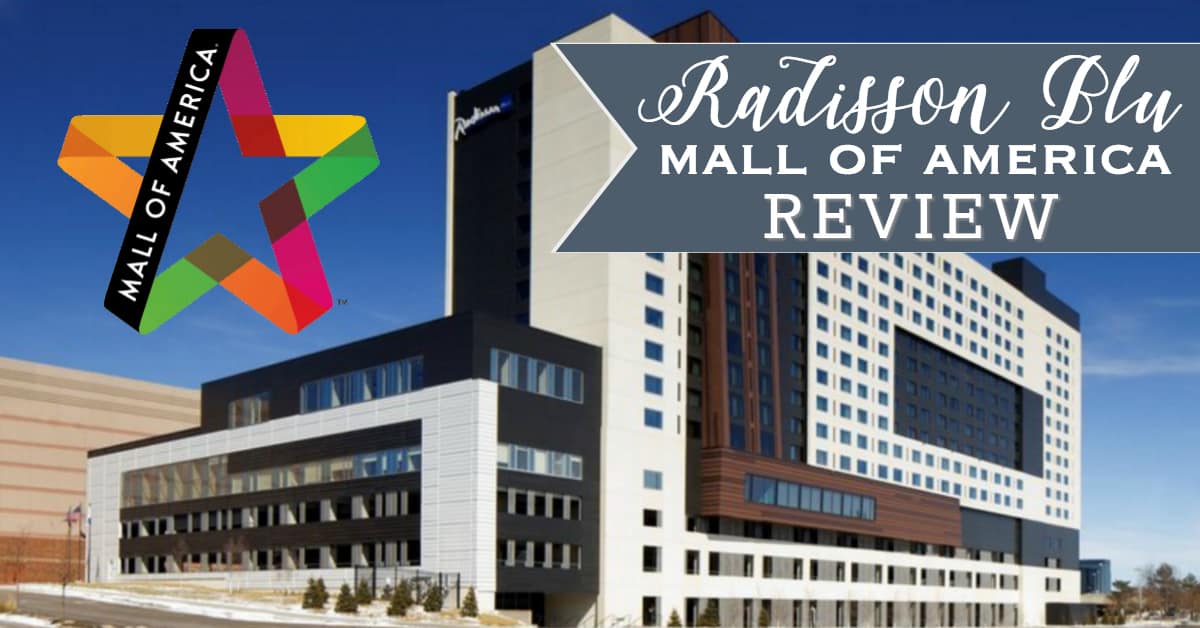 Radisson Blu Mall of America Review
About Radisson Blu Mall of America
Welcome to the Radisson Blu Mall of America, an elegant hotel that gives you direct access to Mall of America via skyway for the ultimate in style and convenience.
This location places you close to the Minneapolis airport and light rail, ideal for exploring the Twin Cities area. Whether you're staying for business or leisure, you'll appreciate the comfort and chic design of 500 rooms and suites, each with amenities like free internet and 24-hour room service.
After a day of shopping or attending meetings, make a splash in the indoor saline pool or indulge in a massage at Solimar Spa & Salon. You can also re-energize with a jog in the fitness center before dinner at the on-site FireLake Grill House & Cocktail Bar.
If you're planning a corporate conference or a wedding in Bloomington,  host your event in the versatile meeting space, complete with catering services and the assistance of a dedicated team of event experts.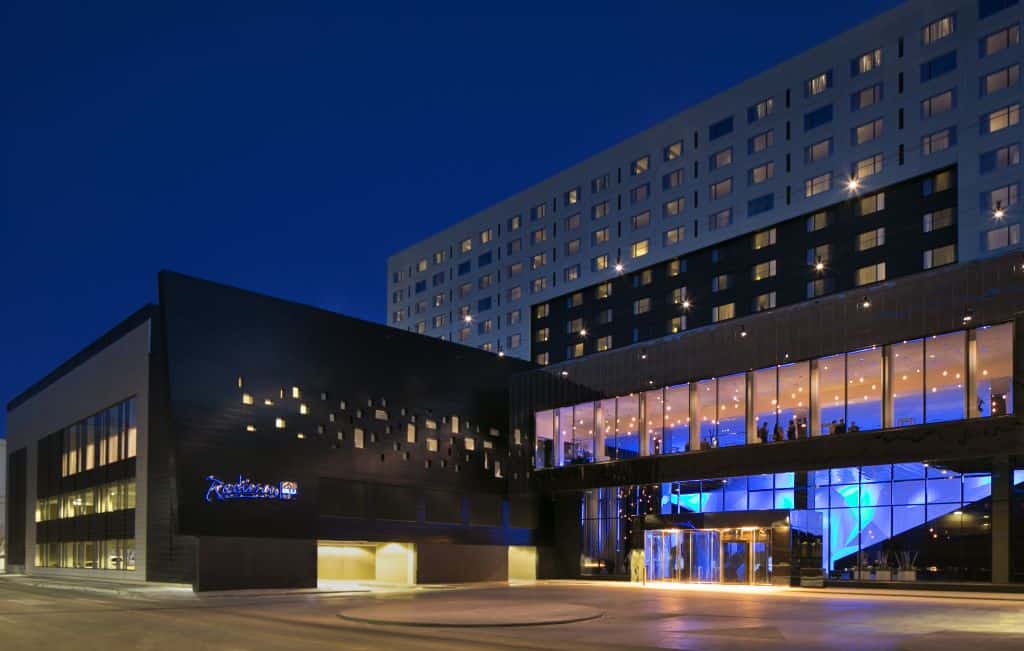 When I started reading about the hotel, I was a tiny bit concerned. The pictures and descriptions made it seem so nice, which I was super-excited for.
But…would it be family-friendly? Would my 8 and 9 year old kids be okay walking through the lobby? would I have to constantly tell them to quiet down or "don't touch."?
As it turns out, the Radisson Blu Mall of America is experienced in hosting parents like me. They understand that we love beautiful hotels but they also get that kids need to be kids. They have all sorts of great programs and services to make all of us happy!
Is the Radisson Blu Mall of America Family Friendly?
Radisson Blu Mall of America makes a big effort to be family friendly from the moment you enter the lobby.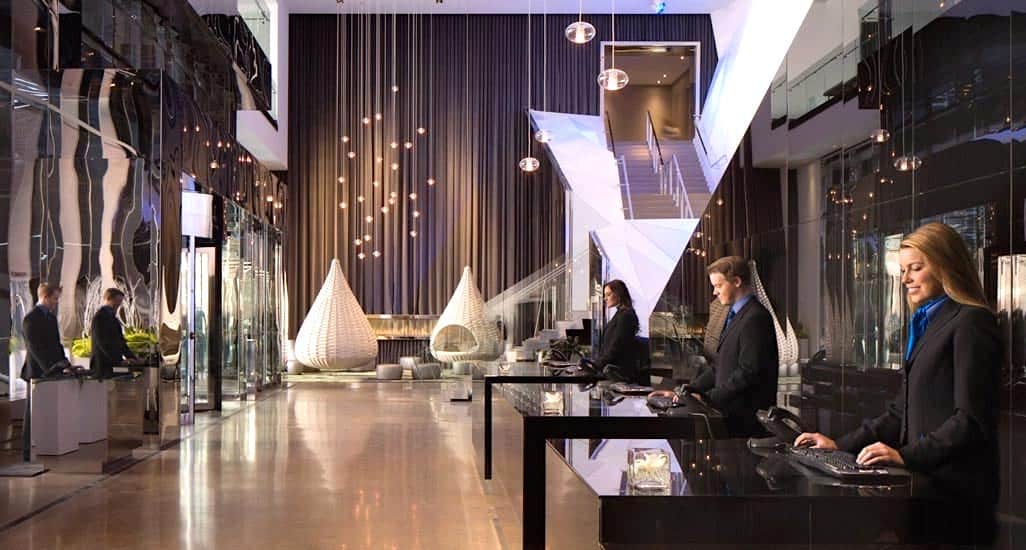 Don't be fooled by the chic design, it actually has a fantastic little detail that makes waiting fun for kids: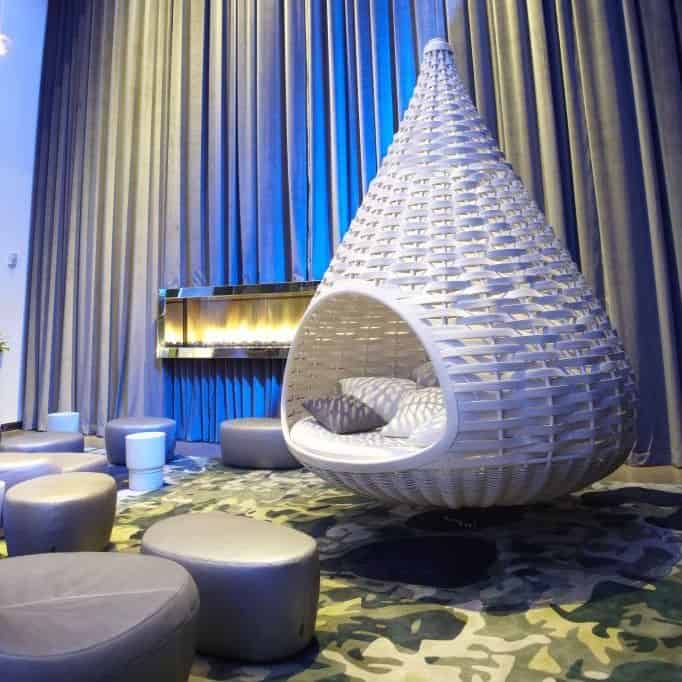 Those teardrop-shaped woven forms are actually pods with a cushion and plenty of pillows. It's a great place for kids to play around while mom or dad is getting checked in!
When I had checked with Abby at the front desk and received all of our room information, she wanted to talk to my kids. Haiden and Piper came over and she handed them each a passport and a sheet of instructions. It was a scavenger hunt to help them explore the hotel.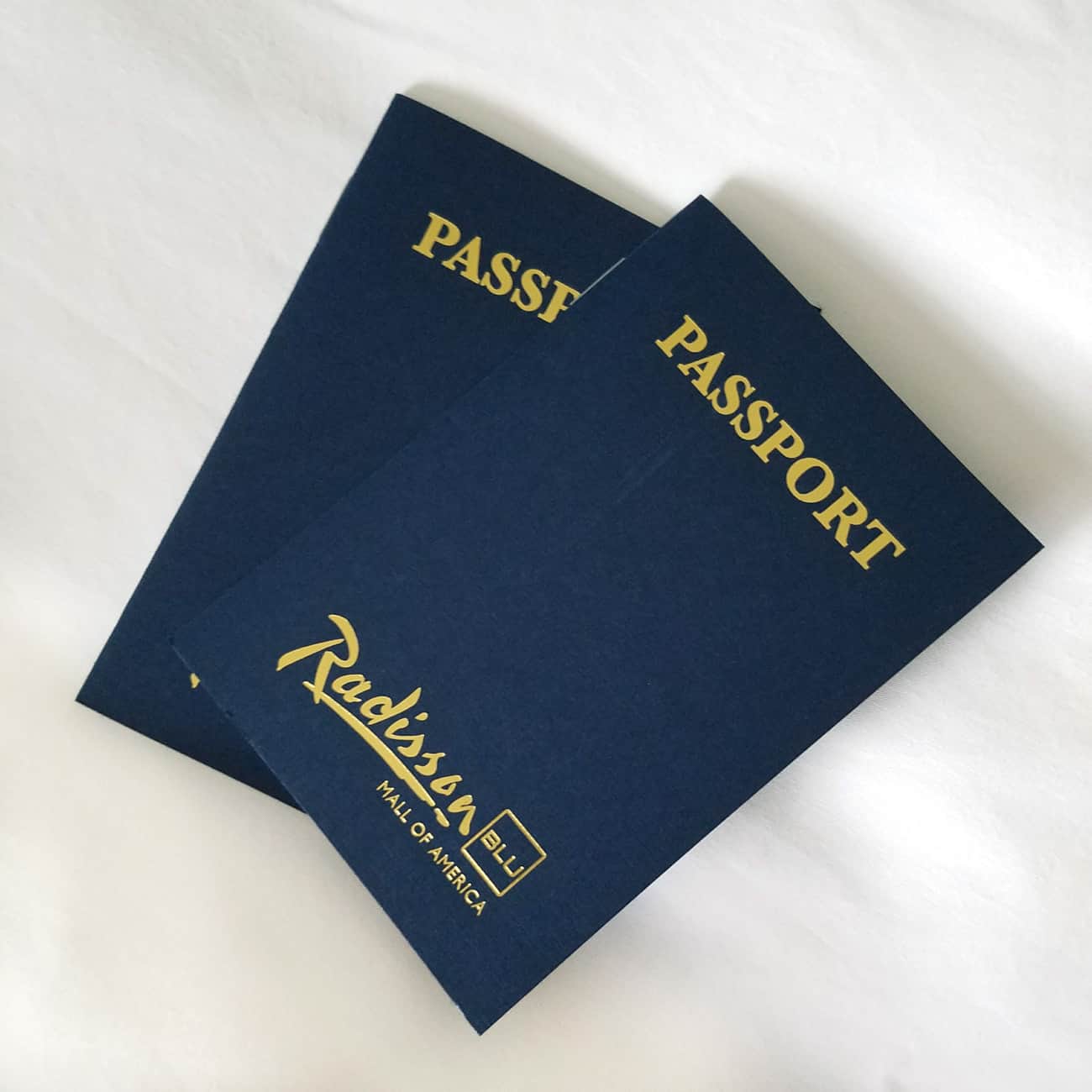 A scavenger hunt to help kids explore the hotel? I guess that answered my question about the Radisson Blu Mall of America being kid-friendly!
The Radisson Blu Mall of America Blu Kids Club
The scavenger hunt is part of the Blu Kids Club at the Radisson Blu Mall of America. It's a fantastic way to make sure families feel welcome at this hotel!
At Radisson Blu Mall of America, children are more than just guests, they are invited to be explorers of the hotel with Marty the Moose, our friendly (and a bit clumsy!) hotel mascot.
The whole family will enjoy taking journeys with Marty and his friends in the original Adventures of Marty the Moose, available on our Blu App and in-room TVs.
Upon check-in, children will receive their very own Blu Passport to destinations around the hotel.
There are three sets of passport activities for children 3-5, 6-9, and 10-12, so there is plenty of exploring and adventures to be had for the whole family! Children who earn four stamps will receive a special prize!
James happily took Haiden and Piper to start the scavenger hunt while I spent a few minutes getting our family unpacked. It was the perfect way to keep the kids busy while I got us settled into our adjoining rooms.
When the kids completed their scavenger hunt they each got to pick a special prize: their choice of stuffed animals!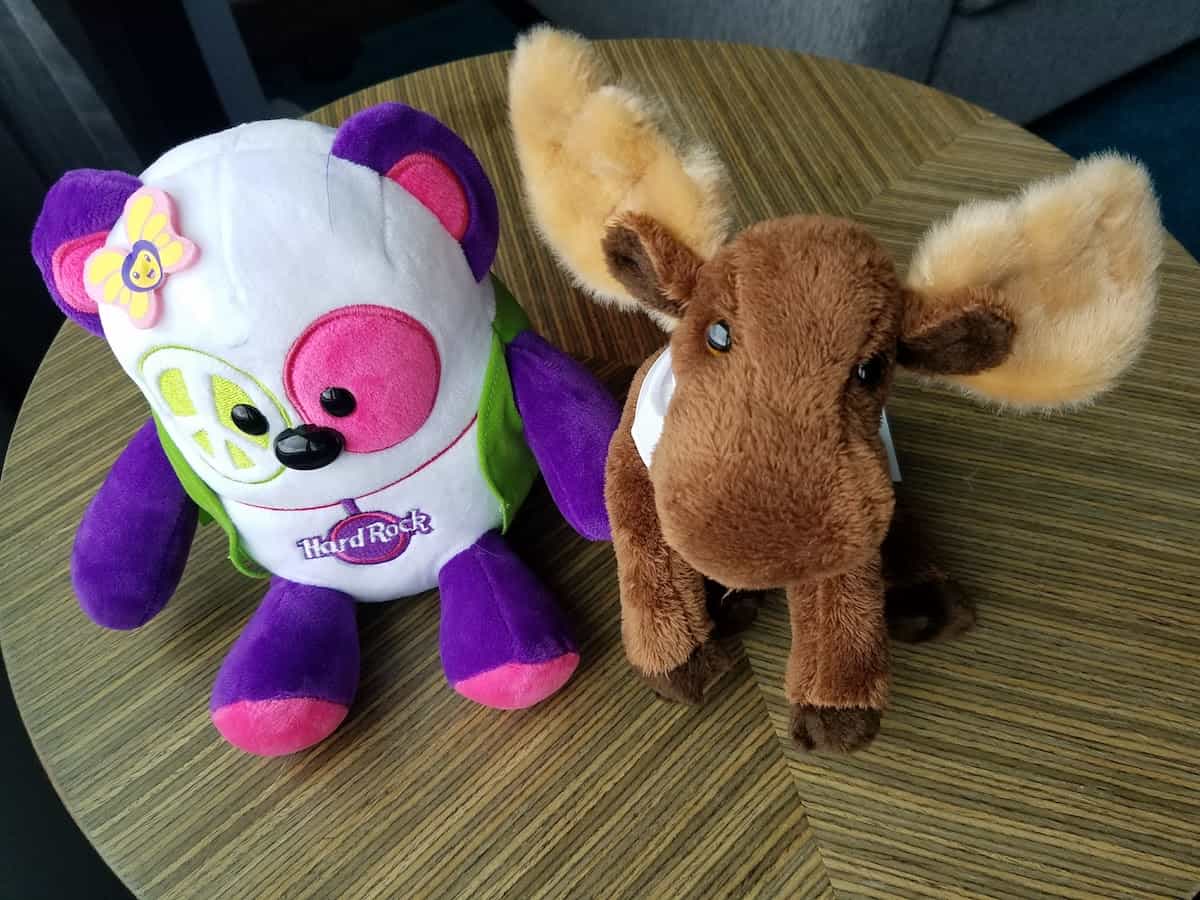 Piper picked the Hard Rock Cafe bear and Haiden picked a Marty the Moose plush. They both were crazy about their prizes!
Radisson Blu Mall of America Rooms Review
In addition to immediately making Haiden and Piper feel welcome and happy at the hotel, The Radisson Blu Mall of America generously gave them their own room!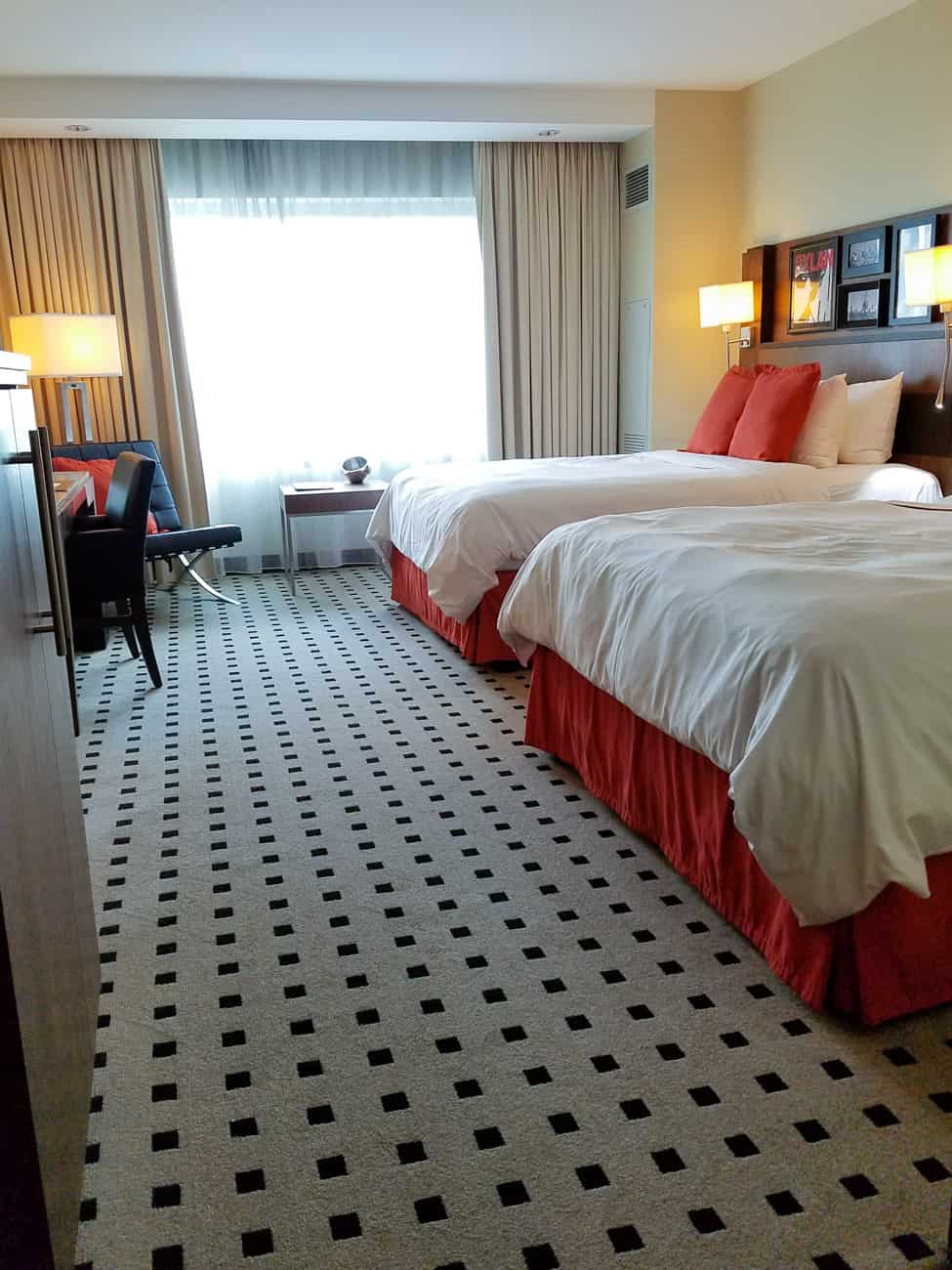 Their room, a double with two queen beds, was perfect for a family or 2-4 people traveling together. As a frequent traveler, I loved the double room had queen-size beds instead of standard double beds. The kids just loved having big beds to themselves 🙂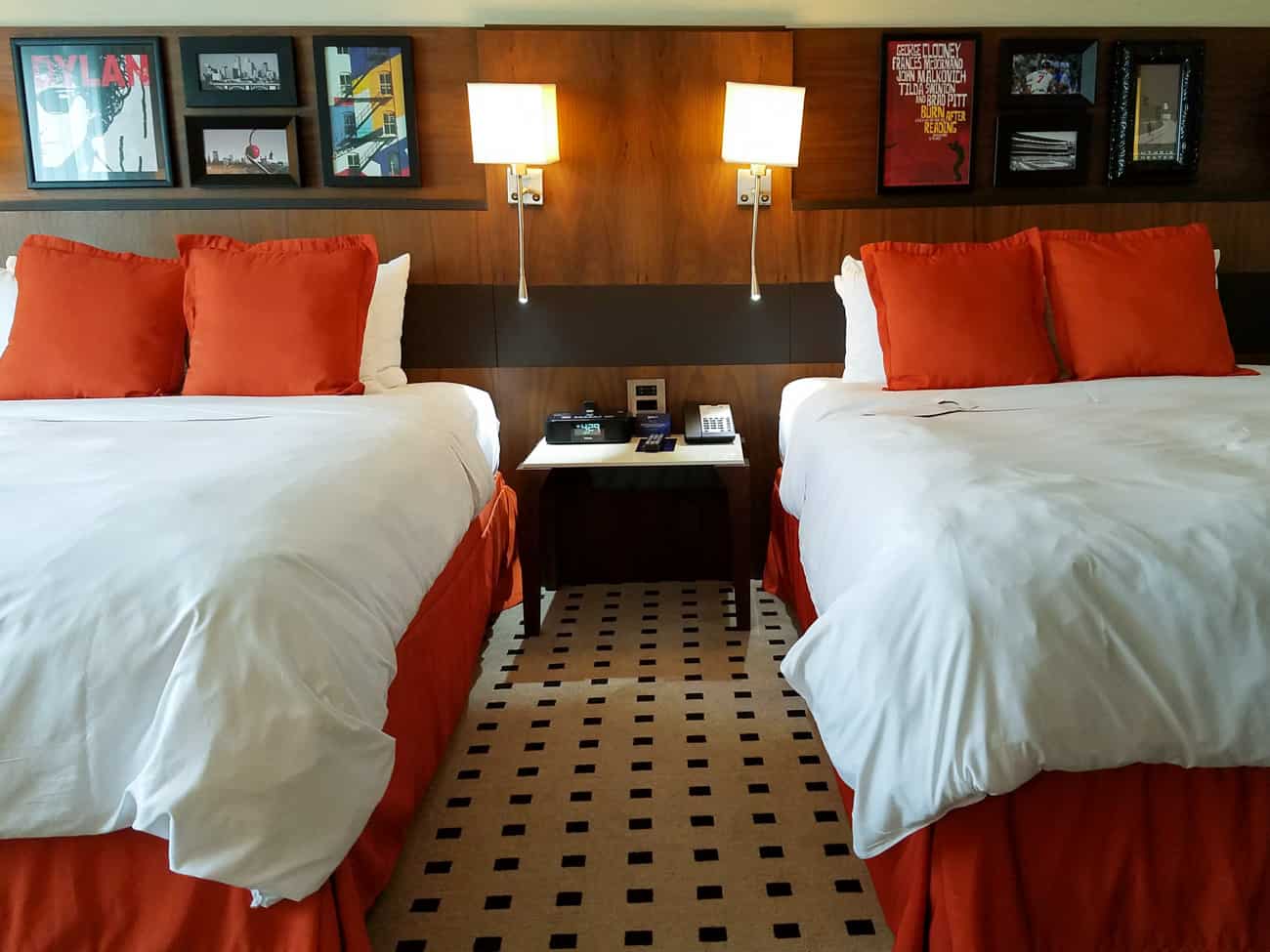 The room decor was also great, especially for a pop-culture enthusiast like myself! It was a mix of cool Minnesota locations plus images referencing iconic Minnesotans. There was a Bob Dylan picture and a framed poster from the film Burn after Reading, which was written and directed by the Minnesota-born Coen brothers.
James and I were in an adjoining junior suite, which was 100% dreamy. First, we had our own hotel room on a trip with our kids. That's never happened before! Second, our room was simply fantastic.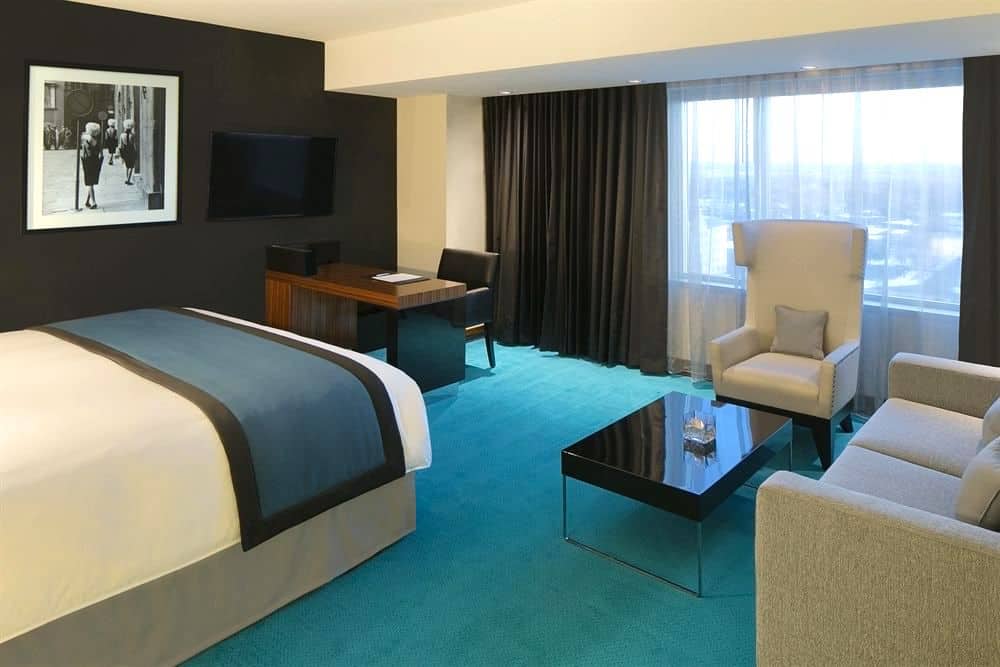 I'm kicking myself for not getting a full picture of the room we stayed in, but the one pictured above is identical to ours.
We were greeted with four fresh chocolate chip cookies (which is the perfect way to ensure a great start to any hotel stay!). We were all ready for a snack, and they were delicious.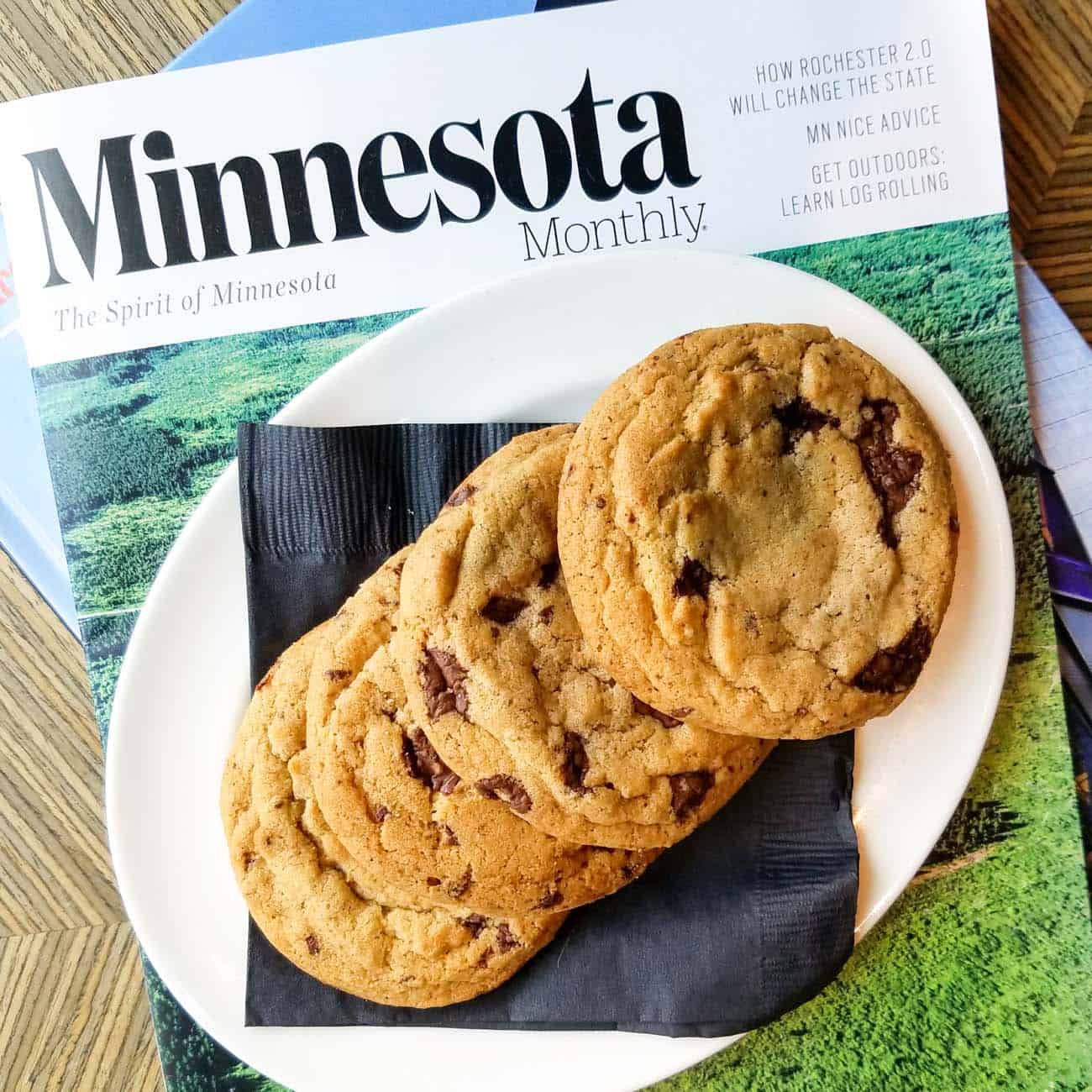 Our room was luxurious and spacious, and it had cool sparkly floors in the entry!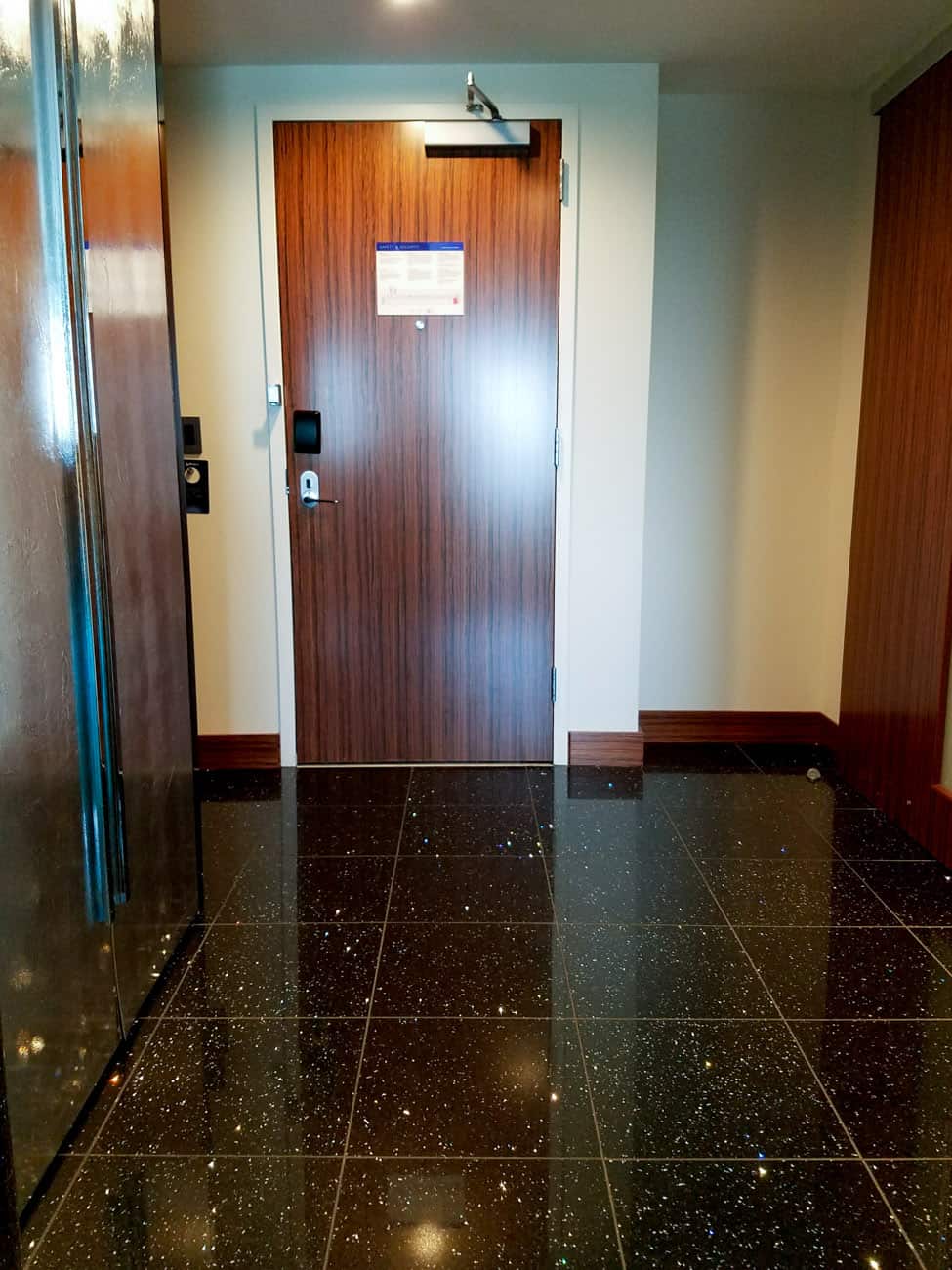 The luxe vibe continued into the bathroom…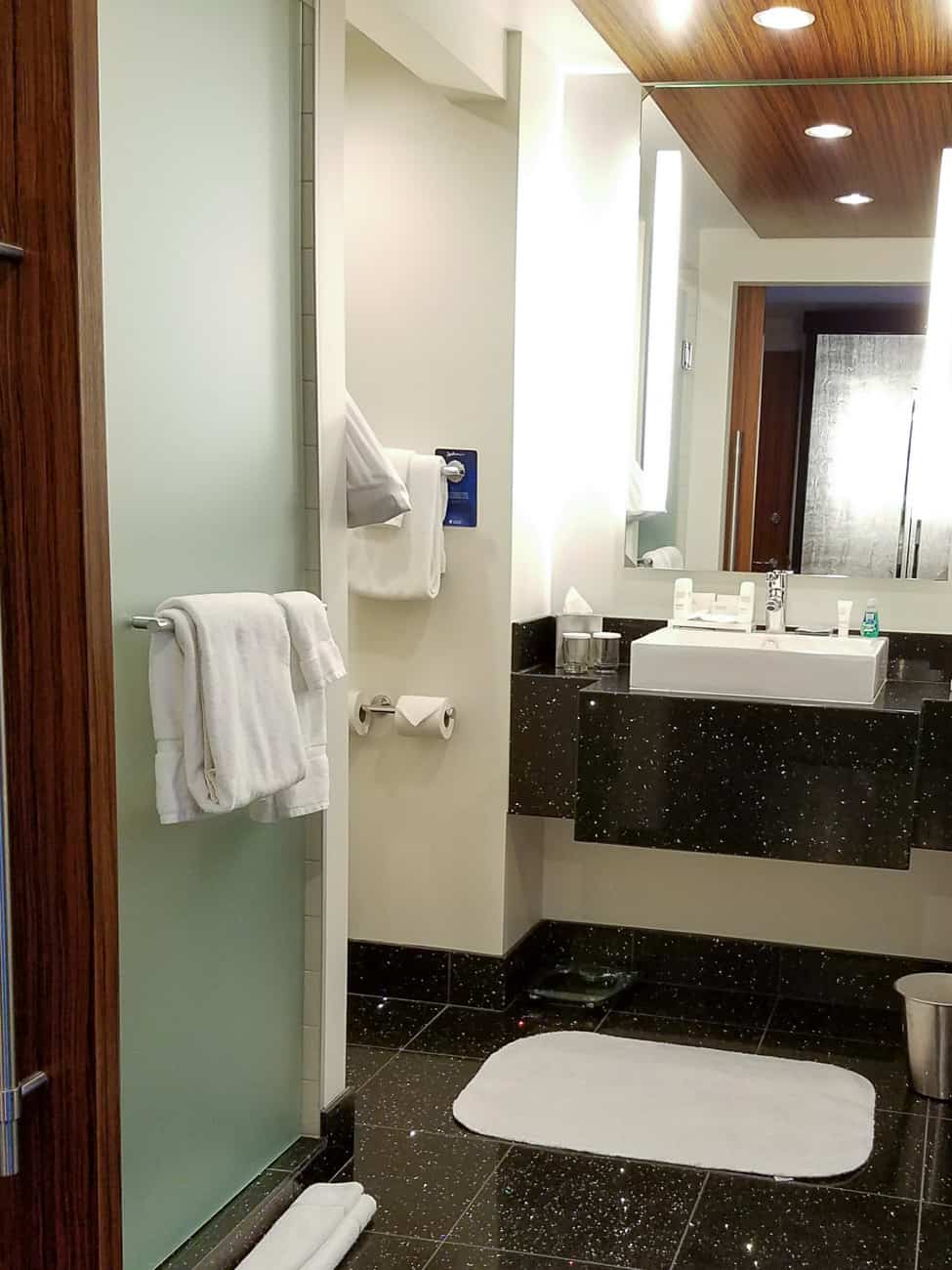 I loved the separate shower and bathtub!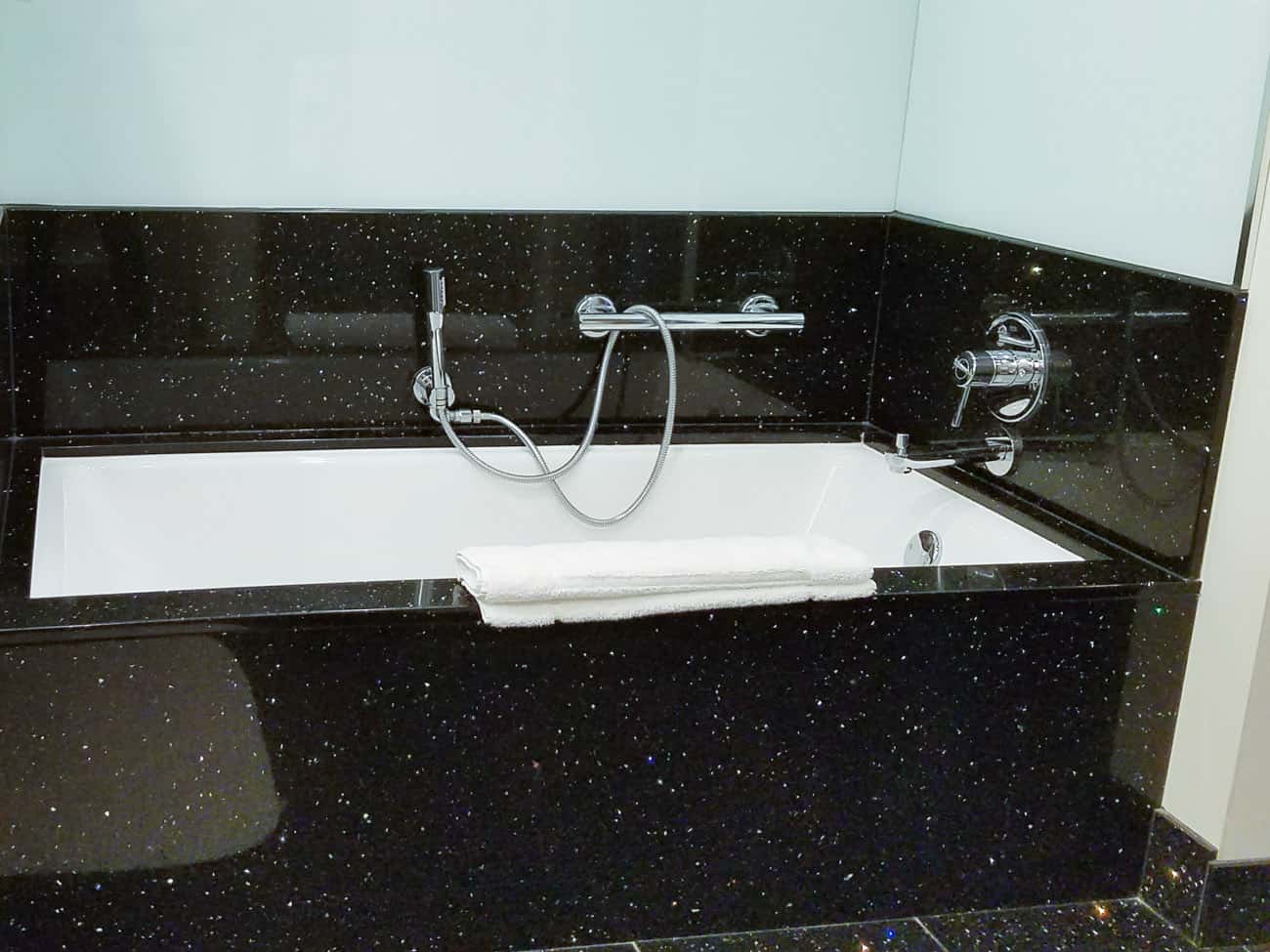 The rest of the room matched the decor, but it also was warm and welcoming throughout.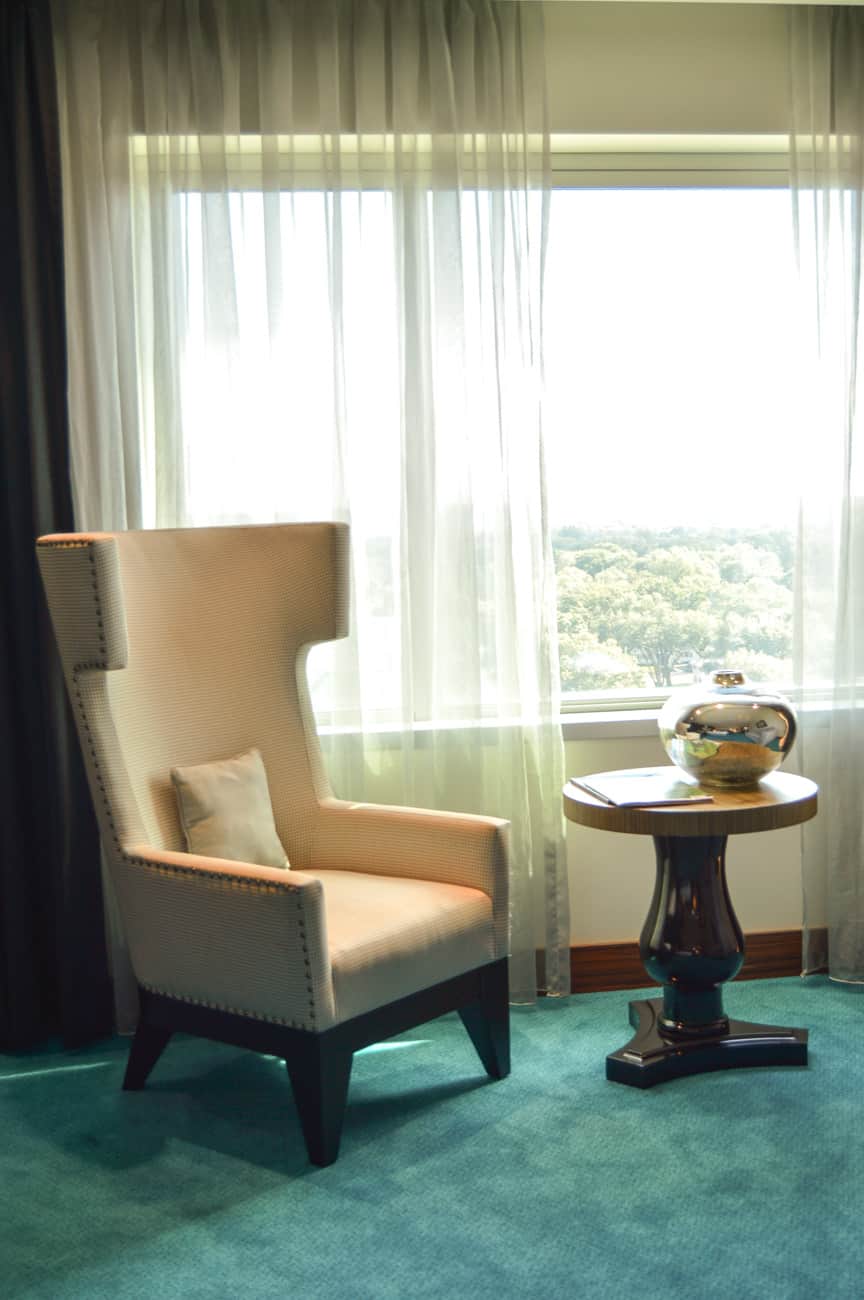 I can't imagine anyone not being happy with the rooms at the Radisson Blu Mall of America. There are great amenities for business travelers and our junior suite with a king-size bed would be perfect for a romantic weekend getaway.
On top of all that, I can also say whole-heartedly that the Radisson Blu Mall of America is also a family-friendly hotel! James and I were thrilled with how the kids were treated, and Haiden and Piper are already asking when we can go back!
Check out the Radisson Blu Mall of America for your next Mall of America visit! 
I'll be sharing more ways we celebrated #MOATurns25 at the Mall of America in the next few days!