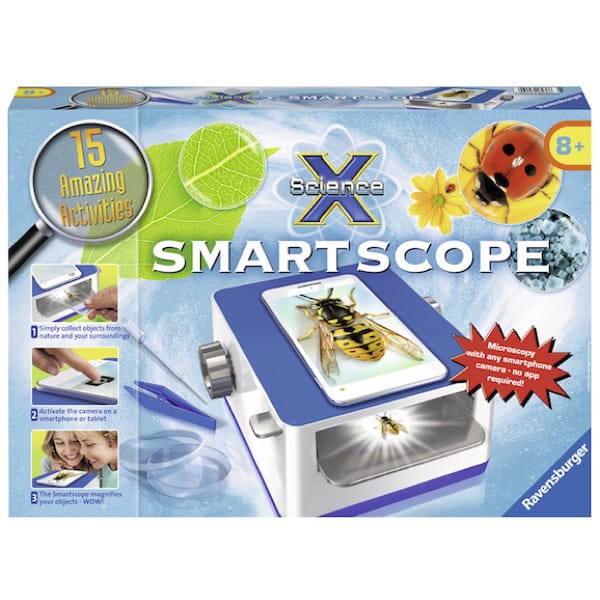 The Ravensburger Science X Smartscope: Where science, fun and learning collide!
How many veins does this leaf have running through it? How many spots are there on this ladybug, and how scary does this spider look when being magnified?
With the ScienceX Smartscope children can take a close-up look at their environment, delving into a microscopic world and examining natural and everyday objects under the magnifying lens.
No special preparation needed – simply place the object under the Smartscope and activate the camera function on your smartphone or tablet. No app download needed. That's all there is to it! The beauty of the Smartscope is that kids can carry it around with them, thanks to a travel bag which makes the kit ideal for outdoor use.
By using the camera function on their smartphone or tablet, kids can share their Smartscope discoveries with friends or stream their finds directly to the television with a proper streaming device. Discover the microcosmos and make the invisible visible!
What's in the Box?
Pipette
petri dish
tweezers
light box
illumination lens
2 magnifying lenses
2 stage clips
stage
lens manipulator
adjusting spindle
2 adjusting knobs
33 x 23 in poster
carry bag
tablet stand
cover slips
slides
The Science X Smartscope is intended for ages 8 and up.
Shop for the Ravensburger Science X Smartscope now!