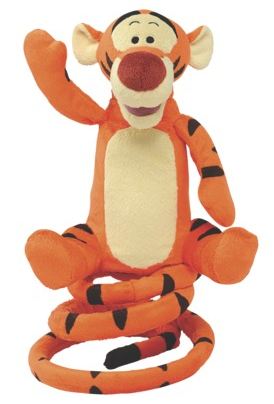 Do you have a little one who loves Tigger?  Now is a great chance to buy a Disney Bounce Bounce Tigger for only $26.99 (Regularly $39.99).  Plus, if you have a Target Red Card you can save an additional 5% making him only $25.64.  I don't know how long this deal will last, but if Tigger is on your Christmas list then this is a great chance to buy!
Enjoy countless hours of fun with a toy based on Tigger from the Winnie the Pooh series. The colorful black-and-orange tiger rests on his bouncy tail and plays the "Bounce Bounce" song for listeners. Tigger waves and bounces as the music plays. The doll is made of sturdy polyester and features a control unit, allowing you to set the appropriate volume for the toy's song.
Shipping is FREE with no minimums on this item!