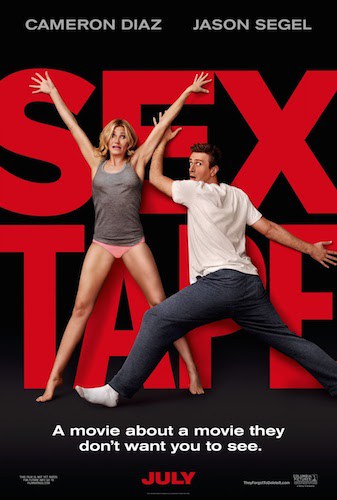 I've been a little crazy with everything from the press junket for "Sex Tape", but it's  all been leading up to this: My review of the "Sex Tape" Movie!
If you've missed anything, here's my previous coverage of the movie:
About "Sex Tape" starring Jason Segal and Cameron Diaz:

Jay (Jason Segel) and Annie (Cameron Diaz) are a married couple still very much in love, but ten years and two kids have cooled the passion.

To get it back, they decide – why not? – to make a video of themselves trying out every position in The Joy of Sex in one marathon three-hour session. It seems like a great idea, until they discover that their most private video has gone public.

In a panic, they begin a wild night of adventure – tracking down leads, roping in friends, duping Annie's boss – all to reclaim their video, their reputation, their sanity, and, most importantly, their marriage.

I want to start by stating the obvious: "Sex Tape" is an R-rated movie. While it's not appropriate for kids, (even the director said his own kids won't see it for 20 years!) it's absolutely the perfect movie for a date night or a girls night out! 
I attended a screening of "Sex Tape" while I was in LA for the press junket. I had received some press materials so I was well-aware of the plot and the cast. I knew before I boarded the plane to travel to California that this was going to be my kind of movie!
I like less-than-serious movies with silly humor done by talented comedians. When I saw that Jason Segal and Cameron Diaz's supporting cast members in "Sex Tape" included Ellie Kemper, Rob Corddry and Rob Lowe, I could hardly contain my excitement. I'm huge fans of all three of them, and I knew that those three, combined with the leading couple, couldn't go wrong.
Let me tell you, the movie did not disappoint me! It's revealed at the start of the movie that Annie, played by Cameron Diaz, is a mom blogger who puts her feelings and emotions out there for the world to see. That includes her frustrations about her physical relationship with her husband after 2 kids and several years of marriage.
In a (successful!) attempt to rekindle their intimacy, Annie and Jay make video inspired by positions found in the classic, The Joy of Sex. The only gigantic problem is that Jay accidentally shares the video with a number of people they know.
The rest of the movie focuses on their attempts to recover the video from their friends and acquaintances. In the process, they explore who they are, what their relationship needs and how they're going to move forward.
Given the title of the movie, it might seem strange to hear me say that it was pretty refreshing to see a movie portraying a real, happy couple. These two are only struggling in getting a spark back into their marriage. There's no "other woman." There are no irreconcilable differences or gigantic roadblocks to their happiness. They actually help fix their problem by making that video. And the hilarity that ensues in the aftermath is incredibly entertaining!
Check out the "Sex Tape" movie trailer for more details about the movie:
I think nearly all my friends would find this movie to be thoroughly entertaining, and the comedic delivery of lines around the uncomfortable topic are top notch!
One last word: raunchy humor and sexual content generally don't offend me. After all, the movie title itself makes no secret that it's going to be pretty explicit! 
This film is very uncensored, but I, personally, wasn't bothered by any of it. The content wasn't gratuitous, and it was well within the bounds of the storyline and my expectations of the actors starring in the movie. If you generally feel the same way, you'll thoroughly enjoy this movie!
"Sex Tape" starring Cameron Diaz and Jason Segal opens Friday, July 18th. Get your tickets now!
Disclosure: I was invited as a blogger to the "Sex Tape" press junket in LA to provide media coverage for the film. Travel expenses were covered by Sony Pictures. All opinions are honest.