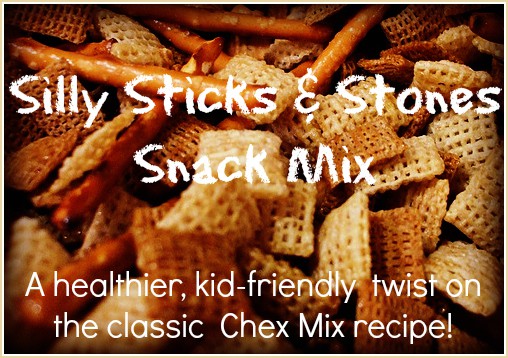 This easy, kid-friendly snack mix is a blend of healthy cereal, nuts and dried fruit. Extra vitamins are added because it's flavored with fruit juice!
This is a great snack for older babies and toddlers who love finger foods. Just omit the nuts and toss in more cereal and/or fruit to eliminate the ingredient that's hardest to chew! It also makes an excellent addition to bag lunch.
I love this recipe because it's easily adaptable to ingredients you have on hand. I think almost any unsweetened cereal would work, and you can change up the rest of the recipe to make it work for you and your family.
If you don't have apple juice, you can try cranberry juice or lemonade. If your little one won't eat raisins, chop up other dried fruit and toss it in instead. The cinnamon can be completely eliminated if the flavor it too strong for a toddler's taste buds.

Silly Sticks and Stones Snack Mix Recipe
Ingredients: 
3 tablespoons butter
1/4 cup apple juice concentrate
1/4 cup brown sugar
1 1/2 teaspoons cinnamon
3 cups cereal (I like Chex but Cheerios or other finger-friendly cereals can be used)
2 cups pretzel sticks
1.5 cups almonds or peanuts (optional, omit for babies)
1/2 cup raisins
1/2 cup dried cranberries
Instructions:
Preheat your oven to 300.
Combine the cereal, pretzels and nuts in a roasting pan. (a large cookie sheet can also be used)
Put the butter, juice and sugar in a large bowl and microwave for 30 seconds to melt the butter. Stir in the cinnamon.
Pour it over the cereal mixture and toss it gently to coat all the ingredients.
Bake the mix for 30 minutes, stirring it every 10 minutes. If the mixture isn't dry after 30 minutes, bake it for another 5 to 10 minutes until it's dry and the optional nuts are toasted.
Let the mixture cool, then stir in the raisins and cranberries and store the mix in an airtight container.
Enjoy!
If you like this recipe please Pin it on Pinterest!