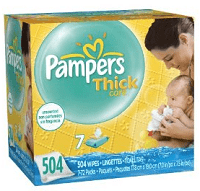 Here's a basic money-saving tip to keep in mind when shopping for baby wipes: you don't need to spend more than $0.02 per individual baby wipe. This is easy to do if you shop sales (and clip some coupons). Sometimes, we even see deals where we can get baby wipes for less than that!
Right now, Amazon is offering multiple brands of baby wipes at a cost of $0.02 per wipe, with free shipping right to your door!
In order to get the best baby deals you'll need to be enrolled in the Amazon Mom program and make your purchase with Subscribe & Save.
Items in bold indicate a price drop from the previous baby wipes deals list.
Premium Baby Wipes Deals
Basic Baby Wipes Deals
Sensitive Skin Baby Wipes Deals
Eco-Friendly, "Green" Baby Wipes Deals
Baby Wipes from previous weeks (no longer $.02 per wipe or less):
Happy shopping!