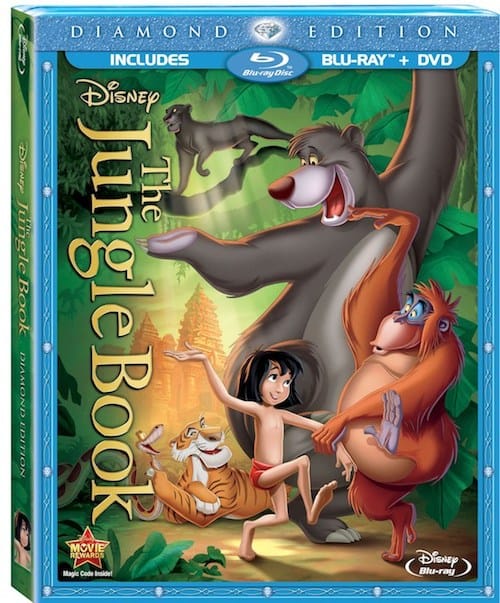 Disney's The Jungle Book is such a classic–I don't think there's anyone who hasn't seen at least a portion of the film at one time or another!
I can remember watching The Jungle Book as a child and being so envious of the adventure Mowgli was living. Now I get to share the adventure with my own kids!
The Jungle Book Diamond Edition swings onto Blu-ray, DVD and digital in The Jungle Book Diamond Edition on February 11, 2014. I received a copy of the box set to review, and I couldn't be happier to say that the movie is just as wonderful as I remembered it to be!
The only thing that's changed about The Jungle Book is that it looks and sounds better than ever. The magic of digital high-definition really makes a big difference in the actual viewing experience of classic animation, and The Jungle Book Diamond Edition is no exception!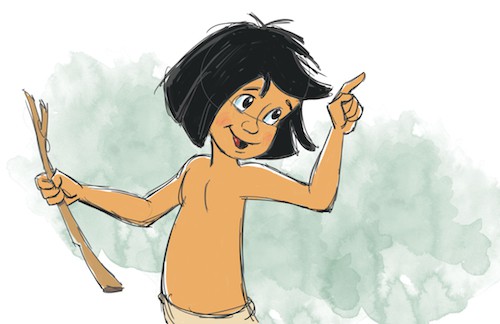 Now for the first time ever on Blu-ray with glorious digital high definition, Disney's Jumpin' Jungle Classic has never looked so lush or sounded so good! Beloved characters, swinging music and new behind-the-scenes bonus features make this Diamond Edition Blu-ray a must-have for every family's classic collection!

Meet the most unforgettable characters and embark on a thrilling adventure with Mowgli as he journeys deep into the jungle and learns "The Bare Necessities" of life from happy-go-lucky Baloo the bear. Meet Bagheera, the wise old panther, and crazy King Louie, the orangutan. But watch out for the cunning tiger Shere Khan and Kaa, the ssssneakiest snake in the jungle!

Explore your family's wild side as you venture into The Jungle Book for extraordinary adventures and a heartwarming tale that celebrates the true meaning of friendship.

There are over 2 hours of bonus material within the Diamond Edition. All-New Blu-ray bonus features include:

Introductions by Diane Disney Miller and Richard M. Sherman
Alternate Ending – Mowgli and The Hunter
@DisneyAnimation: Sparking Creativity
Music, Memories & Mowgli: A Conversation with Richard M. Sherman, Diane
Disney Miller and Floyd Norman
Disney Intermission – Bear-E-Oke hosted by Baloo
Bear-E-Oke Sing A Long
I Wanna Be Like You – Hangin' Out At Disney's Animal Kingdom
Here are some great clips from The Jungle Book that are sure to stir up some fond memories:
The Jungle Book Diamond Edition clip: You're Alright Kid
The Jungle Book Diamond Edition clip: Cruising Down the River
My kids almost always favor classic Disney movies over the modern, computer-animated films of their generation, and this was no exception. Haiden and Piper are 4 and 5 years old, and they absolutely loved The Jungle Book.
The Jungle Book Diamond Edition will be released on February 11, 2014. It's available for pre-order now!