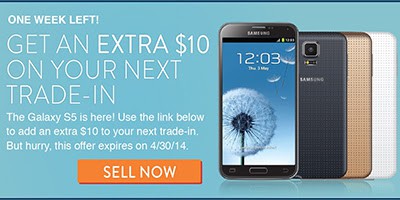 The brand new Samsung Galaxy S5 is rumored to be a fan favorite with an astoundingly faster camera, amazing screen, better battery (not to mention the cool heart rate monitor and fingerprint scanner) and a clear contender for your pocket in 2014. Considering an upgrade? What will you do with your old phone?
Through the end of April 2014, Gazelle is giving an extra $10 on devices traded in valuing $50 or more. This offer comes at a perfect time since the latest upgrades scheduled for multiple smartphones (Galaxy S5, Sony Xperia Z2, LG G3, etc.) are hitting the market now.
Gazelle offers trade-ins for everything from smartphones to laptops to tablets. Even if you're not upgrading to the Samsung Galaxy S5 you can definitely trade in something old and get some extra cash to buy something new. Hurry, because the $10 bonus offer only lasts until April 30th!