Pregnancy is an exciting time, but it's so easy to get overwhelmed by the sheer number of baby products everyone insists are must-haves! This list of seven things new moms need will help parents decide what to register for and what to buy, and it will help others pick out baby gifts for expectant parents!
From sleeping to feeding to waking up infants, everyone seems to have an opinion on what parents need to do, what moms need to buy and exactly what newborn babies need. This list of new mom things will help cut through the noise and focus on a few important items that really make a difference for parents and their newborns!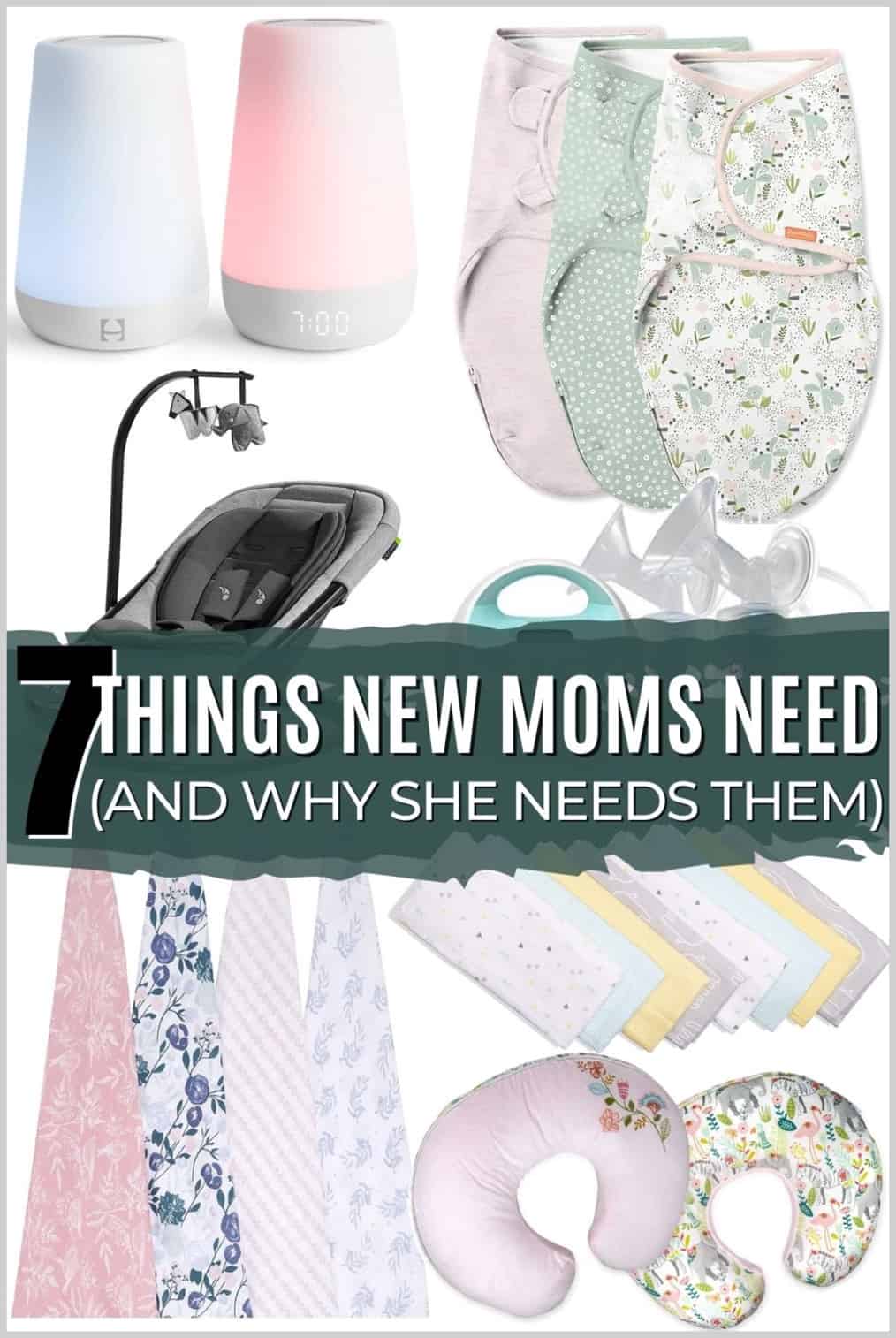 My grandma used to love to tell me how straightforward it was to have a baby back in her day.
From home births for her relatives to bringing her own children home and having them sleep in a dresser drawer, she told me all about these interesting things that I would never, ever do.
But I loved hearing about them, especially when I was pregnant and anxious about the future. My grandma didn't have a lot of money when she was young or even after she became a mom, so she impressed me over and over again with all the ways her generation made do with what they had.
I mostly loved it because it made it all seem so simple. The stories she told and tips she gave illustrated again and again that babies don't need much. For the first few months, especially, babies need very, very little.
Must have baby items for first time moms
Our most basic needs are food, clothing, shelter and love. A newborn baby has it made if she's getting all four of those things.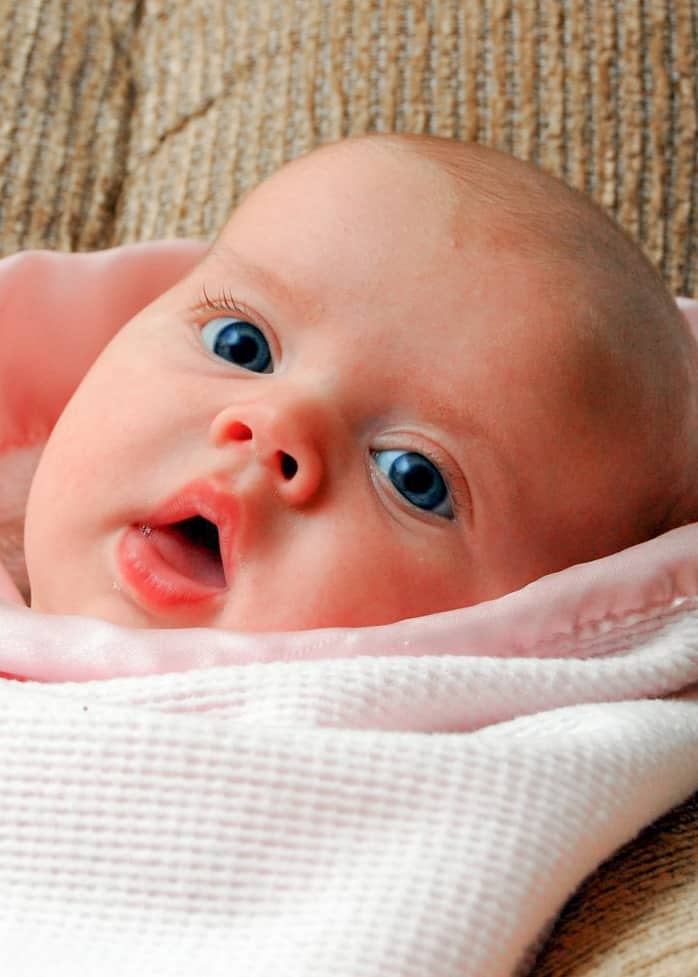 But don't be mistaken into thinking I'm so incredibly practical. Both times I was pregnant absolutely wanted at least one of just about everything at Buy Buy Baby and Target's Baby department.
I also get that there are plenty of infant and new mom products out there that make life with a newborn easier and better than it might be without them.
So there's a balance to be found when thinking about the things a new parent needs. The balance between want and need. Between practicality and luxury. Between useful and wasteful.
Example: Star Wars onesies that are so cute they almost feel essential.
Because it's so, so easy to go overboard when you're about to enter into motherhood. When you're in the middle of preparing for one of the most major life changes you're ever going to go through.
Must have baby items for first time moms
It's also very easy to convince yourself you're doomed if you can't afford the top-of-the-line version of the thing you want. That you can't settle for anything but the best for both of you: the brand new parent who deserves good things, plus this brand new life your body is working so hard to form.
I'm here to tell you that, if you're in the middle of going overboard on new baby products, or if you're spiraling into thoughts that your baby won't ever have anything good enough…settle down. It's going to be fine.
You're not alone. Just about every new mom goes through something like this. But know this: just about every new mom is also 100% fine once baby is home from the hospital.
Pregnant and preparing? You'll want to read about the 10 important items to pack in your hospital bag. Then make sure you look at my list of the products and supplies your hospital might provide for labor, delivery and recovery.
So my big piece of advice for those first few months when baby is tiny: stick to the basics. The rest of the stuff will come with time. As you realize what's important, what you really want and what you really need.
Words of wisdom: the best baby product is the one you use and love. It could be a diaper bag or a changing pad or a pacifier or any other item. One mom's favorite could be another mom's totally useless. When you find something that works, embrace it.
New mom gifts
If you're here because you're looking for new baby gifts not on dad's and mom's baby registry, I've got you covered!
While this list is first a guide for the items a new mom might not be able to live without, there's more than one giftworthy baby item or postpartum item in here. I promise, the perfect gift is here, and everything suggested will be appreciated.
Things new moms need for themselves
I want to remind you that new moms go through a lot of change in a short period of time. There's changes to her body. Changes to her home. Changes to her relationships. Changes to her priorities.
Change, even good change, can be really hard, so now is not the time to introduce all sorts of new and different things that require adapting, adjusting and alterations to daily life.
Trust me on this. Even if an idea or product for the new mama seems like it could be for the better, just wait. Please. The right time will come.
Do your very best to remember that every new mother needs comfort. She should be able to exist in familiar surroundings with as much routine as she can manage.
New mom essentials
A Nursing pillow (even if you're not breastfeeding).
A breastfeeding pillow gives baby a cushion for her head while eating or just being held. It gives mom a resting spot for her arms and a safe place to cuddle baby up next to her when relaxing. A good, firm nursing pillow is a godsend for arms that are tired from holding an infant all the time.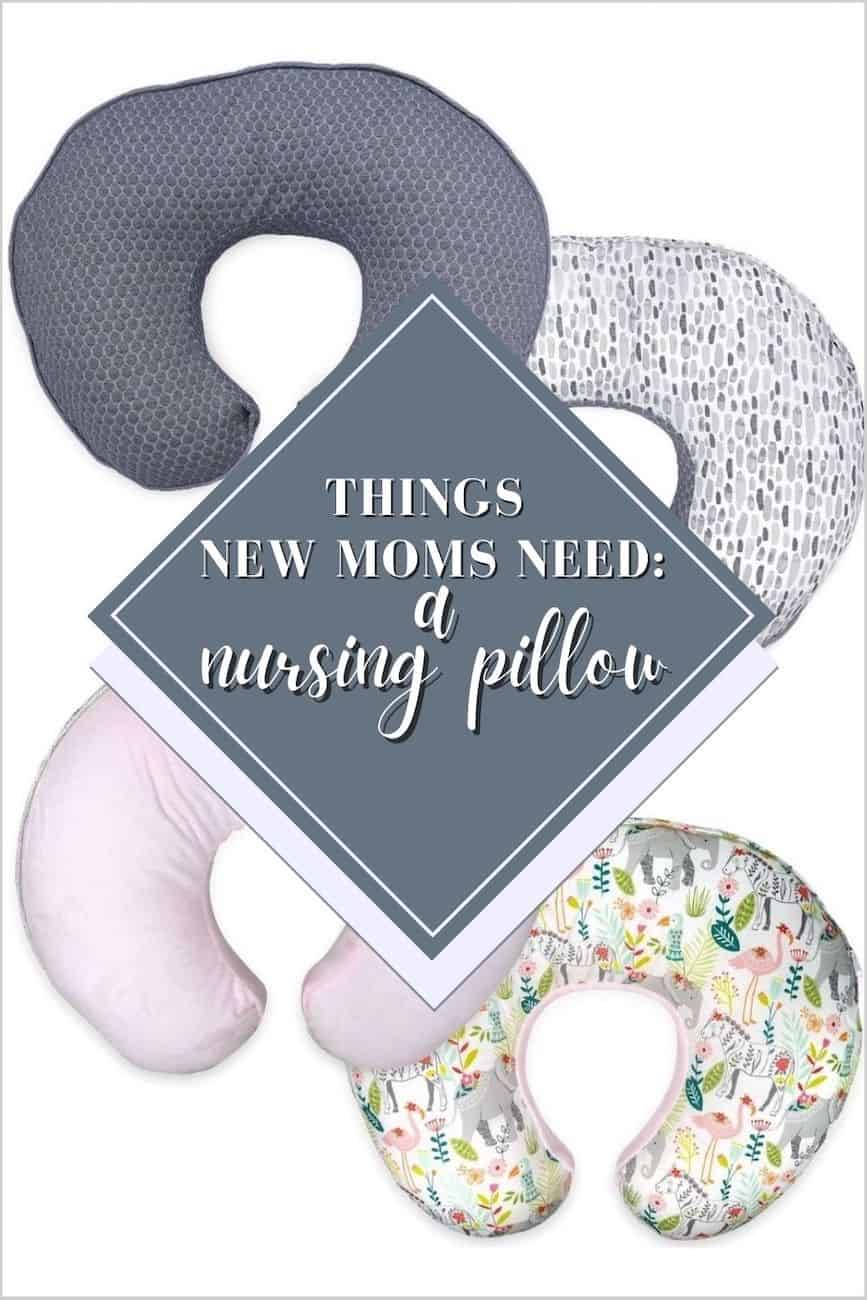 My husband used a nursing pillow almost as much as I did for the first few weeks of our babies' lives. He especially liked it while holding a newborn when he was feeling tired himself. Having a way to keep his elbows and forearms supported just made him feel more relaxed.
Burp cloths
I had one baby who spit up a lot. all the time. I also had one baby who didn't.
I still used at least 10 burp cloths a day with the baby who didn't spit up like the first one. For months and months and months.
A little story:
I was so very excited to receive two obviously expensive, precious, pale blue embroidered burp cloths as a baby shower gift from a young coworker a few months before my first baby was due. Then I showed the lovely gift to my mom.
My mom did the appropriate oooh and ah over how lovely the cloths were, then told me that these are not the burp cloths I'm looking for.
She told me she was busy sewing flannel burp cloth after flannel burp cloth for me, because I'd need way more than I thought I would.
I was (and still am!) lucky that my mom is such a seamstress and enjoys projects like stitching up absorbant fabric rectangles for future grandchildren.
But if you don't have someone who will produce 50+ squares of finished fabric just when you need them, don't worry. The best burp cloths are cheap and plentiful. They're also not actually called burpies at all.
You want to use simple, white prefold cloth diapers for burp cloths. Start with at least two 10-packs of them and you'll have a good foundation for cleaning up all sorts of baby mishaps.
If you want something a little cuter, you can also buy Gerber burp cloths, which are very much like the cloth diapers but made in cotton prints.
A good breast pump
Trust me. A good pump is an investment in your time, your sanity, your ability to get things done and your milk supply. I've heard it so many times: an efficient double pump is the one thing a nursing mom, especially a nursing working mom, should make every effort to get.
Yes, you can definitely get by with spending less. Getting a single hand pump is the most cost-effective option. But what you save in money most new moms spend in time.
Because pumping breast milk one side at a time can be enormously time-consuming. The most affordable pumps must be held in place with one hand, meaning you can only accomplish things that require one hand and little movement.
Make every effort to go for a hands-free double electric model.
Side note: your insurance may cover your breast pump. This Motherhood Through Insurance company will handle all your insurance communications to qualify you for a free Medela, Lansinoh, Motif or Spectra double electric pump. Check it out – it's definitely worth the few minutes to submit your details.
New mom gifts
We also have three ideas for perfect presents for new moms. Or new babies. Actually, these gifts are for both parents and babies.
A chair for baby
It's a fact: parents need a safe place to set baby down when two hands are needed for something else.
On top of going to the bathroom and showering, there are quick tasks that require two hands. I remember worrying about how I was going to get my dog on her leash to go outside.
If you're going to be in the same room you can lay baby down on a blanket on the floor, but sometimes you need a place where your little one will be secure.
My personal pick is an infant seat that vibrates or swings or moves or soothes in your infant's preferred motion.
Even better, get a little baby chair that does more than one of those moments so you can learn what he or she likes best.
Swaddle blanket
Once again, my mom's craftiness was a gift to my babies and to me. She made a stack of 36 inch x 36 inch single ply flannel blankets that were perfect for so many things.
They were light rain covers and sun covers for the stroller. They were burp cloths. They were simply blankets when baby needed an extra layer in the stroller. But most of all they were used for swaddling.
Machine washable swaddling blankets and my favorite technique for wrapping up baby ended up being some of the most-used items in our lives as new parents.
We also fell in love with the ready-made swaddle wraps that helped both of babies sleep through the night.
We were partial to the very aptly named Miracle Blanket, and I think the safe, gently weighted swaddle blanket from Nested Bean looks amazing but there are plenty of others that would do the job.
White noise machine
Sound machines seem like the most unnecessary product until you understand what a difference they make. Some people call them miracles. Others call them lifesavers.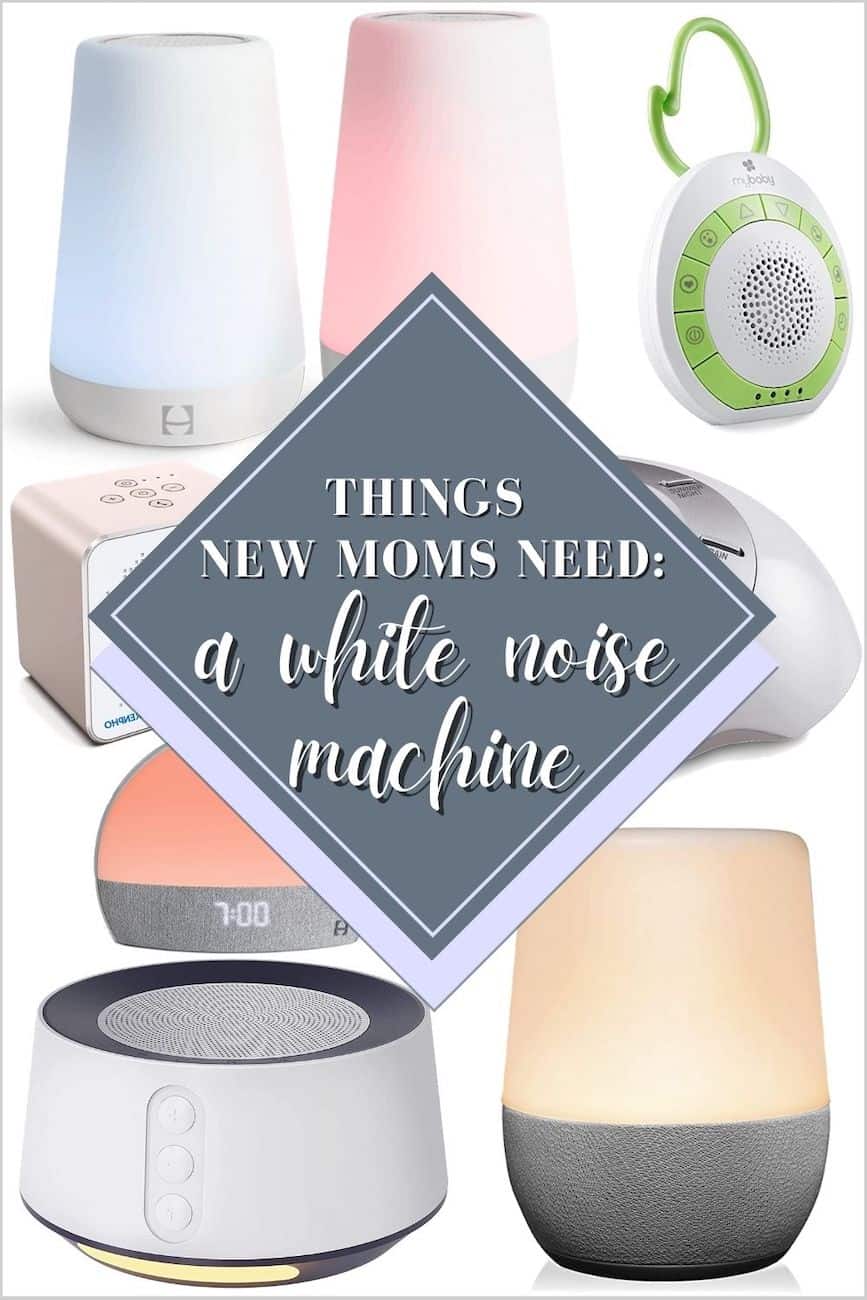 I just know that they drown out the noise of a barking dog when the newest, tiniest family member is trying to nap.
A white noise machine is also the most fantastic helper when mom's two best friends bring over pizza and champagne and she wants them to stay past 7pm while also wanting baby Haiden to snooze through the conversation and laughter.
Snacks
It's a tough truth: new dads and moms rarely have time to sit down and eat. Especially full meals. Especially together.
Plates and utensils take a backseat to speed and convenience. Leafy greens and braised meats become a memory or a wish for the future.
But beef jerky, granola bars and cookies? Those are things that provide life and sustenance to parents of infants.
Trust me, we all know that this isn't nutritionally ideal, but sometimes life, new life, gets in the way of optimally preparing balanced meals with nutritional value.
So, be aware of this time and go easy on yourself. Stock your pantry with protein bars and trail mix. Keep portioned cheese in the fridge. Basically, just have quick and easy snacks ready for those "my baby won't let me put her down" moments.
What about nipple cream and a nasal aspirator and…?
At the end of the day, I'm just giving you a fraction of the items, products and ideas new parents will be inundated with.
While there are plenty of things I didn't include (baby carrier, car seat, nursing bra, onesies…you can see how I had to stop somewhere! This article could go on and on), I hope this gives you a start to figuring out what you want, what you need, or what you might buy a new parent for the perfect present.
But if I did forget the item that you're convinced is the one. The most important baby product any parent can have in his or her arsenal, I need to hear about it! Be sure to let me know if you have something that should be added to the list.