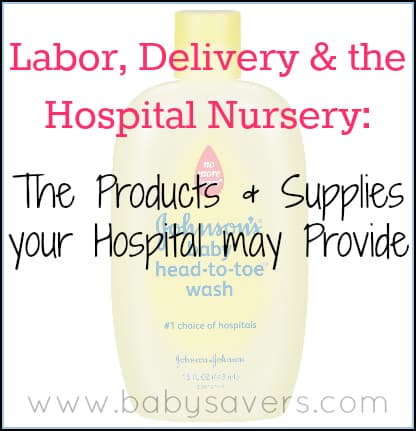 When I went into labor the first time I admittedly brought along way too much stuff. Many of the items were things I had read that I "should" bring that I never used (mints? a bathrobe?). Others were items that I didn't know the hospital provided. Most of these were provided for medical reasons and my nurses actually insisted that I shouldn't use my own.
In my personal experience, here's what the hospital provided for use during labor, delivery and postnatal care:
For mom:
Nightgowns
Pillows
Nursing gowns
Heated compresses
Slipper socks
Sanitary napkins
Shampoo
Soap
Toothpaste
Towels
Washcloths
Nursing pads (if needed)
Lanolin and nipple cream (if needed)
Meals, snacks and beverages
For baby:
Swaddling blankets and/or Halo Swaddlers
Hats
Baby kimono-style shirts
Petroleum jelly
Diapers
Wipes
Baby wash
Hairbrush
Baby sponge
Infant formula (if formula feeding)
Pacifiers (If requested)
The nurses encouraged me to take home the toiletries and disposable items I had used, because they'd be tossed in the trash after I left, anyway. They even gave me a few diapers, sanitary napkins and underwear so I'd have a little supply at home. Of course, the baby blankets, shirts, gowns and towels stayed at the hospital!
If you're preparing for your own labor and delivery, your hospital might provide all the items listed above, but they also might provide more or less.
If you have visions of wearing a special gown or using a special product during labor, it might be prudent to ask if the hospital will even allow you to use it. You also need to be prepared to know what to wear! A tour of the labor and delivery facilities at your hospital is a great opportunity to ask what the hospital supplies and what you'll need to be responsible for. It will make packing and planning much easier!
Finally, some research goes a long way. Tips and ideas that are specific to your plans (like this article about what to wear for a water birth are super helpful for your preparations.
Readers: What items and products did your hospital provide for labor, delivery and postpartum care?