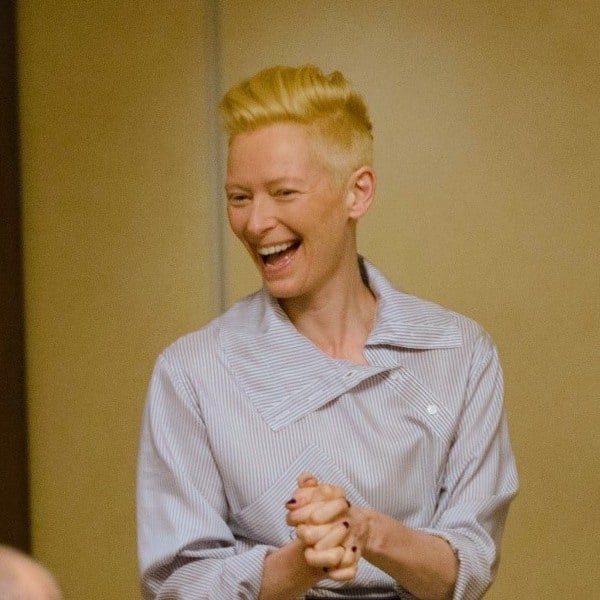 Tilda Swinton has been called one of the more unique actresses to come along during the second half of the 20th century. It's that unique quality that makes her perfect to play her role in Marvel's Doctor Strange.
You'll learn about this as you read the details of my interview with Tilda Swinton below, but it's absolutely fitting that the director wrote the part of The Ancient One for Swinton.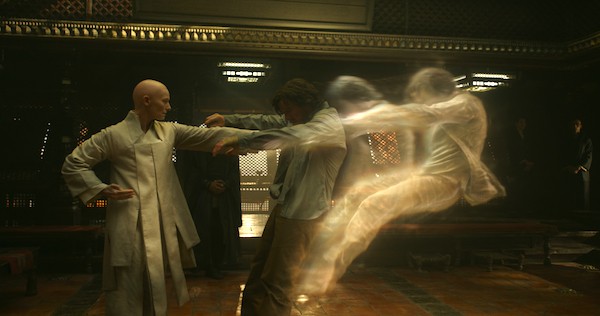 See Doctor Strange on November 4th and you'll understand exactly what I mean!

Swinton was anxious to start talking, and we had a bunch of questions, so let's jump right into the interview!
How did you hear about getting the role of The Ancient One?
I was in a very fortunate position of not auditioning at all. I was working in LA and I was told that Scott Derrickson wanted to meet with me.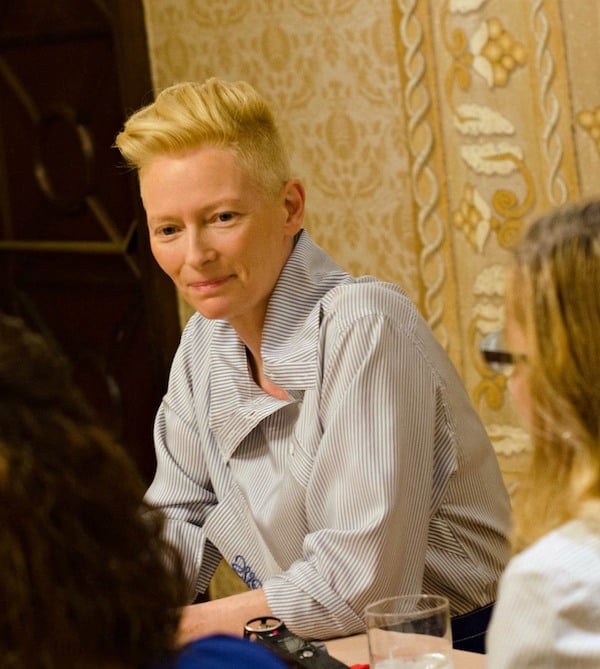 We had tea and he told me he was going to do this film. He told me, "Doctor Strange is going to be a big, tent pole Marvel film about creation, not about destruction."
Then he said that he had written this part for me. He said, "If you don't do it, I'll have to rewrite it." So I was flattered and honored and intrigued. Then I read the script and I felt really good about it. I was very lucky.
What was the dynamic of everyone on the set of Doctor Strange?
We were all so happy! I don't know anyone else in Marvel movies, but it was like being asked to join the circus. 
So we all joined the circus and we were given these incredible costumes.
Everybody in the Marvel universe that I've met so far is so psyched to be a part of it. Even the people who have been there for years – technicians and such. Or Alex Byrne who does the costumes; she's done seven Marvel films! Nobody is jaded, everybody is psyched. It's a playground!
The cast; we were all so happy to know each other and we're so happy to see each other again now!  
What was it like getting into costume for The Ancient One?
It's such a great costume. It's like pajamas! And the beautiful colors. It's really wonderful.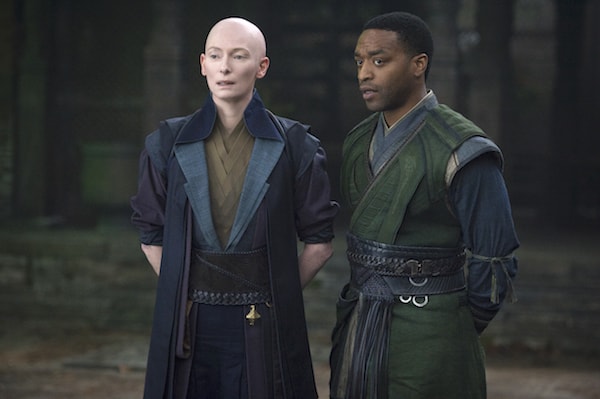 How did you feel about being bald in Doctor Strange?
It was my suggestion and we had several months of playing with options. There were all sorts of weird wig ideas.
We went round the houses with it but eventually it just felt like less was more. I loved it. I thought it looked ancient but also kind of modern and rad. It was a nice feeling, too.  
What are your thoughts on the film?
What's moving about Doctor Strange is that Doctor Strange himself is taught to wield his power for good. There's a moment in the film where I'm basically teaching the globe's population of fifteen-year-olds about mindfulness. Wow!
I thought it such a great chance to say, "Yes, I'm a rad superhero myself, but I'm telling you…[spoiler removed]"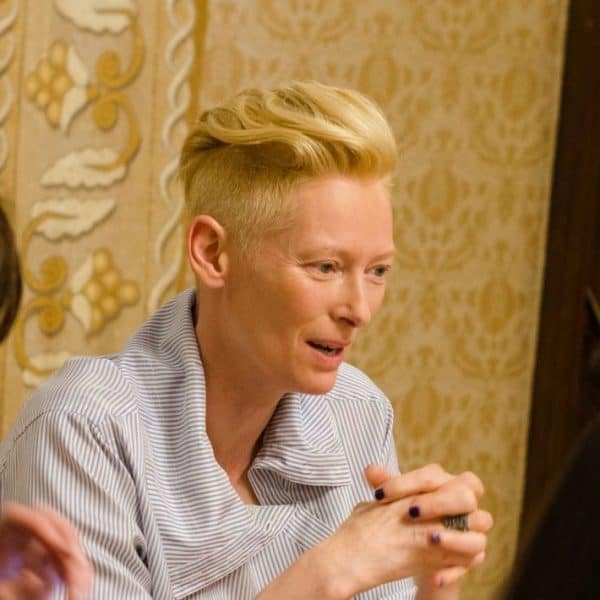 What are your thoughts after seeing yourself in the film and seeing it all come together?
I was really, really happy. I don't know whether it's the way in which it's in this heightened universe…we all look like Marvel characters. We don't really look like ourselves.
There's something very smooth about everything. It's cut like a comic strip. It's quite an experience, and it was better than I had hoped.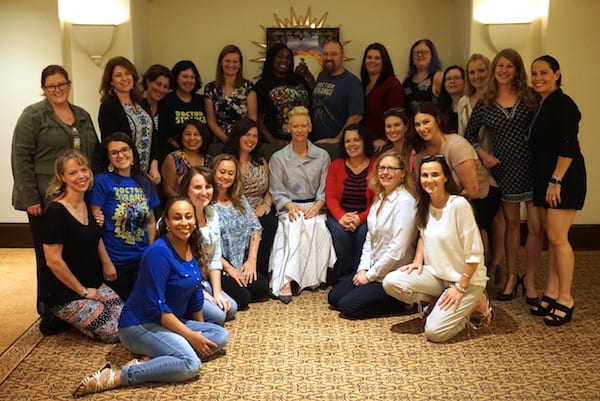 Go see Doctor Strange on Friday, November 11th and let me know if you love Tilda Swinton's performance as much as I did!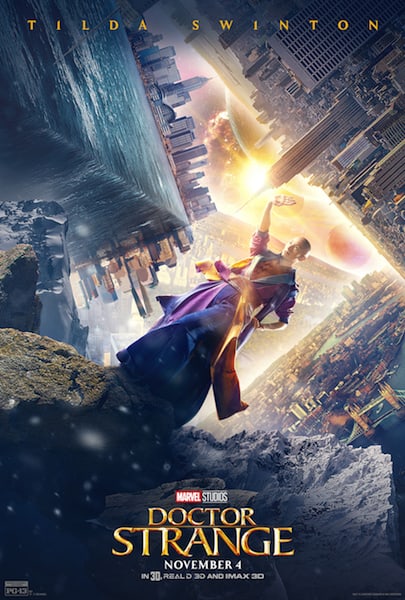 Doctor Strange opens in theaters everywhere November 4th. Get your tickets today and check out this Doctor Strange trailer:
About Doctor Strange:

From Marvel Studios comes "Doctor Strange," the story of world-famous neurosurgeon Dr. Stephen Strange whose life changes forever after a horrific car accident robs him of the use of his hands.

When traditional medicine fails him, he is forced to look for healing, and hope, in an unlikely place—a mysterious enclave known as Kamar-Taj. He quickly learns that this is not just a center for healing but also the front line of a battle against unseen dark forces bent on destroying our reality.

Before long Strange, armed with newly acquired magical powers, is forced to choose whether to return to his life of fortune and status or leave it all behind to defend the world as the most powerful sorcerer in existence.
Marvel Studios Hero Acts is doing something extraordinary right now. They're donating $5 to Save the Children for every fan who uploads a picture at MarvelStudiosHeroActs.com.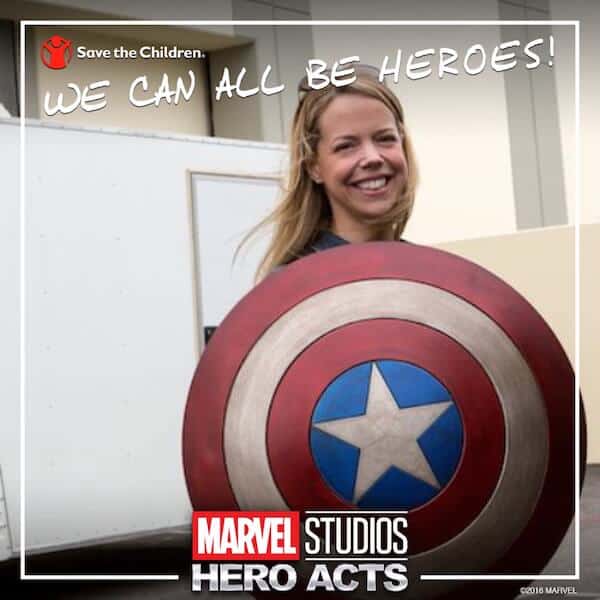 Marvel has pledged up to $1 million dollars for the cause, so go upload your photo now and make a picture like mine!
Photo credit: Dusty Pendleton
Disclosure: Marvel and Disney flew me to LA to cover the Doctor Strange press junket and other projects. All opinions are my own.