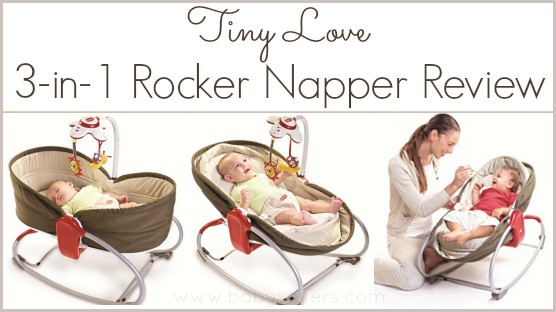 This Tiny Love Magical 3 in 1 Rocker Napper review was written by Leah, a BabySavers.com contributor. Leah is a crafty and creative mom to three adorable children. She and her husband are constantly starting (and completing!) home improvement projects while balancing family, fun and friends.  
Let's face it: there are so many baby items on the market! It is easy to get caught up in the hype that babies need one of every type of swing, rocker, bassinet, etc. Fortunately for those of us who don't have space for all of the separate baby items, more and more brands are designing items that are convertible and made to last longer than a few short months. Thank you, Tiny Love, for designing the 3-in-1 Rocker Napper to do just that!
Tiny Love lists the following benefits of the 3-in-1 Rocker Napper:
Rocker easily converts from seat to comfy napper
Soothing movements rock your baby at all 3 reclining positions
Flat pad with raised borders offers a safe & cozy napper environment
Stylishly designed with red and beige fabrics.
Cute musical toy hangs off the Rocker's adjustable arm
With my two older kids, we had a stationary bouncing device that we used to keep the babies happy while we needed to set them down. We also had a separate bassinet that we used before we transitioned the kids to their cribs in their own rooms. When we were expecting Emmett, our third baby, we were living in a smaller house, and we didn't have the space for multiple baby entertainment/sleep aids.
When I was approached to try the Tiny Love 3-in-1 Rocker Napper, I knew this was a solution to my space issues. What a great idea!
Assembly of the 3-in-1 Rocker Napper is literally a snap! Tiny Love's simple design allows us to simply snap the pieces together, which allows us to leave our tools in the closet! Each piece is clearly labeled in the assembly instructions, and the instructions are spelled out in picture format, making them very user friendly!
All-in-all, assembly probably took about 30 minutes when you factor in a few minor interruptions from my helpers.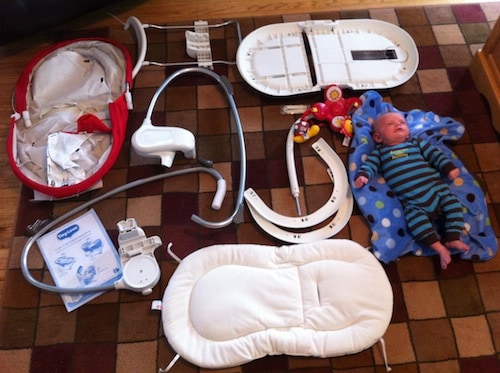 My favorite part of this napper is how safe and cozy Emmett seems to be when strapped in. When his big brother, Felix, reached in and tried to join him, the napper didn't budge. I knew this was something I would be comfortable leaving Emmett in while Felix played next to him, while closely supervised by me, of course. I haven't always found that to be the case of other baby products I've tried! This is one sturdy piece of equipment!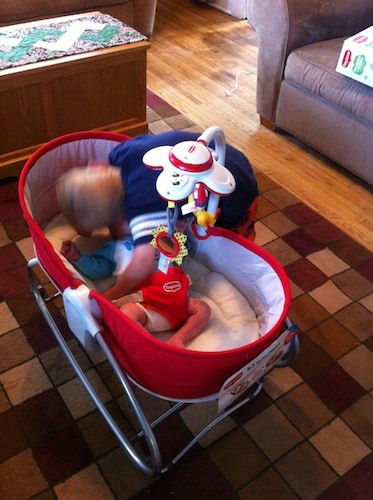 I also really like how pretty this product is. The red is gender neutral, and I love that it doesn't have characters or wild prints on it. That alone sets it apart from most baby equipment in that it can somewhat blend in with your décor! The seat cushion is easily removable for washing, which any parent knows is crucial for a baby product.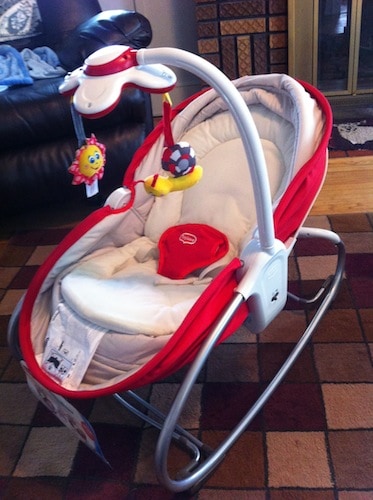 Emmett seems to enjoy the napper as a whole. The musical toy is not a spinning mobile, but the hanging toys are available for him to bat at, and he enjoys the vibrating base of the chair. As he grows, he seems to be quite comfortable in the sitting position, which is easily convertible with one hand.
If there was one thing I would change about the 3-in-1 Rocker Napper, it would be the rocking capability. The napper doesn't quite rock as much as I would expect, and there are some times that an enhanced range of motion would have been nice to get Emmett back to sleep.
Now that Emmett is sleeping in his crib more during the day, it's less of an issue, but right away, more of a rocking motion might have helped with longer sleeping times.
Overall, I would recommend the Tiny Love 3-in-1 Rocker Napper. While the product itself is larger in size, it is still less cumbersome than having multiple pieces of baby equipment in your house. The durability makes this a product that will outlast the baby stage, and you won't have wasted money on multiple baby items!
Buy it:
The manufacturer's suggested retail price for the Tiny Love 3-in-1 Rocker Napper is $99.99. You can, however, find it at a great discount if you shop on Amazon.com. At the time of this review it was priced at just over $66 with free shipping!