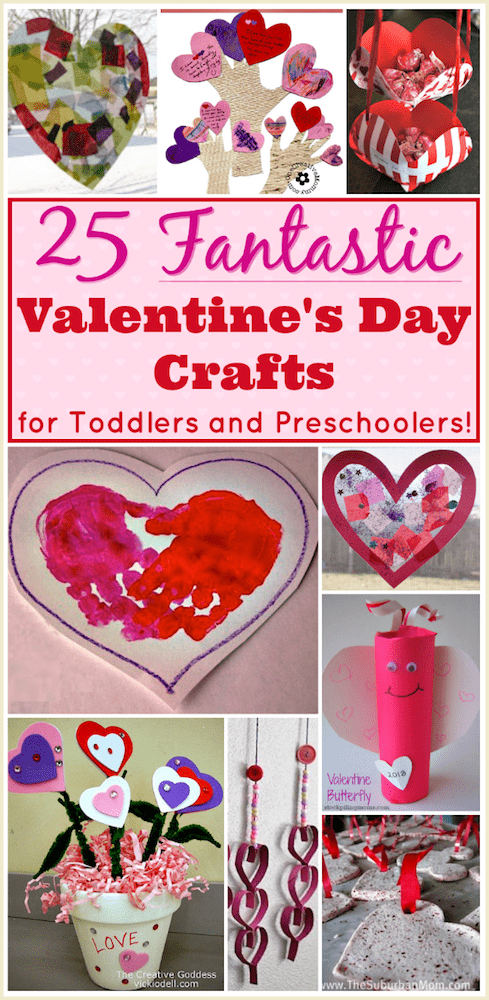 Finding Valentine crafts for preschoolers and toddlers can be challenging, especially for a paint-phobic mom like myself!
While plenty of these Valentine crafts for preschoolers and toddlers present opportunities for messes, there are also some Valentine's Day craft ideas that are on the neater side. Those are the ones that definitely appeal to me!
Share this post by pinning it on Pinterest, then follow me on Pinterest!
These Valentine crafts for preschoolers all require some degree of parental assistance (and supervision!).
I like that there are a few that give little hands the opportunity to do almost the entire project. there's nothing cuter than a little one showing off every aspect of a craft he or she did on their own!
Valentine Crafts for Preschoolers
1. Check out how to make a Valentine's Day sensory bin to help little ones learn and explore!
2. Valentine's Day Pipe Cleaner Garland is a super-easy way to have little ones make a holiday decoration for your home!
3. Recycle broken or extra crayons (hello restaurant crayons!) into adorable Crayon valentines. This Valentine craft for preschoolers (or toddlers) is perfect for your little one to give to another friend!
4. The possibilities for making these heart-shaped monster valentines unique are endless!
5. I love how the author used plates as inspiration for these robot valentines.
6. This button votive turned out beautifully!
7. This Dollar Store Valentine's Day wreath is a modern twist on a classic decoration!
8. Make homemade playdough and shape it into Valentine's Day ornaments for a fun 2-step activity!
9. These mosaic hearts aren't just one of many valentine crafts for preschoolers. They'd be fun to make at any age!
10. I love how simple some of these Valentine crafts for preschoolers are! A heart mobile is perfect for little ones to make and enjoy.
11. How cute are these Valentine's Day love blooms?
12. Isn't this Valentine's Day heart suncatcher beautiful?
13. Another idea for a Valentine sun catcher is a mosaic made easier by starting with a heart-shaped piece of clear contact paper!
14. I think this Flower by Hearts Valentine's Day card is absolutely gorgeous. You have to see it to appreciate that it's all made with everyday craft supplies that you likely already have on hand.
15. Toddlers and preschoolers can make this Valentine's heart-shaped pillow then use it for years to come.
16. My inner scientist is geeking out over making these borax heart crystals with my own kids!
17. A Love Tree Valentine's Day craft with your own kids' sentiments would make a lovely gift or decoration!
18. Another handprint Valentine's Day craft. What a great way to mark time!
19. Have your child make a Valentine's Day treat pocket and surprise them with a treat in there on the holiday!
20. Have your preschooler or toddler make these Valentine Egg Carton Lollipop Flowers to share with friends!
21. Who doesn't love toilet paper roll crafts? A Valentine's Day toilet paper roll craft in the shape of a butterfly is so super cute. I love the added touch of the heart with the year on it!
22. A Valentine's Day handprint craft with hands in the shape of a heart? Perfect for a gift for grandparents!
23. This 3D Heart hanging Valentine's Day craft is so cute and a perfect "beginner" craft!
24. I had no idea you could make seed paper, and these recycled Seed Paper Heart Valentines are so clever!
25. You and your kids can make these Valentine lollipop bouquets together. Love that the author used these organic lollipops!
26. I never thought to simply bend toilet paper or paper towel rolls to make heart shapes. Do it and transform them into a Valentine's Day dangling heart decoration! Love the pony beads–they look so much like candy necklaces!
Do you have any ideas for easy Valentine crafts for preschoolers and toddlers? I'd love to hear about them in the comments!