Vtech Two Way Video Monitor Review
A pregnant friend recently emailed me asking for baby monitor advice. Here's exactly what she wrote:
MB-
Can I ping you for your advice on baby monitors?

Video/No Video? (I see some connect to iPod/iPad)?
Motion Sensor?
Is audio good enough?
What sort of range should I look for?

I've been trying to find out info on the web – and I'd like to think I'm more the type to just need audio, but I don't know what kind of freak I'll be until this baby comes out.
I had to admit to her that while I consider myself a baby shopping coach and knowledgeable about plenty of baby products, baby monitors have always thrown me for a loop!
I rely heavily on consumer reviews before buying a bigger item like a baby monitor, and it seems that baby monitors all have one thing in common: inconsistent reviews! For every one person who loves a certain brand and model of monitor, there's someone who has very good reasons for not liking the exact same one.
It's pretty much like this for every single model of baby monitor.
Until now. I think that now I might have an option that everyone could be happy with!
Vtech VM333 Review
I was emailed and asked to review the brand new Vtech Safe and Sound VM333 Full Color Video Monitor, and I jumped at the offer. Not because I have tiny babies to monitor, but because I wanted to put an honest review out there.
When I received and opened the Vtech VM333, My first thought was, Baby monitors have changed since I had my first baby!
5 years ago, a video baby monitor was a big deal, and there were few features offered with any of them. This Vtech Safe & Sound Video Monitor is like the Cadillac of baby monitors!
I love how compact both the monitor and receiver for the Vtech VM333 are. I had one of those little packages of tissues on me, so I took pictures of both so you all could see exactly how small they are.
Here's the audio/video camera and microphone: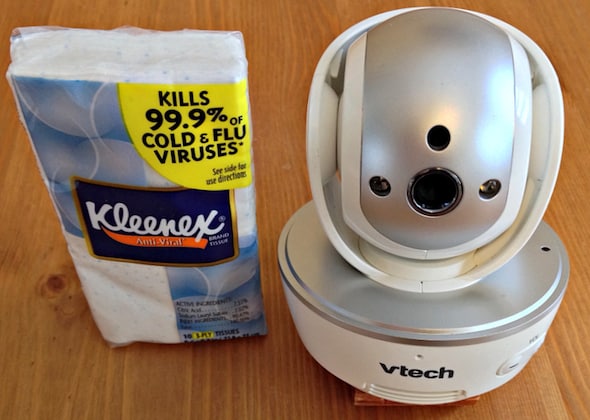 This is the receiver: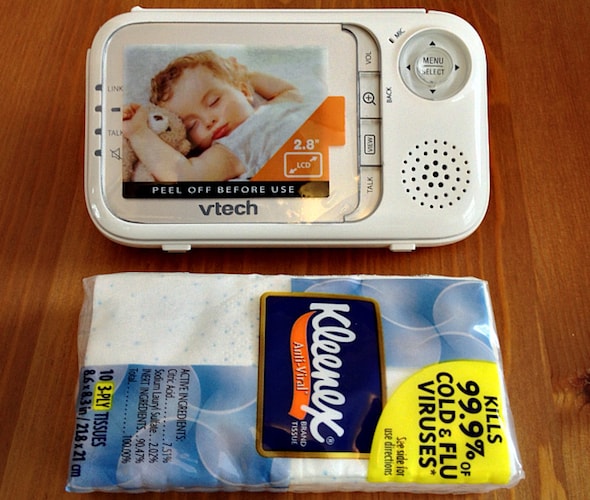 Don't let the small size deceive you; there are tons of features packed into the Vtech Safe & Sound Video Monitor:
High-resolution 2.8" color LCD screen
Full Motion video – 22 frames per second
Automatic infared night vision
1,000 feet of range
Temperature sensor
Vibrating sound-alert on the parent unit
Digital transmission
Rechargeable battery with low-battery alert on the parent unit
5-Level sound indicator
Data encryption for security
Volume control
Out of range indicator
High sensitivity microphone
On/Off indicator
AC adapters included for the camera/audio monitor.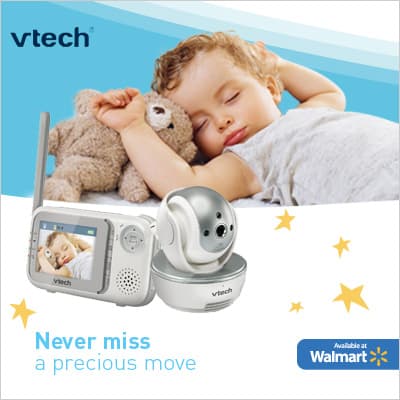 Want to Buy a Vtech Safe & Sound Pan and Tilt Color Video Baby Monitor?
This video baby monitor is available for a retail price of $179.95 with free shipping!
Sorry, this giveaway is closed.
Ready to Win?
One lucky winner will receive a VM333 Safe & Sound™ Pan & Tilt Full Color Video Baby Monitor by VTech®!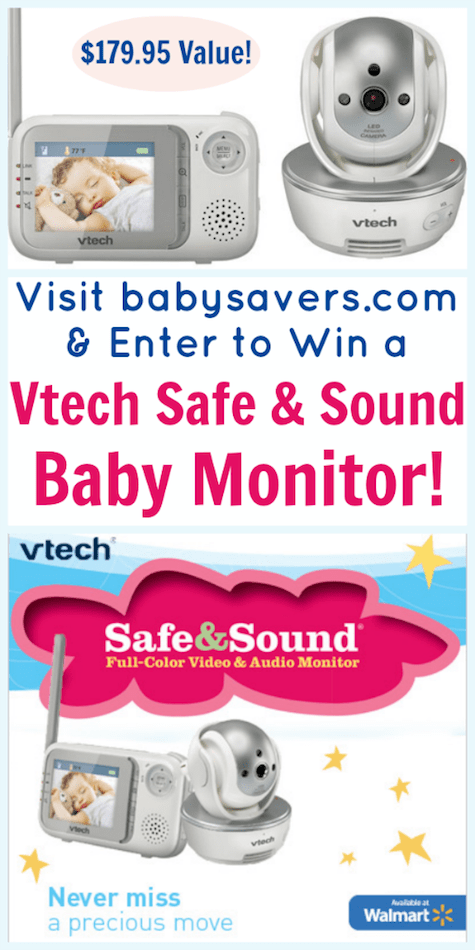 This post provided by the brand and associated PR professionals. All opinions are my own.