Does Warby Parker do contacts? So many people are want to know if the popular retailer for trendy eyeglasses also sells contact lenses, and I have all the answers!
Keep reading for everything you need to know about Warby Parker's contact lenses, including a great Warby Parker discount code to save 15% on your first order of Warby Parker contacts!
Need new frames, sunglasses or other eyewear? Read about the Warby parker virtual try on experience!
Warby Parker contacts discount code
This is for all of you who want to jump right into the savings!
As it turns out, no promo code is needed to save money. Just shop through this link and you'll save 15% on your first contact lens order!
What is Warby Parker
If you're not familiar with the brand, let's start out with the big question: Who's selling these items?
Warby Parker was founded by a student and his classmates who became frustrated when he couldn't afford to replace his lost eyeglasses.
They realized they wanted to provide an answer to the question: why can't we find a great pair of stylish frames that's not outrageously expensive?
As they dug into the problem, they realized that there was a need for competition in the eyewear industry. They formed Warby Parker, began designing their own glasses and selling their products directly to customers.
Based in New York, their consumer product line expanded from trendsetting and traditional glasses to sunglasses, and they eventually moved to offer a huge selection of daily contact lens products, too.
In 2019, they began selling Scout by Warby Parker, their own brand of contact lenses.
Contact Lens Offerings at Warby Parker
While they offer their own brand of daily contacts, Warby Parker also carries a multitude of other brands. Here's everything you need to know about Scout contacts, plus information on the other brands you can order.
About Scout by Warby Parker
Scout is Warby Parker's own brand of prescription contact lenses.
According to their site, Scout is a "comfortable, breathable and affordable daily contact lens. It's made for lasting hydration and comfort from a super-moist material, and each one comes in a portable, storable flat pack.
Scout packaging
A traditional contact pack with blister packaging is excessive, wasteful and less hygenic than Warby Parker's flat pack.
The flat pack uses naerly 80% less packaging material than the traditional blister pack manufacturer's usually use.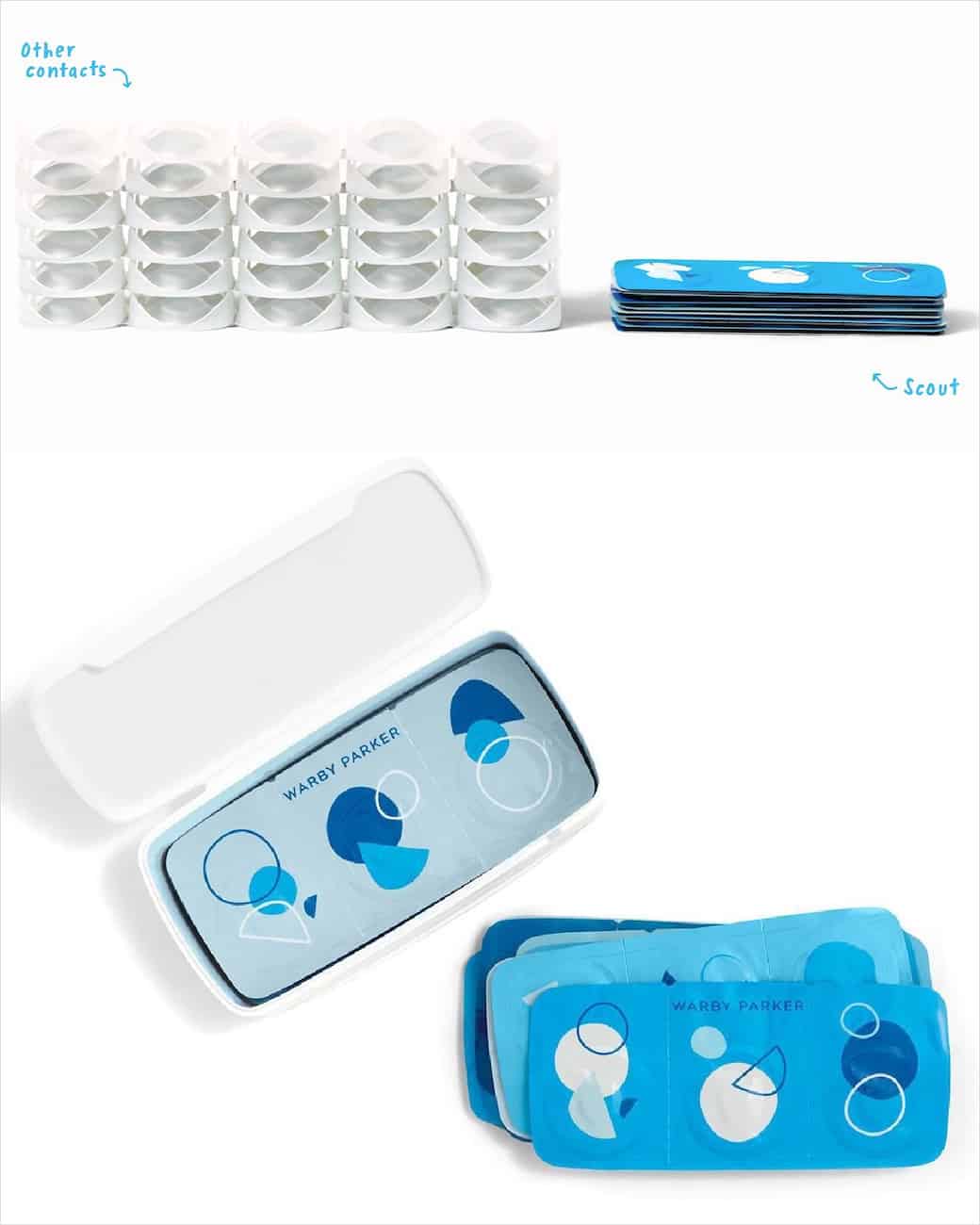 Plus, the Scout lens flat pack is more hygenic for consumers, because it presents the outer surface of the contact lens facing up, which means there's less need to touch the surface that touches your eye.
Finally, the box is made from recycled materials that were used throughout the lens manufacturing process.
$5 Trial of Scout Contacts
If you want to try a Scout contact lens order but you don't want to commit to a bigger pack, the $5 trial is for you!
The best part about the trial is that you'll pay $5 for a 6-day pack with free shipping, and you'll get a $5 credit to use for your next purchase!
That means the trial pack is free if you decide to buy again. Get your trial pack here.
Other contact lens brands
At the time of writing this article, Warby Parker is offering 80 different contact lens brands, in addition to their Scout contacts.
That means that if you have a preferred brand, you'll almost positively find what you need!
You can see all the brands and varieties here, and I've also included a list of all the offerings below.
Here are all the brands currently for sale:
Acuvue
Acuvue Oasys 1-Day
Acuvue Oasys
Acuvue Oasys Multifocal
1-Day Acuvue Define
1-Day Acuvue Moist
1-Day Acuvue Moist for Astigmatism
1-Day Acuvue Moist Multifocal
1-Day Acuvue TruEye
Acuvue Oasys 1-Day for Astigmatism
Acuvue Oasys for Astigmatism
Acuvue Oasys with Transitions
Acuvue Vita
Acuvue Vita for Astigmatism
Acuvue 2
Air Optix
Air Optix plus HydraGlyde
Air Optix plus HydraGlyde Multifocal
Air Optix plus HydraGlyde for Astigmatism
Air Optix Colors
Air Optix Night & Day Aqua
Alcon
FreshLook ColorBlends
FreshLook Colors
FreshLook Dimensions
FreshLook Tint
Precision1 by Alcon
Precision1 for Astigmatism
Bausch and Lomb
Biotrue ONE Day
Biotrue OneDay for Astigmatism
Biotrue OneDay for Presbyopia
Bausch + Lomb Ultra
Bausch + Lomb Ultra for Astigmatism
Bausch + Lomb Ultra Multifocal for Astigmatism
Bausch + Lomb Ultra for Presbyopia
Infuse
PureVision
PureVision 2
PureVision 2 for Astigmatism
PureVision 2 for Presbyopia
PureVision Multi-Focal
SofLens38 / Optima FW
SofLens Daily Disposable
SofLens for Astigmatism
SofLens Multi-focal
Biofinity
Biofinity Energys
Biofinity Toric
Biofinity XR
Biofinity XR Toric
Clariti
Clariti 1 Day
Clariti 1 Day Multifocal
Clariti 1 Day Toric
Clerio Vision
Extreme H2O 54%
Extreme H2O 54% Toric
Extreme H2O 59% Thin
Extreme H2O 59% Xtra
Extreme H2O Daily
Extreme H2O Monthly
Extreme H20 Weekly
CooperVision
Avaira Vitality
Avaira Vitality Toric
Biomedics 55 Premier
Biomedics Toric
MyDay
MyDay Multifocal
MyDay Toric
Proclear
Proclear 1 Day
Proclear 1 Day Multifocal
Proclear Toric
Proclear Toric XR
Total 30
Dailies
Dailies AquaComfort Plus
Dailies AquaComfort Plus Multifocal
Dailies AquaComfort Plus Toric
Dailies Colors
Dailies Focus
Dailies Total 1
Dailies Total 1 for Astigmatism
Dailies Total 1 Multifocal
PolyDev colored contact lenses
ToriColors
ToriColors Toric
How do I order prescription lenses from Warby Parker?
If this is your first time ordering prescription glasses or contact lenses online, don't worry! It feels weird when you're used to doing all of this in a store or at an eye doctor office, but it's really a breeze.
If you already have a prescription:
Warby Parker and prescriptions for eyes go hand in hand. They'll accept your existing eye prescription in paper or digital format.
If you're ordering contacts, be sure to tell your doctor that you need a contact lens prescription in addition to your regular glasses.
Even better, you don't have to actually read and translate the prescription to them. You can snap a photo of the eye RX and submit it.
If you don't have access to the document, you can also just provide the contact information for your optomitrist or opthamologist (eye doctor) and WarbyParker will contact them and get the presciption for you.
It's important to note that you have a legal right to your eye prescriptions, and your eye doctor can't keep it from you.
You can find all the information eye prescriptions and about how Warby Parker handles them here.
About your contact lens prescription
Because of the contact lens fitting directly on your eye, your contacts prescription is not exactly the same as a prescription for glasses.
When you make your eye exam appointment, be sure to mention that you're also in need of a contact lens prescription and fitting info so you can order your contacts online.
When and where to give Warby Parker your prescription
If you're ready to order from Warby Parker and you have your prescription in your hands, you can go ahead and put the item(s) you want in your cart. Start the checkout process and follow the instructions for providing your eye prescription.
If you have an older prescription that still works
You may just need a renewed prescription instead of a full eye exam and brand new prescription. If that's the case, you can take a 10 minute virtual vision test that's reviewed by a qualified eye doctor in order to renew your prescription.
The Warby Parker Virtual Vision Test is for people who:
see well with their current glasses or contacts
have a single-vision distance prescription
have no eye health concerns
are between 18 and 65 years old
Learn more about the virtual vision test here.
If you don't have a prescription
If you don't have an eye prescription, don't worry, Warby Parker still wants your business and they're ready to help!
The most seamless way to get a prescription is to book an eye exam at one of the many Warby Parker store locations. You can select your closest store here, and quickly book your comprehensive eye exam online.
You can also book an comprehensive eye exam with any qualified eye doctor near you. You'll simply need to ask for your prescription OR provide the location details to Warby Parker so they can obtain the information for your order.
Warby Parker and insurance
Yes, Warby Parker accepts insurance!
While I can't say for certain that your particular insurance policy covers Warby Parker glasses and contacts, you can check out coverage details with your provider here.
You can also use your flexible spending account or health savings account (FSA or HSA) to purchase prescription glasses and contacts. Learn more here.
Now that you know everything about Warby Parker contacts, you can start shopping here!