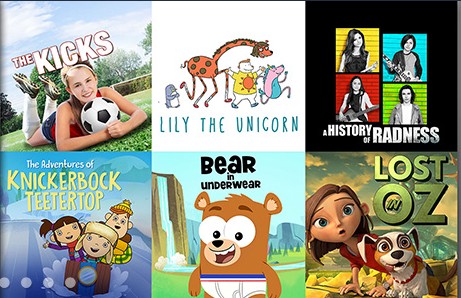 For a limited time, you can watch 6 new Amazon Original Kids Series for FREE! After you watch you can help pick the new Amazon Kids series by rating your favorites!
Like Bear in Underwear:
Eddie is an eternally optimistic bear who aspires to be a forest legend like his dad, who discovered "pants" (actually tighty whiteys) at an abandoned campsite. With a quirky crew of forest animals who share a slightly skewed perspective, Eddie embarks on a series of delightful hijinks as he learns that becoming a legend has its challenges.
Or Lost in Oz:
When 12-year-old Dorothy Gale discovers her mother's mysterious journal in her Kansas home, she and her dog, Toto, are transported into a bustling, modern Emerald City. Disoriented and determined to get home, Dorothy embarks on an epic journey with West, a young witch, and Ojo, a giant Munchkin, to seek the magic she needs – as Oz faces its greatest magic crisis. Based on L. Frank Baum's books.
And 4 more!
Head over to Amazon.com and watch today for FREE!