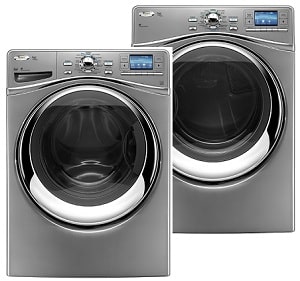 A few weeks ago, Whirlpool delivered this brand new Whirlpool Duet Premium washer and dryer set right to my front door.
The delivery wasn't a complete surprise, but I'm actually still amazed that Whirlpool decided to include me as a Whirlpool Mom. That means that I'm test-driving these truly beautiful appliances set and sharing my experiences with all of you!
I received the Whirlpool Duet Premium 4.3 cu. feet Capacity Front Load Washer, model # WFW97HEXL, and a Whirlpool Duet Premium Electric Dryer Front Load 7.4 Cu. feet capacity, model # WED97HEXL to review, and I'm beyond excited about both of them!
When the washer and dryer were installed, I quickly skimmed both manuals to get a feel for how the appliances worked, then I got to work learning about all the special features that make the Whirlpool Duet Premium washing machine the best washer I've ever used!
A few nights ago, our friend Justin was visiting and we decided to show him the new washer and dryer. My husband decided to film his reaction along with an impromptu (and clearly unscripted!) product demonstration for all of you:
As you probably saw, there are plenty of amazing features that make this appliance a true workhorse that's also fun to operate! I don't have room to list every single thing that the washing machine does, but I've made a list of my five favorite features of the Whirlpool Duet Premium Washer:
Precision Dispense: as demonstrated in the video, the washing machine has an optional special cartridge that can be filled with laundry detergent. When the cartidge is inserted into the detergent chamber, the machine will automatically dispense the laundry detergent for up to 32 loads! That means I have the option to throw a bunch of clothes in the washing machine, turn it on and hit Start. It's a great time-saver and it keeps my husband from using way too much detergent!
Custom Cycle Creation: My husband works very hard as a delivery driver. He has a uniform that gets dirty in almost exactly the same places with the same stains all the time. I created a custom cycle for my husband's work shirts so they can have a heavy-duty wash in hot water for an extended time. that means I don't spend extra time, water and energy washing his clothes more than once!
Fan Fresh: You know that sour, musty smell that clothes can develop after sitting in the washer overnight? I don't have to worry about that thanks to the Fan Fresh feature. When this button is pushed, the washing machine will periodically tumble the load and run an interior fan to circulate air throughout the load. Since I've figured out how this option works, my goal is to never have icky-smelling laundry ever again!
Drum Light: This is such a simple addition, but it feels like a luxury all the same! There's a drum light that turns on when the door is opened. The light remains on when the cycle starts. I have to admit, I spent a lot of time watching clothes be washed when I started the first few loads of laundry in the new machine. Now, I usually turn the light off right after I start the load to save a bit of power, but you wouldn't believe the amount of entertainment this feature provides little ones!
Super Extra-Large Capacity: The 4.3 cubic-foot capacity means there's plenty of room to wash a big comforter, or several blankets, or lots of towels (see the video to find out exactly how many bath towels fit in there!). Larger capacity means fewer total loads of laundry done, and more time for other things!
Keep an eye out for my next post about the Whirlpool Duet Premium washer and dryer. I'm excited to share even more fabulousness with all of you!
I wrote this review while participating in a test-drive on behalf of Whirlpool and received a Whirlpool Duet washer and dryer to facilitate my review.