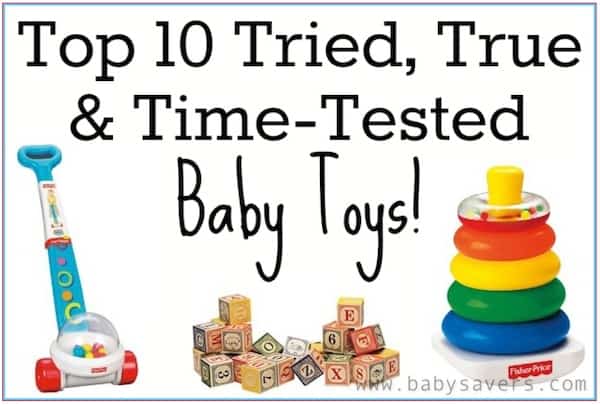 Wondering about the best baby toys? There's a reason why some of the same toys that you played with as a baby are still around today. They're classics!
Some of these items on the list of best baby toys might not have been around quite a long as you have, but they've definitely stood the test of time!
Here are 10 great tried and true baby toys that mom and dad will like, too!
Best Baby Toys:
It probably won't surprise you that I'm also a big fan of the price on all of these "best baby toys"! The cheapest toy has a suggested retail price of $7.99, and the most expensive best baby toy comes in at $40.
It's easy to spend $60 on a fancy baby toy. I, however, have a feeling that your expensive toy will be as appreciated (maybe even less appreciated!) than one of these time-tested baby toys on the above top 10 best baby toys list!
Did you play with any of these baby toys when you were little? Do you think another toy deserves a place on the list of best baby toys? Is there a classic toy that I missed?
Please share your thoughts in the comments below!