Cars 3 is in theaters everywhere today! Out of all the Disney・Pixar Cars movies, this one is the best. You don't want to miss it! Check your local showtimes and order your Cars 3 tickets now!
You can read my review to see how much I loved the Cars 3 music and characters, and you can also read my unbelievable interview with the stars of Cars 3: Owen Wilson, Cristela Alonzo, Kerry Washington and Armie Hammer.
My kids loved Cars toys when they were younger. My daughter favored those that lit up, made noises and had more bells and whistles. My son could have been a happy kid with only his die cast Cars characters to play with and nothing else.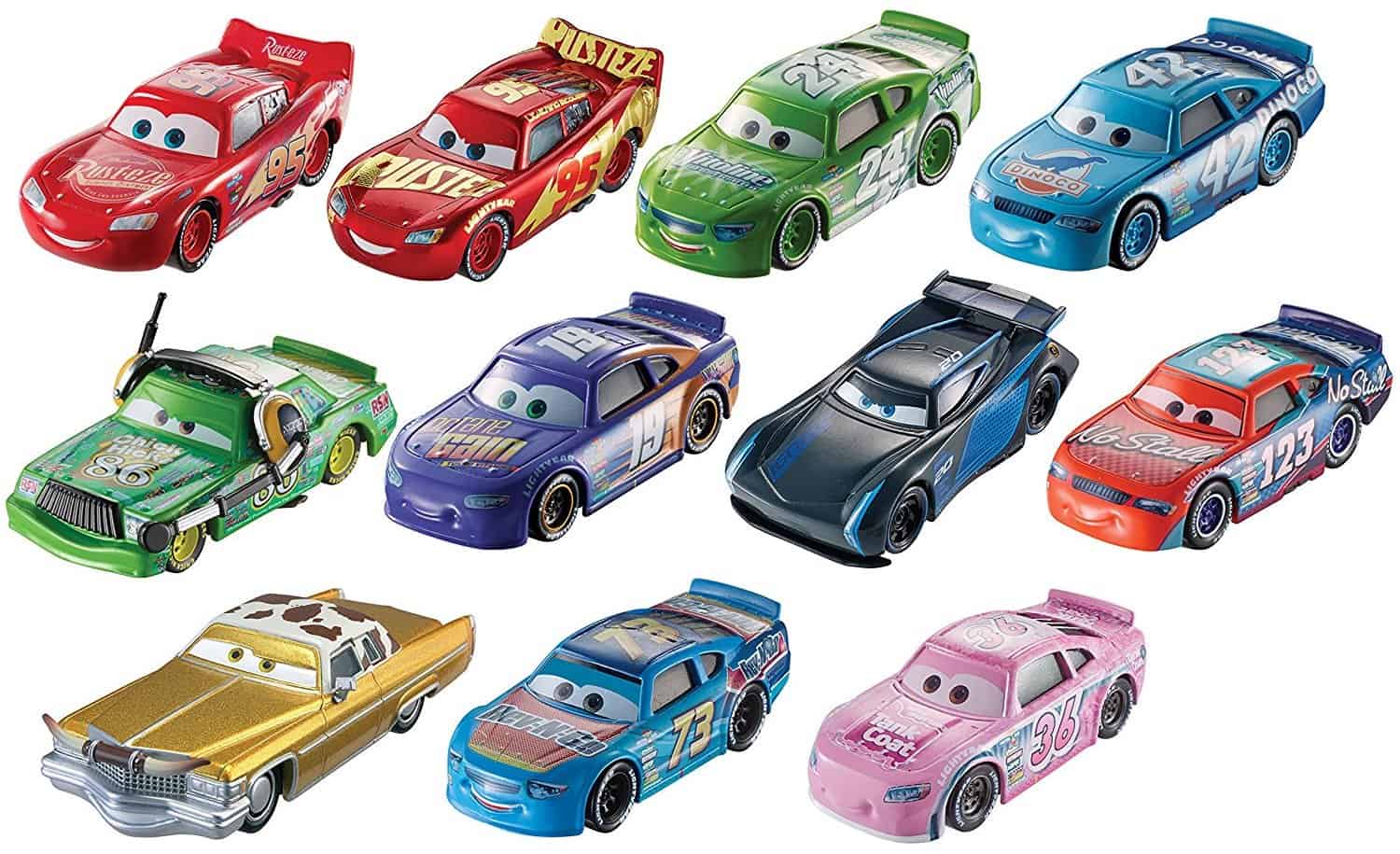 Honestly, "obsession" with those little vehicles would be an understatement. Matchbox-size Lightning McQueen, Mater, Ramone, Sally and others were a daily fixture in our lives for years!
I recently returned from attending the Cars 3 premiere and press day, Disney・Pixar sent me home with a load of Cars 3 toys and books in my suitcase!
Cars 3 Gift Guide

I have to say, I think there's something every kid would like in my Cars 3 toy haul, which makes it the perfect Cars 3 gift guide!
The best Cars 3 toys: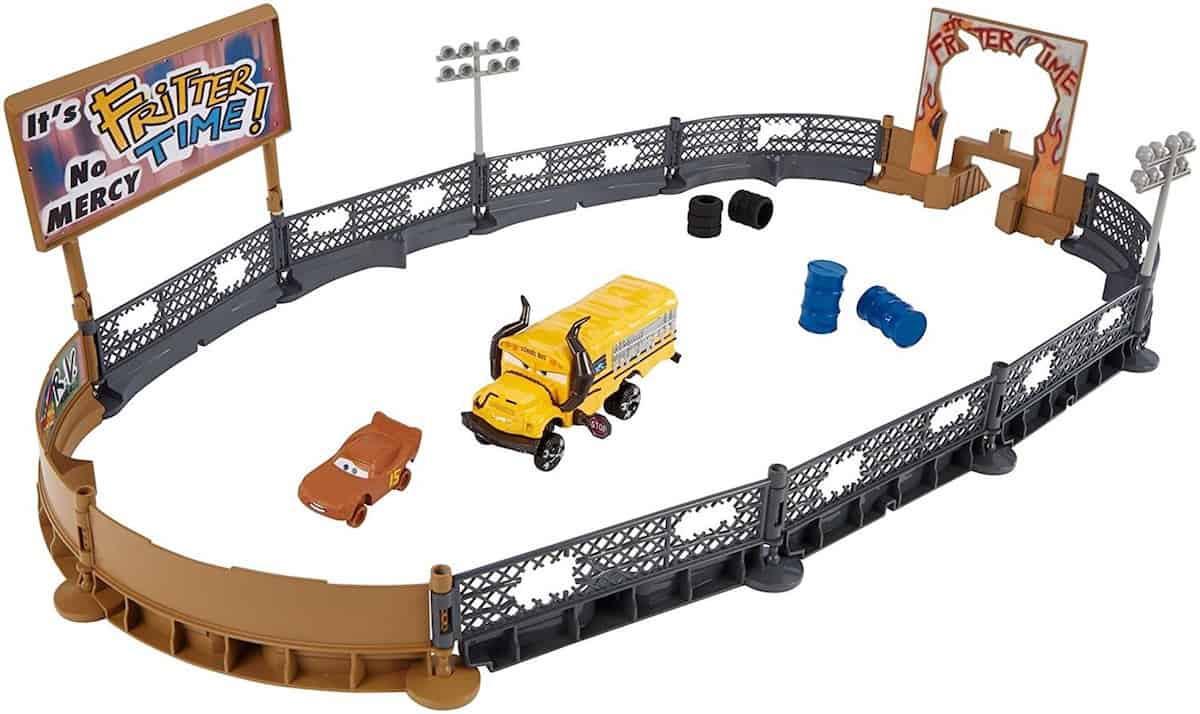 Cars 3 Crazy 8 Crashers Smash & Crash Derby Playset
Recreate the thrilling competition scenes from the new Disney/Pixar Cars 3 movie with this action packing set. The vibrant, detailed arena is modeled after the Crazy 8 Derby race that challenges champion Lightning McQueen in new, dynamic ways!

Rev your engines and watch the character vehicles race, crash and bash through the course! The set comes with barrels, tires, and other themed accessories as well as a mud-covered Lightning McQueen vehicle to start the fun right away!

The first player to knock Miss Fritter's bus down wins! Then, reconfigure the arena and get ready for more epic action. With 3 ways to set the track and a variety of obstacles and speed challenges, the Cars 3 racing action goes on and on.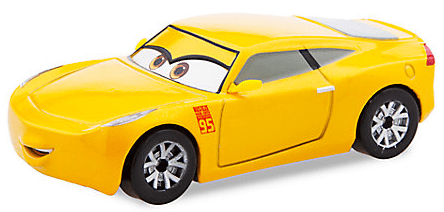 Cruz Ramirez Die Cast Car
Sleek and sharp in striking yellow, Cruz Ramirez rediscovers her racing dreams thanks to Lightning McQueen. This die cast perfectly captures the sporty styling of the Rust-eze Racing Center trainer and race technician.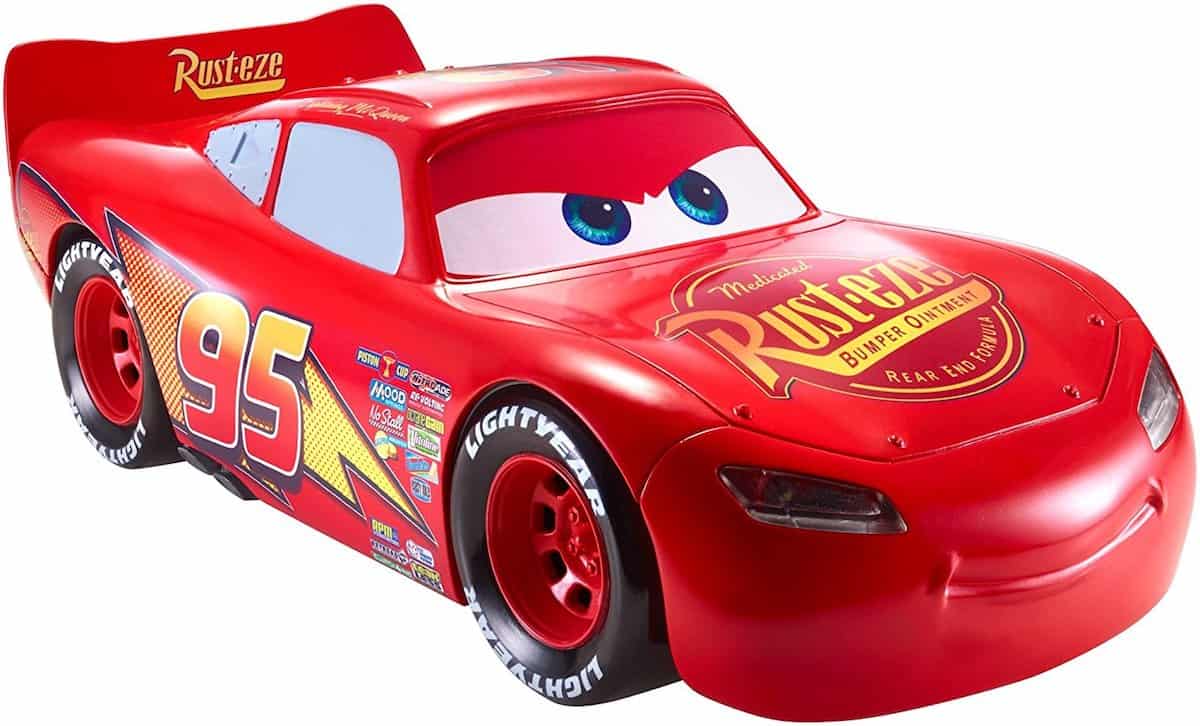 Disney Pixar Cars 3 Movie Moves Lightning McQueen
Enjoy exciting story play and realistic movie fun with Lightning McQueen! The vehicle reacts to motion and goes forward, backward, left, right, upside down – and says over over 65 sounds and iconic phrases!

The champ's vehicle has signature sleek design, working headlights and taillights and eyes that move like they do on screen!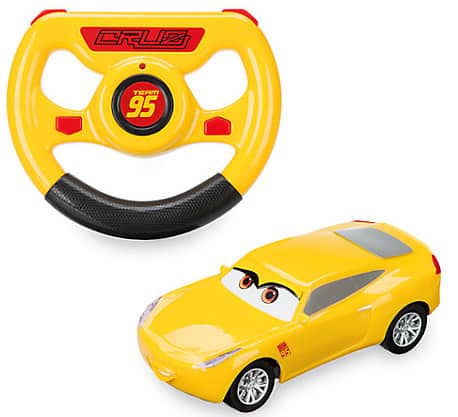 Cruz Ramirez Remote Control Vehicle
Kids will have fun taking a Cruz around with this remote control vehicle. Reliving the high speed thrills of Cars 3, they can put new cast member Cruz Ramirez through her paces.
The best Cars 3 books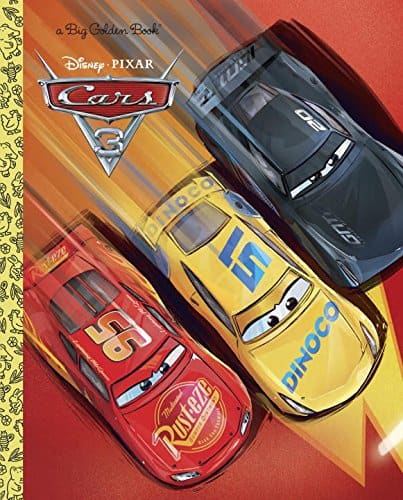 Blindsided by a new generation of blazing-fast racers, the legendary Lightning McQueen is suddenly pushed out of the sport he loves.

To get back in the game, he will need the help of an eager young race technician with her own plan to win, inspiration from the late Fabulous Hudson Hornet, and a few unexpected turns.

Proving that #95 isn't through yet will test the heart of a champion on Piston Cup Racing's biggest stage!

Children ages 3 to 7 will love this beautifully illustrated hardcover Big Golden Book based on the film.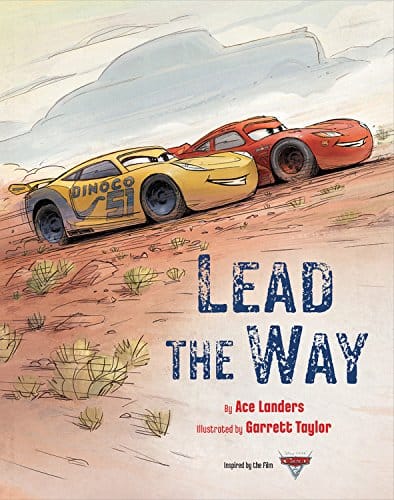 Cars 3: Lead the Way by Ace Landers and Garrett Taylor
In your life, you may find somebody important, somebody who steers you in the right direction, guides you down long roads, and keeps you on track to follow your dreams. Then, one day, you may find it's your turn to lead the way.

Ride along with Lightning McQueen as he revisits many of his cherished moments with the late and great Doc Hudson.

Lightning has learned so many inspiring things from Doc that he would like to pass on to Cruz Ramirez-including a lesson about what it really means to win.
Shop for all the best Cars 3 toys and books: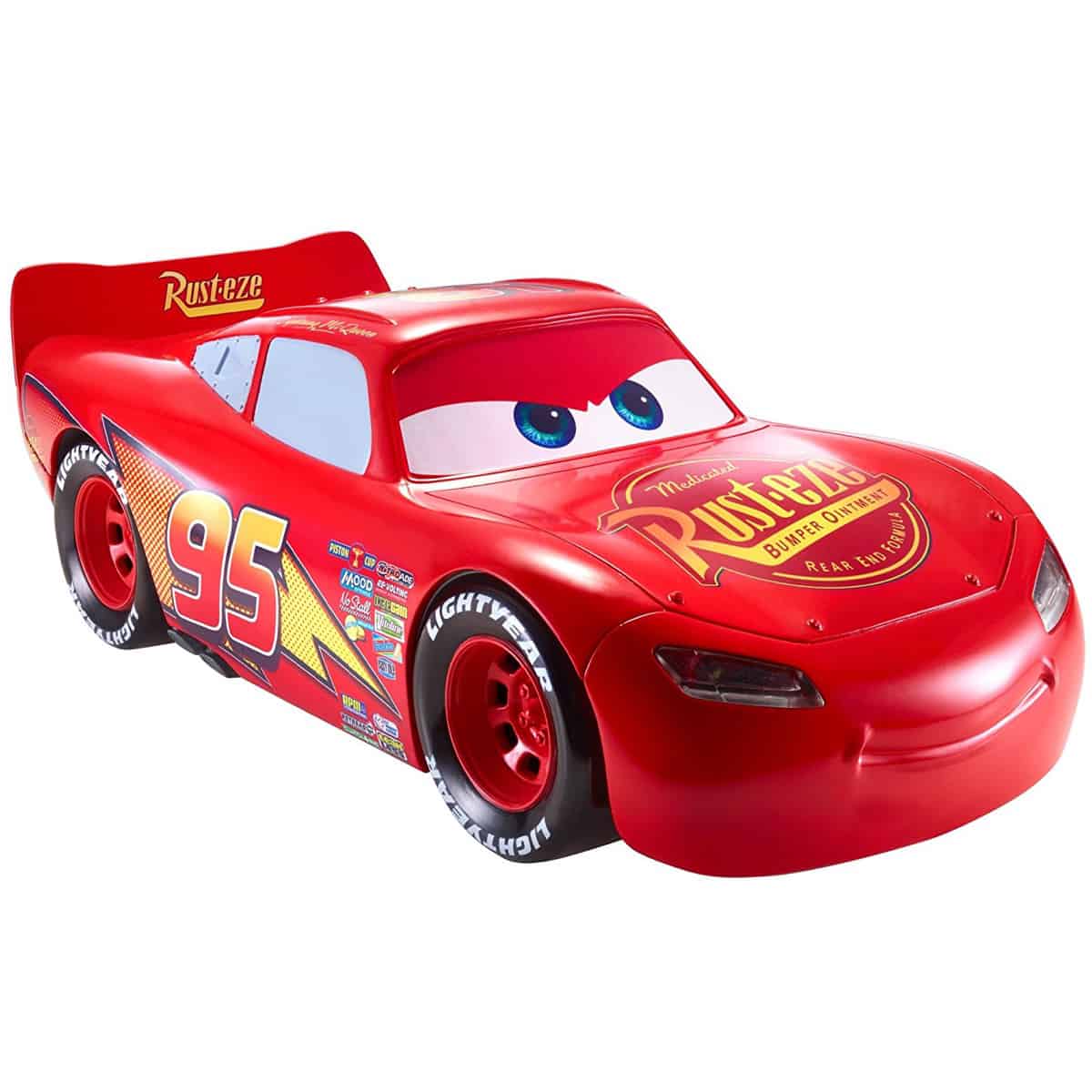 Cars 3 Movie Moves Lightning McQueen
Cars 3: Big Golden Book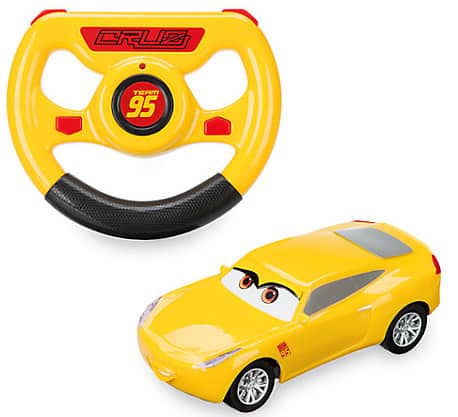 Cruz Ramirez Remote Control Race Car

Cars 3: Lead the Way
Cars 3 Stainless Steel Reusable Water Bottle
Cars 3 Crazy 8 Crashers Smash & Crash Derby Playset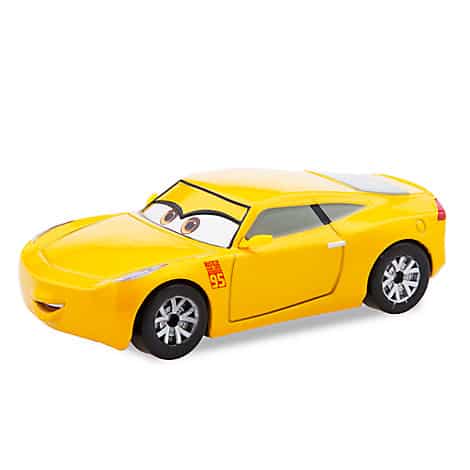 Cars 3 Cruz Ramirez Die Cast Car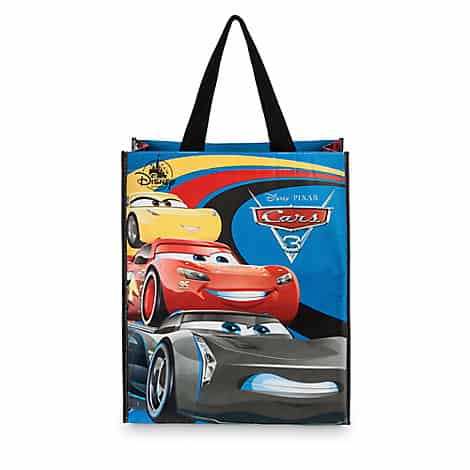 Cars 3 Reusable Tote Bag

Disney Store Summer Play Days
You also won't want to miss Summer Play Days at all Disney Stores across the country!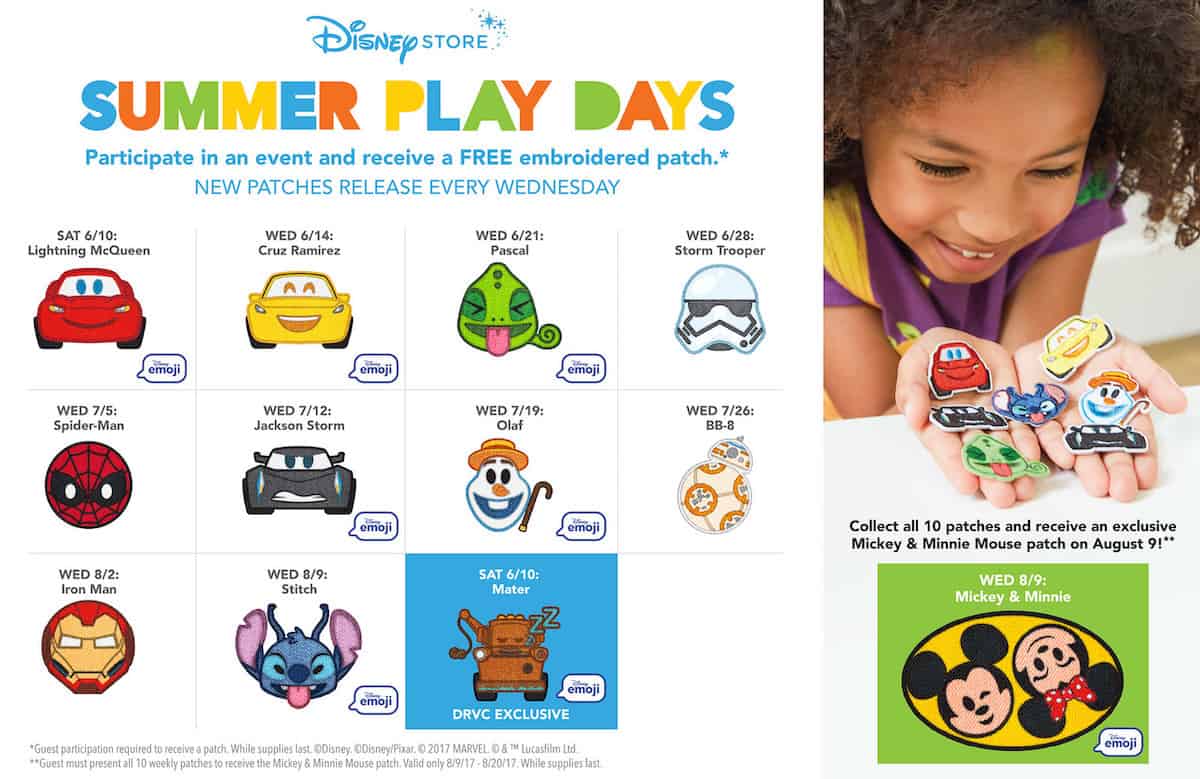 Summer Play Days return to Disney Store with free daily events all summer long in nationwide locations!
Guests can visit all US Disney Store locations daily at 3pm to participate in a fun event. Visit each week and receive a free embroidered patch. If you collect all 10 patches, you can receive an exclusive Micky and Minnie patch when you visit the store on August 9th. Find your local Disney Store location here.
Disney Store Summer Patches Schedule:
New patches are released on Wednesday each week during the 3pm activity. Here's the schedule of the patches the Disney Store will distribute each week throughout the summer:
1. Saturday, 6/10: Lightning McQueen
2. Wednesday, 6/14: Cruz Ramirez
3. Wednesday, 6/21: Pascal
4. Wednesday, 6/28: Storm Trooper
5. Wednesday, 7/5: Spider-Man
6. Wednesday, 7/12: Jackson Storm
7. Wednesday, 7/19: Olaf
8. Wednesday, 7/26: BB-8
9. Wednesday, 8/2: Iron Man
10. Wednesday, 8/9: Stitch
Visit your local Disney Store each week to take part in the fun and collect your Summer Play Days patches!
Cars 3 is in theaters everywhere now. See your local showtimes and pre-order your tickets!
See my other Cars 3 content:
View the newest Cars 3 trailer:
Stay on top of all the Cars 3 news at these links: